by Alphaville Herald on 11/08/08 at 11:00 pm
Mall cop says Minerva Linden deleted prim fetus after pro-life group abuse reports –
W-Hat Goons' Whatview Valley Mall also features Apple Store, Rei's Rocks, Invisible Prim store
by Pixeleen Mistral, National Affairs desk
Shoppers in WHAT sim will be pleased to learn that the conveniently located Whatview Valley Mall claims to have Second Life's first and only prim baby abortion clinic. Teens are welcome, and prices start at L$1999, with souvenir photographs available for L$500. A number of virtual world business analysts are now touting this development as a business opportunity with strong growth prospects, given the prevalence of unprotected cybersex in SL, and recession-proof demand for convenient prim baby termination services.
However, there are still challenges for the virtual abortion industry. According to Whatview Valley mall cop Zac Wilcke, there has been some trouble at the abortion clinic recently due to pro-life Second Life residents – leading to abuse reports and and a visit from game god Minerva Linden who apparently deleted the fetus from an in-progress partial birth abortion.
Investors in the clinic were relieved to note that Minerva Linden left in place the shopvac and blood spraying from one of the customers being serviced, sending a clear message about Linden Lab's "Community Standards" enforcement – and also establishing a precedent that allows for at least some sorts of avatar abortions, although not those held to be illegal in the United States. The US Supreme court recently upheld a law banning the Partial-Birth Abortion Ban Act of 2003, so Linden Lab may be seen as simply complying with the law of the land – and helping bring Second Life even closer to real life.
Despite the near-term cloud over virtual late-term abortions, the legality of other prim baby abortions in Second Life seems assured, and the prospects for the virtual abortion business look good, despite some misgivings expressed by Whatview Valley mall security in a recent interview:
Zac Wilcke: don't publish any pics of that clinic please – it doesn't need any more publicity
Rei Hax: Zac, she's working for the hearld, she goes on her own rules. She's a bad ass publisher
Zac Wilcke: I'm just making a request, jackass
Rei Hax: No I know, I was trying to be funny, I'll stop
Pixeleen Mistral: has it already gotten some publicity?
Zac Wilcke: yes
Zac Wilcke: that's why minerva linden was here deleting parts of it
Pixeleen Mistral: but this is W-Hat's sim
Zac Wilcke: that didn't seem to matter in loksr and kyro's case
Zac Wilcke: sammy grigges teleported a bunch of pro lifers here
Zac Wilcke: and they all ARed it for sure
Pixeleen Mistral: hmmmmm
Wilson Mimulus: ZAC, I AM OFFENDED BY YOUR VIRTUAL ABORTION
Rei Hax: Those people are so stupid. Thats not what the AR is for
Blues Stilman: Let's just cruise in our awesome car and forget about e-politics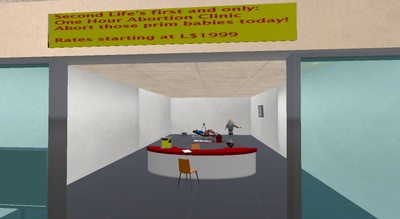 prim baby abortions – rates start at L$1999
Pixeleen Mistral: you could say you are making a political statement – I think you are actually
Zac Wilcke: no not really
Rei Hax: Pretty sure they aren't Pixel
Zac Wilcke: it's just meant to horrify people
CickMy Lunt: its just hilarious how outraged people get over it
Belt_Man: That'll get quoted in the Herald Zac, just you wait
Zac Wilcke: but if a lot of people become horrified by it including lindens – then we have problems
Kyyp Fredrickson: Mostly it was built for the same reason everything else is built around here
Pixeleen Mistral: some art is supposed to be horrifying
Pixeleen Mistral: that is why we have art – to think about that sort of thing
Rei Hax: Yeah but they don't get that Pixel
Wilson Mimulus: Well with all the virtual sex places in SL, we needed a virtual abortion clinic
Zac Wilcke: wilson stop scaring the patients
Wilson Mimulus: Nobody ever uses condoms here
Zac Wilcke: but don made one that was giving birth to fetuses
Zac Wilcke: aborted ones
Zac Wilcke: and she deleted that
In related news, an Apple Store has opened in Whatview Valley Mall, featuring "personal Pascal" and state-of-the art Apple II computers. Mall anchor tenant, Rei's Rocks has also received a new shipment of granite, and savvy shoppers will want to stock up soon, and a Scientology storefront is also now open.
While using an abortion clinic as a mall anchor tenant is a new marketing concept, Second Life may be the perfect place to seek feedback on this approach, and analysts suggest that if the concept takes off in the virtual realm, it could carry over to real life.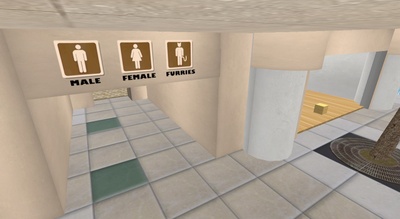 clean restrooms for men, women, and furries