by Alphaville Herald on 26/09/08 at 12:40 am
[It is hard to keep pace with Amaliscious. She's my landlady, she runs Dollz Magazine and Dollz Modeling Agency - two institutions I love to work for - she's my high fashion shopping companion and most of all the most warm-hearted person I have met in SL so far. Her quick changing of plans and ideas makes it hard to keep any schedule and drives me totally nuts but I wouldn't want her to be any other way. She is unique in her personality and in her avi – yes, this girl has hips; she's bootyliscious. A glamour diva without any allures, a true lady who can swear like a sailor and most of all the best friend one can ask for. – Bunny Brickworks]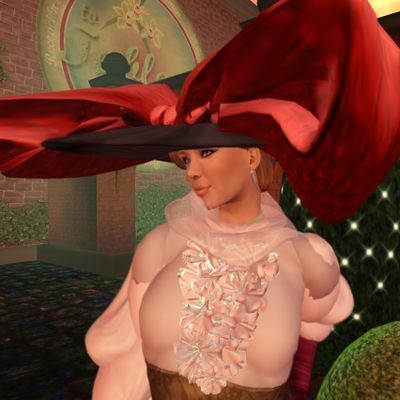 Wow what to write…
I came into SL and was immediately amazed and in awe of the whole concept of a "virtual world". Being an avid The Sims fan, I thought this was just the hottest thing since nightclubs.
I remember purchasing my first 512. It was a small plot on Promissa on protected Linden waters. Once I discovered prims, that tiny 512 quickly grew to 5 more plots, which still weren't enough for me. Yes, I am a prim hog and very much into details. I can't stand those fake paper cutout objects. Anyhow someone told me that I could rent private property with double prims. I soon found Olive Grove, which was my home for a long while. I adored that sim, and met some wonderful people there. One of which became my SL business partner. He offered me an amazing opportunity and I knew I would never have the chance again so I grabbed it and held on for dear life!
I bought my own Class 5 region with 15,000 prims to use; I have to say I was in prim heaven!!! Soon New England was born and that began my entrepreneurship if you will. I purchased my sim around the time Linden had slashed prices and everyone was jumping on the land wagon. New England was like a sinking ship. I couldn't get any renters and knew I had to think of something fast if I wanted to stay a float.
I had already established Dollz Cabaret (a Burlesque style theater) and it was taking off nicely. I thought that's it! Make a town centered on the Dollz and it all just kind of came together from there. In one day, I tore down everything there was of New England. I had a friend terraform the island to look like a heart and went out and bought builds from Barnesworth Anubis, one of my fav designers in SL.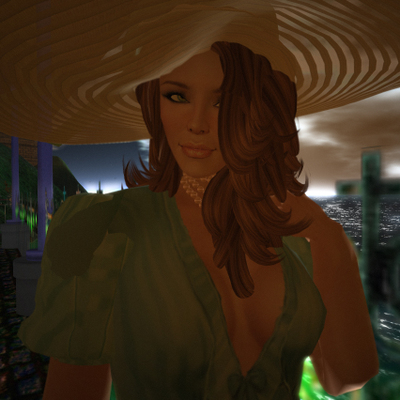 The next day around 5 am SLT, I sat at my computer, coffee in hand and began creating Dollz Town. The Cabaret was built from scratch and given a HUGE makeover and sits on one end of the park. At the other is Dollz Magazine, a magazine dedicated to Burlesque/Pinup with a monthly photo contest. There is also Dollz Photography Studio and Dollz Modeling Agency. Shops are in the center with homes around the outskirts of town.
I drew inspiration from my fav sim besides my own, Tableau. I wanted something with a retro Parisian feel. It took me 2 days nonstop and finally it was finished. Finally my vision had become a reality and within the first week all of the shops were full. I am proud to say Dollz Town is now thriving and so far I have heard great reviews. I have not reached the limits of my imagination so far. Dolly Trailer Park has been my latest project and who knows what else is yet to come.
I came into SL as myself and that is who I remain. I don't role play, I'm not into the whole pose ball sex thing. I don't buy the whole SL and RL are separate, to me that's hogwash! I am crazy, chaotic, charming, passionate, creative, funny, and a visionary. It is hard to keep up with my direction at times, as I tend to run with the ideas when they come to mind. I have made some dear friends here and lost some as well. I am now completely on my own and while it is a great challenge; I wouldn't change a minute of it.
This is me, love me or hate me.
Amali