by Alphaville Herald on 30/09/08 at 8:13 pm
[I met Gina only once before our photo shoot in world, which was when her 'Japan' exhibition opened. Though there was the typical stress of guests coming and going, she took the time to explain me each of her exhibits in detail and answer my many questions. I was surprised and delighted about her patience. When I was looking for a new Post 6 Grrrl, many of her friends immediately shouted her name. Knowing that her online time was limited, I made a careful attempt at 'recruiting' her and much to my pleasure the red hot redhead was willing to sacrifice a little bit of her time for a photo shoot and an interview in New Toulouse. – Bunny Brickworks]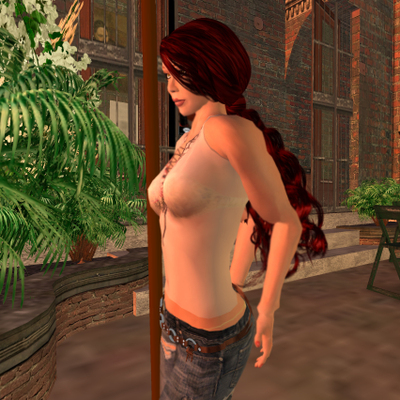 Bunny: The most important question first. What makes an intelligent and educated girl apply for the Post 6?
Gina: Oh wait a sec, I thought you asked me?!
Bunny grins. Errm… yes!
Gina: I thought it would be fun to be on the other side of the camera for a change. Usually I'm the photographer, even when I'm my own model for most of my nude photos.
Bunny: You take nudie pics? Have you already made an exhibition with them?
Gina: I think the one that is best known is the Spencer Tunick type photo shoot I did on Experience Italy in Jan this year.
Bunny: Any other exhibitions we should know about?
Gina: I've recently held an exhibition with Seikatsu Koba, themed Japan in which we both displayed our work.
Bunny: Is that the things you spend most of your SL time with or do you have any other interests?
Gina: Well, I don't spend that much time on SL at all lately. But photography is one interest and building npirl furniture is another fairly recent challenge, which I've taken on. Oh and my friends keep me coming back

Bunny smiles. It's good to have them in SL. You mentioned Seikatsu Koba. Was this your first cooperation with another artist?
Gina: Yes it actually was, and it was also the first cooperation with a close friend. It was really a fantastic experience during which we got to know each other a bit better
Bunny: No creative differences?
Gina: Oh sure, we do have different styles although it was quite stunning to see how close we got with the 2 x 2 photo's on the same subject.
Bunny: Yes, I saw the exhibition and I was surprised how perfectly you seemed to complete each other's work.
Gina: Indeed, I don't think that I could have made such a series myself; they just had a perfect flow among them.
Gina smiles it compliments our friendship as well. We also had great fun scouting the Japanese sims.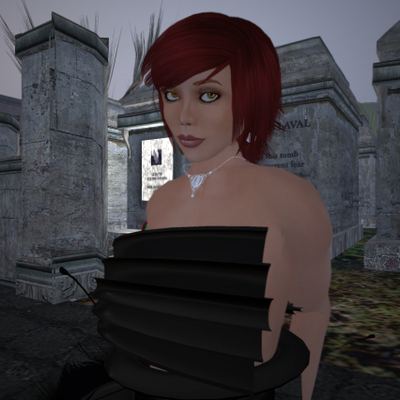 Bunny: You mentioned npirl furniture. Is it just a fun thing or also a commercial venture?
Gina: It's a commercial venture; GREENE Concept is selling my work. But it really started with an idea I had boiling in my head… I'm so NOT a builder but I had a few ideas about furniture in SL which I just had to make, and that was enough motivation to give it a go. I made a few copies of RL things first, like the Flos Stylos lamp, but the idea I had was the 'hovering table'. It's a glass plate, which hovers, obviously, and as legs I chose 32 flexible gold ribbons, which are affected by wind
Bunny: That explains the 'npirl'. Are you successful?
Gina: It's got some publicity here and there on blogs, so that's a great success in my view.
Bunny: Building and photography are pretty lonely SL activities but you mentioned your friends. What do you think about friendships and relationships in SL in general?
Gina: Yes my friends… I'm really neglecting them

I've had many different experiences in SL on that matter… really bad ones and really great ones as well. Friendship is a great thing and it also 'works' in SL
Bunny: Would you consider yourself a social person? I often see you communicating on Plurk, too.
Gina: I have a very long contact list but I would only call a small handful of them real friends, and those I really consider true friends. I guess I'm a social addict

I love communicating with people and fooling around

Bunny: What made you originally join SL?
Gina: Land prices, people complaining about land prices in a virtual world. That's what has drawn my attention. That seemed such a contradiction that I just had to check out what it was. And here I am… almost 2 years later and still around.
Bunny laughs. That's the first time I heard someone joined because of 'land prices'!
Gina: Curiosity kills the cat they say.
Bunny: What was your first impression?
Gina: I remember I bolted in on Ahern or Morris among some of the craziest noob haters at the time. They called me an alt while I had no idea what it meant, but some nice guy took care of me and explained me some ins and outs about SL in IM.
Bunny: So you had a rough start?
Gina: Yeah, I guess

Bunny: But you stayed nonetheless.
Gina: It takes a lot more to wipe out a Glimmer!
Bunny: What were the first steps of Gina Glimmer?
Gina: The first steps? I hung around the welcome a long time, making lots of friends, chatting a lot, shopping. Pretty boring actually… At one point that almost made me quit SL. But then I found Help Island Public and started having fun in helping noobs. Helping noobs got me in contact with Savannah Glimmer who was starting Orientation Station and I joined them. And in September 07 I started doing photography, which I'm still doing.
Bunny: What are the typical FAQ by noobs?
Gina: FAQ by noobs? Oh gosh… 1. Where from? 2. Wanna have sex? 3. See 1 and 2. No, I'm kidding. I actually have met a lot of very interesting and intelligent people when I mentored. Some of them have made career in SL as well.
Bunny: It's great to see noobs prosper in SL.
Gina: Yes absolutely, it was a very rewarding experience.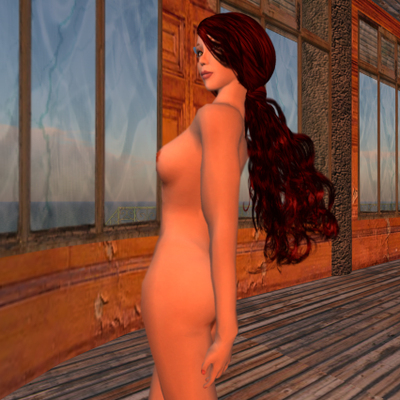 Bunny: If you could start all over again, would you change anything?
Gina: I don't think so, even though I've made some mistakes in being too close to some people in the beginning.
Bunny: Has SL impacted on your RL in any way?
Gina: It has, in a good and a bad way. The positive thing about SL is that some of my close friends have helped me with all sorts of RL issues that keep me busy. Often a listening ear or a shoulder to cry on, it even works in SL. The down side of SL is that it consumes an awful lot of time, time that I should be spending with my husband and son. And that has made me a sort of an appointment resident…
Bunny: So you only log on now when something needs your attention?
Gina: More or less yes, or when my addiction starts acting up again

Bunny: Have you got any dream or ambition in SL you'd like to fulfill one day?
Gina: When I was more active in photography I was looking for fame, but I knew that I was lacking certain skills and back ground. Right now my dream is to have a reasonable amount of online time in which I see my friends, meet new ones and do the activities I like doing (photography & furniture).
Bunny: That sounds awfully down to earth


Gina: I'm afraid it does.
Bunny: If you could make that special wish to the Lindens, what would it be?
Gina: Only one?
Bunny: So much about down to earth… Make as many wishes as you can think of!
Gina: 1. No more lag 2. Really perfect human shapes without odd corners and such 3. More than 25 group memberships. That would make me a lot happier already. 4. Real gravity 5. Real shadows.
Bunny: Famous last words?
Gina: To the readers: let me hear what you think!