by Alphaville Herald on 21/09/08 at 10:42 am
Trademark owner Stroker Serpentine goes after Corsi Mousehold
by Pixeleen Mistral, National Affairs desk
---
"I will be thrilled to talk at length about how he is selling my animations without permission and using Briggi's scripts without permission… I have been using the name SexGen with his blessing for TWO YEARS." – Corsi Mousehold
"Briggi doesnt deserve to be dragged into this. Corsi is the very reason we aren't partners to this day. I care a lot for Briggi. We were best friends for years – until the mouse came into the picture. Corsi is a manipulative leech." – Stroker Serpentine

---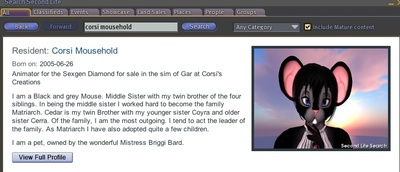 Cosri Mousehold – SexGen animator and a pet owed by the wonderful Mistress Briggi Bard – SexGen scripter
What has apparently been an ongoing struggle within the virtual world sex bed business went public friday, with Stroker Serpentine and his lawyer contacting the Herald to claim trademark infringement for unauthorized use of the term "SexGen" in a paid advertisement for Corsi's Creations new line of sex beds – beds that animate avatars in a variety of sexually explicit poses.
Before responding to Mr. Serpentine and his lawyer's request for removal of the disputed ad, the Herald consulted with Ms. Mousehold and suggesting that the advertisement had probably served it purpose. Hearing no strong objections from Ms. Mousehold, the ad was removed, but not before a bitter dispute between former collaborators was uncovered. Over the next day, I interviewing both Stroker Serpentine and Corsi Mousehold. The third member of what seems to be a love business triangle – Briggi Bard – was unavailable for comment.
When I spoke Saturday evening with Mr. Serpentine he told me about how his virtual sex empire was built and how it came to pass that Briggi Bard – his main scripter – ended up working with Corsi Mousehold while all three sell sex beds under the SexGen name.
pixeleen: when did you start working with Briggi?
Stroker: Aura Lily introduced us when I told her of my idea for a menu-driven animation system in early 2004. Briggi was working on something similar to what I had in mind. Briggi and I had a dear friend in common illumie Skallagrimson who assured me Briggi would make a good partner.
Stroker: I would tell Briggi what I wanted the system to do and she would script it. Briggi to this day is one of the brightest programmers I have ever met irl or sl.
Stroker: Briggi brought Corsi in while we were in the middle of the Volkov Catteneo case. She knew I was upset because she (Briggi) re-negged on her promise to help with the legal expense to protect the brand we had built together. I gave credit to BB in all the documentation and ads up to that point.
pixeleen: How far are you going to push the trademark thing?
Stroker: If Briggi does not hold to her claim that Corsi is not and never has been a Representative, Partner or Developer of SexGen…then I will address that seperately. In the interim Corsi has no legal right to use the SexGen mark. Briggi cannot give anyone permssion to use the mark. She has said time and again, Corsi is NOT a partner in SexGen. She has said it in writing and in front of witnesses.
pixeleen: well – DRAMA – thy name is Second Life
Stroker: Briggi has had to take a rl job because her SexGen business was not paying the bills. She let Corsi run amuck. It's time to reign in the mouse.
Stroker: Briggi has no right to sub-let our mark to anyone. It is an asset of Eros, LLC. Which I own. I thought of the name I had the original concept and worked collaboratively with Briggi through two years of development. Corsi thought she could come in and take advantage of SexGen's brand recognition and our reputation for customer service after the sale. As well as Briggi's good nature. Corsi is in for a rude awakening.
Stroker: We have never included scat, diaper play, or furry pedophilia in SexGen. Corsi appeals to a niche market I did not wish to pursue.
Stroker: Corsi just likes to sling shit. I haven't the time to clean up after him. I will let the law decide.
---
in part 2 of this report, the Herald interviews Corsi Mousehold
---