by Alphaville Herald on 09/09/08 at 9:23 am
[It was those three Ms in Toxic's profile that gained my attention – Macs, music and machinima. A geek girl willing to get naked in the Herald? That was just too good to be true. Fixing an appointment wasn't easy but we finally got together Friday night. Yes, the crazy Friday that made logins and teleporting a Mission Impossible. We waited for hours until all attachments were willing to rezz properly and then met on her beautiful tropical island where all the pictures were taken, either on ground level or in her skyboxes. Despite the circumstances, this evening was highly enjoyable as Toxic's personality is as refreshing as her versatile avatar. – Bunny Brickworks]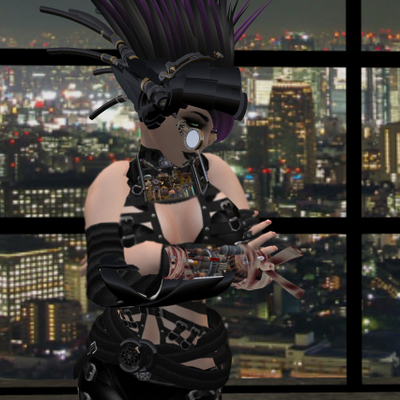 It's been a long road to SL for me – I tried SL in June 2006, but my computer at that time couldn't handle it, even though I was fascinated with the metaverse, mainly due to my work as a Community Manager for a different Virtual World at that time.
July 2007 heralded my return due to a rather slinky Macbook, and I was engrossed, immersed and assimilated from that moment on. I love my Mac, and I have to say I gravitate to other Mac users, are we the snobs of SL? Probably!
SL for me is an escape, a way to watch people interact, and a fantastic eye on emerging technologies. I make movies in here, and the ability to evoke an emotional response form pixels is exciting!
I love steampunk and cyberpunk – sleek and sexy, and full of the wonder that makes SL so enticing – the possibilities of being whatever you want.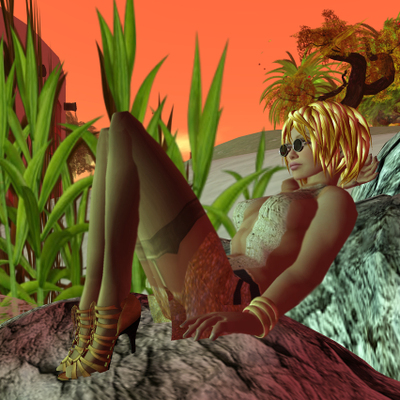 I have a circle of close friends here, from the music scene on SL – my home sim is a sim bought with Winston and Sesi Ackland and another close friend, there are always impromptu gigs being played, music streams being tested and sneak peaks of new songs being heard. Having your own sim brings a new layer to SL – you get lazy, you spend insane amounts of time on the smallest details, and you really can do what the eff you want!
I spend my time seeking out new talent for Sailors Cove where I host, and finding great new venues for Winston, Linus and Xengu to play at. There are a lot of musicians in SL – sometimes a day can go by where I have been to 7 or 8 gigs. I have a few favourites though!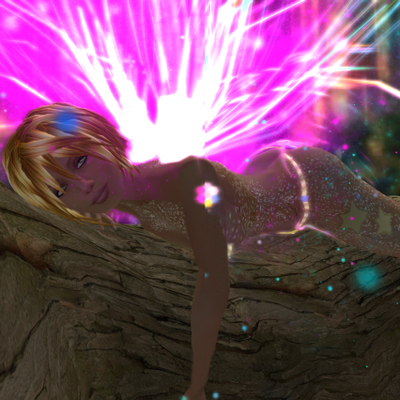 Friendships are as real to me here as they are in RL – the brain controls all our feelings and thoughts and decisions, and that works on synapse information from nerves – our eyes give the same results as our fingers – it's all bursts of electricity in the end no matter the initial stimuli – so as far as I am concerned feelings are feelings no matter how the stimuli is collected by the brain. I wish more people would think like that in SL.