by Alphaville Herald on 21/10/08 at 10:09 pm
[It's Bunny, bitches! I swear that will be the only Britney connotation in here, no shaving off prim hair or dropping prim babies in the virtual swimming-pool ... No, I won't leave the Post 6, I am sorry to burst your bubbles. You will have to put up with me, my articles and pictures a little longer. The reason I decided to make my own Post 6 is my RezDay on 24th October; I thought it was time to sum up my experience after two years in this virtual world. The pictures were taken by former Post 6ers, namely Amaliscious Destiny, Seikatsu Koba and Nate Ninetails – yes, I have chosen the best for the job!]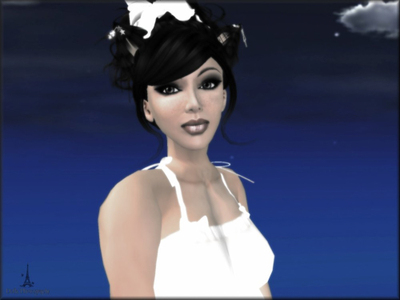 I joined SL after reading an article about virtual worlds in an issue of Technology Review. As an avid The Sims player I considered it another opportunity to waste time on building houses and dressing up dolls – not knowing about the social impacts it would involve. I created an account and jumped in world. My first mission was to make my avi look good. While waiting for Paypal to activate my account, I discovered the Free Dove. It was my second day in SL and it was the day I met the person who would become the most important and most valuable for me – Valjean. Not only did he keep me from wearing boxes on my head, he also became a loyal friend, one who would stand by my side when life got rough, and the one person I look most forward to at the weekends.
We started exploring what this virtual world had to offer. I was amazed by the talent and creativity of builders and scripters. We went snowboarding and ice skating, windsurfing and dolphin riding. The same things you can do in real life but here we could do it all in only two hours. Second Life had caught me.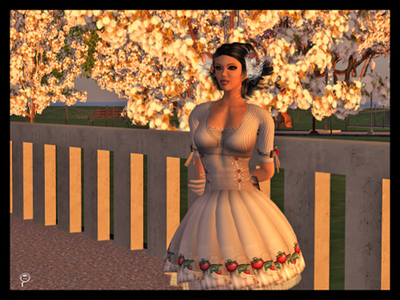 It was the time when the grid was offline for routine maintenance every Wednesday. The maintenance Wednesday was usually followed by a nothing-works Thursday, a we-are-working-on-it Friday, a weekend when things worked almost normal and a Monday that made you scream for maintenance Wednesday again. There were no sculpted prims; there was no Windlight, Voice or flexi hair. But I loved it nonetheless.
I started to learn building. In the meantime some RL friends had joined SL and together we enjoyed torturing prims. The first venture was a furniture store. Not because we were keen on selling but all those things were in our inventories and we wanted to show them off to the world. That's how GaZoV DeSiGnS was born. But a furniture store needs prims, lots of them and so we started experimenting with tiny prims and made our own accessories. Little Asian fans that would poof flower petals, schoolbags with Hello Kitty prints and anything cute and whimsical we could think of. We still love creating more than selling, don't care much about profits and marketing. As long as we make enough to pay the rent for our stores, we are good. Most of our things are given our for free to our group members and friends.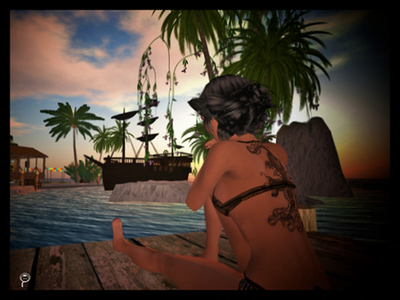 That's the thing that marks Second Life for me – generosity. People sharing their creations, offering you land, objects, scripts for free – just because they can. I would like to thank three of the most incredible landowners in SL for giving me a home, a place to put my store on, for always leaving the light on and keeping a house warm. Lasla Mannock, Alidar Moxie and Amaliscious Destiny – three women who constantly amaze me with their generosity, their loyalty and creativity.
Women … yes, my virtual world is a woman's world. While my RL is dominated by male friends and business partners, my SL is a mostly female dominated world. My sisters and I live in Dollz Town, a pinup/burlesque themed sim. Girls in lingerie everywhere! I work as a photographer for the Dollz Modeling Agency and I am the editor of Dollz Magazine. I don't consider my work a burden – it is a passion.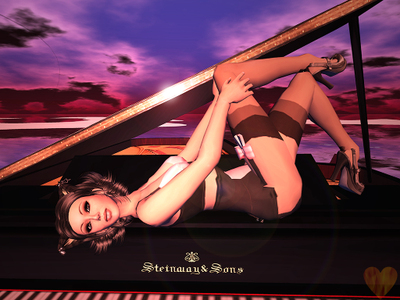 There are so many talented ladies out there and I am more than proud that they have become close friends over the years. Jenn Villota whom I consider the most talented 3D artist ever. Her pictures usually blow me off and her friendship is something I will always treasure and appreciate; she is probably the most genuine person I ever met in SL. CodeBastard Redgrave who was one of the few people who managed to impress me. She is sweet and caring and her FilterCam allows me to explore new ways in SL photography.
SL photography and 3D art are my favorite waste of time. While the Post 6 photo shoots are mostly inpromptu and strongly depend on the quality of the models and locations, the pictures I create for Flickr are thoroughly planned and staged. I get a lot of inspiration from music and movies. But it can also be a certain pose (5ifth Order rocks!) or location that inspires me. Weapons and wings are standard props in my pictures and a part of my work will be exhibited at the opening of the Nightflowers sim on 8th November.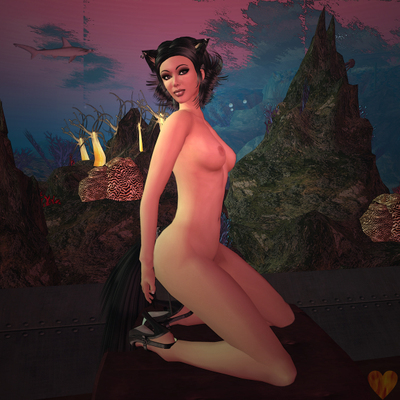 That's my second life: I work, I create, I take pictures, and I have friends. Pretty much like my first life. The only difference is that I wear a tail and fluffy ears in SL. I have my likes and dislikes – many of them. I deeply detest gestures and mute each and everyone around me using them. Child avis are icky; bling and facelights are a visual nuisance. I don't get the hang out of Gor and endless discussions with slaves (and even worse their creepy masters) why I wouldn't accept their Post 6 application are really tiring. The basic rule is 'I don't feature avis who spend their SL on their backs or knees' which means no escorts and no slaves. My Post 6 – my rules! I mute and kick everyone who asks for poseball sex. I am tired of justifying myself for it, get over it! I reserve the right to make snotty comments about people taking their RP to public non-RP places. Really people … you can do your BDSM and Gor stuff wherever you like but if you do it in a normal shoe shop, you will have to live with my mean comments. I don't pull my guns and shoot random people in a store just because I used to do combat RP in CoLA and Midian either. But apart from all that, I really love SL.
That's me Bunny Brickworks, love me or hate me, I really couldn't care less. I want to thank you for reading, thank my former Post 6ers for the wonderful photo shoots and for being willing to put up with all the little basement trolls commenting your articles (seriously, what's wrong with you guys?) and most of all Pixeleen who made all this possible.