by Alphaville Herald on 28/10/08 at 11:42 pm
Spontaneous resident protests fill, then crash LL's Nautilus showcase sim
Protest overflows into neighboring regions
by Curious Rousselot
Around 1:30 SLT on October 28, 2008 the region of Nautilus – Shalim experienced something you don't normally see on mainland regions as new as it is. Avatars, including this reporter, were unable to enter the region due to it be "full". A group of protesters has gathered in the new regions of Nautilus to protest a new pricing structure for Openspaces SIMs on private estates. The protest was organized in response to a change in tier payments on Openspaces that was announced on October 27, 2008.
The protest over Openspaces was so big that it was split and saw a significant portion of protesters in Nautilus – Adherbal as well as Shalim and Yamm. With regions preventing others from entering more than once during the protest and at least one full region crash due to the volume of avatars present.
The protest group, -SOS- was organized by Cube Republic within hours of him finding out about this, the latests attack against estate owners and less than a day later it had grown beyond what even he expected. In his own words, "My friend, Hermit Barber sent me the link for the blog, and I was outraged at the price increase. I started the group because I feel strongly about this issue, and invited loads of people. It hovered at 24 people for about an hour and it was actually Jackson Rickenbacker who started the first protest on the estate services sim. The group from there on grew to a 1000 members plus. Although I started the group, It belongs to the second life users now who feel strongly about this."
"I was totally overwhelmed at one point." he said, "What have I done"?
In March 2008, Linden Lab added a low-traffic and low resource type of SIM for estate owners to allow them to create public land the same as is found on the mainland. Then intended purpose of these Openspaces is to create entire water or wilderness SIMs similar to the public spaces found on the mainland. The Lindens offered sells Openspaces through the Land Store to estate owners at a significant reduction in tier and up-front purchase costs but there is a catch. The Openspaces are run 4 to a CPU (unlike regular SIMs which have their own dedicated CPU).
The price changes move the cost of tier for an Openspace SIM from US$75 to US$125, a two-thirds increase in monthly tier. And, starting in January, all Openspaces will have an up-front purchase price of US$375 instead of US$250; again a significant price hike. the Lindens have also decided that there will be no grandfathering for existing Openspace Regions. However, all Openspace regions that are currently running on Class 4 servers will be moved to Class 5 servers to improve the user experience on those servers.
The announcement made by the Lindens on October 27, 2008 at 6:05 PM PDT does provide extensive detail and justification for their decision. However, as evidenced by the protest in Nautilus, there are many already upset estate owners who no doubt feel that this latest cost increase along with the recent influx of mainland itself is not going to help the already crippled economy of Second Life.
As the Linden's explain in their post, they have analyzed the use of Openspaces and determined that many estate owners are not using them as the Lindens originally intended. Instead of being public parks and water spaces, a significant number of estate owners are parcelling out the Openspaces SIMs and renting or selling them off. The result is that these Openspaces are making much more use of shared resources like the asset servers and bandwidth than originally intended. As a result the Lindens need to make the price increase to better reflect the actual usage and to facilitate the upgrades needed to maintain a consistent Second Life experience.
Linden Lab has very clearly stated there intentions and summarized nicely at the end of their announcement exactly what they intend to do:
* Openspace prices and fees change on the 1st January with no grandfathering.
* Class 4 Openspaces will be upgraded to class 5 in January.
* Educator discount is no longer available for Openspaces.
* No Owner switching for Openspaces unless it's a full transfer of Payor.
* More proactive education by support staff to prevent unfair resource use by Openspace regions.
---
Your money in their pocket
---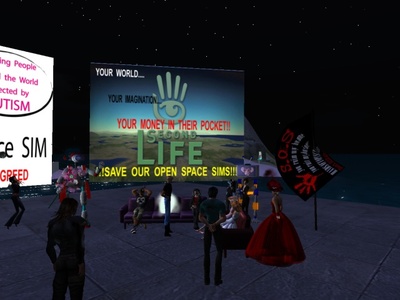 When Cube Republic was asked if he would be willing to answer questions for the Herald, his response was to teleport this reporter to Romantic, and Openspace water SIMs to have a voice chat. He invited a few other concerned people to the conversation and we wound up having a conversation with at one point over 20 people expressing their concerns and view points and concerns. All of them were expressive and spoke well. What follows is only a brief summary of what I was actually able to capture as I was maddly typing listening to the conversations going on.
Erik Zorger, had a very good breakdown of the cost comparison. In summary, Linden Lab actually makes a bit more money on Openspaces today (before their proposed price hikes) than they do with regular regions.
* A class 5 region runs on a single core of a quad core processor.
* An Openspace runs 4 to a core, so you get 16 open spaces on a single quad core system
* When it is broken down, the tier on the 16 open spaces at the current $75 each is $300 per core
* Compare that to the 295 per core for the full regions.
* With the new pricing this moves to $500 per core in tier alone; that's $2000 per month per CPU.
Dave Sparrow, is the originator of Naughty Auties, a charity support group for people affected by autism. The members of this group have entrusted Dave with over L$100,000 to spend wisely withing Second Life to help them. A few weeks ago the group chose to purchase an Opensim to create their own home. The group is still small and this first home was a challenge to them. With the removal of reduced pricing, Dave is afraid not only for the survivability of his own group but what will happen to other charities, "I don't think Linden Lab takes businesses within Second Life seriously. I can't see Naughty Auties surviving this. It's going to hit a lot of others as well."
Kat Klata, owner of 4 Openspaces and one full SIM said, "this is going to kill me". She is running her Second Life business at a break even point. It's more for fun than profit but she can't afford to run her estate without her renters.
Jackson Rickenbacker, a small estate owner who rents some Openspace to Cube Republic. She was kind enough to respond with text so I offer her heartfelt words right here:
[16:39] Jackson Rickenbacker: well there [is] little doubt in a global reccession that my residents that live on my opensims will have to share the burden of either paying more in fees, or allowing me to convert the opensims to full sims thus, for the meantime keeping thier normal land fees intact [at the cost of a three quarter space reduction].
---
Estate owner Aminom Marvin talks with the Herald in detail during the protest to explain the issues she faces and her reactions to the policy changes
---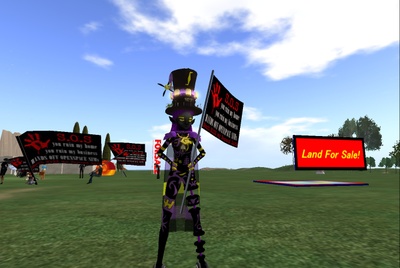 [14:47] Curious Rousselot: Great. So first, tell me a bit about your estate.
[14:49] Aminom Marvin: I'm a sculpt designer, and use my main sim as a store. I first got into openspaces because when I bought my sim, it was covered by the former Linden Lab policy of providing free openspaces to people who bought a month before the price changes. I rented this out to a friend as a low-resource store. After that, I rented out three sims to a friend, who rents them. He keeps a close eye on resource use. I also rent out to two other friends who use them as stores.
[14:53] Curious Rousselot: As the Lindens explain in their announcement, they intended to offer openspaces as a sort of public space for estates. How did estate owners understand the intent at the time you purchase your openspace?
[14:58] Aminom Marvin: By offering openspaces individually, increasing prim limits, reprogramming the land store for instant delivery, and decreasing price, it seemed to obvious to almost everyone that Linden was trying to take what was formerly a luxury product and make it into a product people would use everyday. In the days between the announcement and establishment of policy, everyone from casual users I had talked to, to rental business people saw this coming. Why didn't LL?
[14:58] Aminom Marvin: My most major problem with how Linden has dealt with this issue is that it shows an ignorance of how Second Life works. The history of all creative endeavour in SL has been users trying to squeeze as much value, creativity, and use out of SL's often limited tools. My sculpt business is based around this same concept. We see this in megaprim use, texture art, prim torture, novel land businesses, and just about everything esle in SL. In the recent blog post, LL mentions that it failed to forsee the current way that openspaces are used- despite having actually increased prim limits on them to make users able to squeeze out more from them. Best case scenario, this shows a total lack of knowledge on a organization-wide level with how SL is used for creativity- and to top it off, blatant disreguard for its users, as the massive backlash we currently see could be seen coming a mile away. For this reason, I think that Linden's rationale for the new policy- resource use, is a bold-faced lie.
[15:01] Curious Rousselot: You've already explained this a bit but what are your concerns about the planned tier and purchase price increases for Openspaces?
[15:05] Aminom Marvin: My concern is that untold numbers of users will be forced out of Openspaces. The people I rent to are already talking about it seriously, and so are many openspace renters and land barons. I was at a discussion yesterday in Caledon where Desmond Shang discussed this, and it is going to be very hard even for his business, which has high demand. It will definitely create some flight back to mainland, but at the inevitable expense of many angry, frustrated users either leaving SL completely, or going landless. In effect, it will turn openspaces back into a luxury novelty instead of what it has been- the most popular land product in SL. As a result of a massive shift in land use and a flight from openspaces, not only will land owners be hurt, but also content creators, as content sales is strongly tied to land holdings.
[15:07] Curious Rousselot: My last question, is there anything else you would like to say for the article?
[15:09] Aminom Marvin: I would like to say that the real reason for the new policy is most likely not "resource abuse"- as that argument does not hold up under scrutiny. The real reason seems to be Linden's failure to make Mainland a competitive product with Openspaces. The first three and a half pages of mainland parcel listings in land search, ordered by price per meter, shows parcels less than L$3 a meter. L$3 a meter comes out to something around $740 USD for a sim. This is significantly below the base auction price of mainland sims, and the setup fee for private islands. We have seen Linden try to make mainland more competitive through introduction of their own value-added sims such as these Nautilus sims, and through proposals to beautify the mainland, but it strongly seems that they are trying to abandon improving existing products or adding new ones, and instead trying to force openspace users back to mainland by reducing it value and use.
[15:11] Curious Rousselot: Thank you very much for the interview.