by Alphaville Herald on 24/11/08 at 6:47 pm
La Performance and Ballet Pixelle present virtual ballet controlled by arrow keys
by Lora Constantine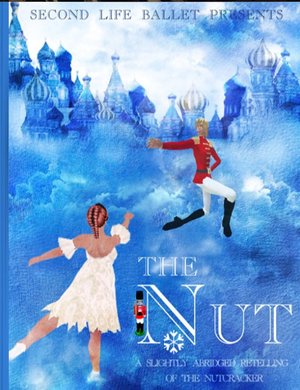 Two virtual world ballet companies premiered new productions on Sunday, November 23, 2008 – with a little help from IBM and Second Life.
At 2 PM, "La Performance," a new dance company, opened its high school gym-style performance of "You Are So Beautiful" in Shakespeare. La Performance's "You Are So Beautiful" featured several acts of modern dances on a large sky platform, "SL Style" with music by Zucchero, and choreography by Jie Loon.
"Ballet Pixelle (formerly known as Second Life Ballet)" opened their Winter Season at 5 PM with a formal production of "The Nut: A Slightly Abridged Telling of The Nutcracker" in IBM 10. Ballet Pixelle's "Nut" featured a more traditional rendition of the familiar story of The Nutcracker with music by the Bolshoi Ballet Theatre Orchestra, and choreography by Inarra Saarien.
Although one does not need to possess a lithe or athletic body to dance in a virtual world, many hours of rehearsal times were devoted to perfecting the acts, especially in training the dancers' entrances and animation activations.
Both companies feature "free form" dancers, where the dancers are not on scripted paths, but have to maneuver with their arrow keys precisely in finger acrobatics. Ballet Pixelle features original animations created by their artistic director Inarra Saarien.
While lag is always an issue with virtual performances, about 50 audience members flocked to each premieres. Each show ran for about 45 minutes. Shows are every Sunday at 2 PM for La Performance, and every Sunday at 5 PM for Ballet Pixelle.