by Alphaville Herald on 26/11/08 at 7:28 pm
[Sometimes you only have to be patient and wait … I have been looking for quite some time for a woman with a darker skin. This is about diversity, right? All I found was girls meeting all bad clichés – big booty bling chicks who looked like straight out of a 50 Cent video clip. And all the time I wondered where the ebony beauties with style and class and brains were. The answer was easy: right in front of my nose. GoSpeed – I knew her name from Plurk, her pictures from Flickr but I would have never imagined she would like to be featured as a Post 6. During last week's shoot at Night Flower, I managed to sneak a picture of her and when it rezzed I saw this beautiful avatar on my screen. And much to my surprise she agreed to pose for me, I jumped with joy! The pictures were taken in Aintree Common, one of the OpenSpace sims the future of which is still unknown. – Bunny Brickworks]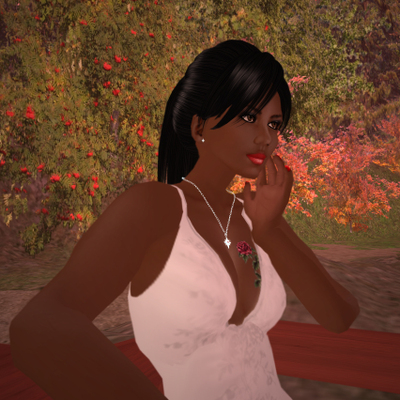 Oh where do I begin? Who I am and what I do seem like the best things to talk about in this article. I am a pretty straightforward person. I'll tell you how I feel about something even if it makes you mad. I am a very loyal person and will protect my friends when they are being attacked; I am not, however, their mother either. I will protect your honor, but not your sensibilities.
I feel I am also a generous and compassionate person. I'll give my time when you need help or are lonely. It bothers me very much when my friends are sad. Feeling sad and alone is a terrible place to be and I do what I can help. I used to help a lot of newbies but that has decreased a bit, as I have gotten much busier in my activities.
In my two years in SL I have experienced many emotions and have experienced so many things, good and bad. On the bad side I have experienced blatant and disguised racism. I am not black in RL yet it still bothered me a lot. The incredible insensitivity and narrow mindedness of it was just awful. I've had now former friends turn on me and stab me in the back. The same people who I have mentored, given shelter, given my time and my heart to. Unashamedly betrayed and then threatened by them in the wink of an eye.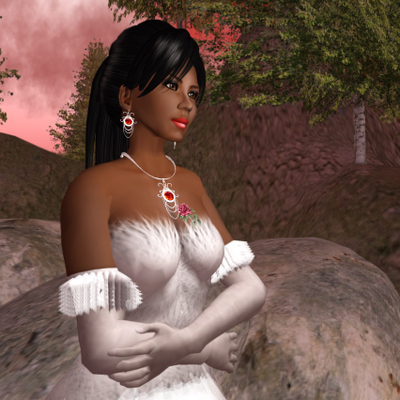 Over what? The access to and acquisition of power. Yes, having control over or access to a person who controls a sim or a parcel will make some people cast you out and disparage your name. I am a firm believer of karmic retribution and of the saying that living well is the best revenge. Indeed, time has shown that having is not the same as wanting and your deeds do catch up to you.
On the good side I have met some truly wonderful souls. There are people in SL who will forsake their own interest to support you. Honor is something I truly treasure most of all and it is rarely shown. I would specifically like to recognize these people for their unwavering support for me in my trying times: Yxes Delacroix, Crap Mariner, Zoe Connolly, Grizzy Griswold, LaDonna Upshaw, Izabella Bentham and Kevin Ludwig. I know that at times I can be hard to deal with and I want to thank everyone else for putting up with me when I was at my worst.
What do I do in SL? I do a little bit of modeling here and there. I did enter the Miss SL Ebony 2008 pageant and got to the 3rd round (top10 out of 58 entrants). I am a very avid Flickr user and administer several pools to include Second Life Ebony, Second Life Video, and iheartsl.com and have started several niche groups as well. I am especially proud of the Second Life Ebony group with its 243 members. http://www.flickr.com/groups/sl-ebony/. I used to sail quite a bit but now I am into flying. Well the flying part will end soon what with the Open Spaces debacle. I am joining the RCAF and will fly off world with them on the IL2: Sturmovik flight sim. I also love music. I am a DJ for KONA Radio, http://www.konastream.com – currently one the most popular stations in SL. I play weekly at the Clocktower in Edloe and at Fibber Magee's in Dublin. I am also an active blogger. I've participated in 4 blogs with the latest being my own blog, http://gospeedracer.wordpress.com.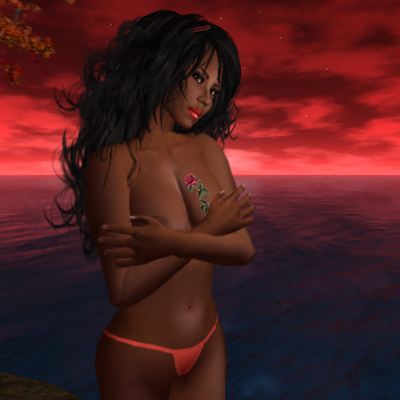 In closing I want to give credit to Ravishal Bentham for his 2 years of constant support. Without him I simply wouldn't be here, period. I am his opposite. Whereas I am a social butterfly who makes a big splash, he's quite reserved and utterly dependable. Quiet guys like him unfortunately get overlooked a lot.
- GoSpeed