by Alphaville Herald on 06/11/08 at 11:25 pm
by Fiend Ludwig
In a sum-up of the 20008 Second Life Community Convention (SLCC), Eric Reuters reported that "notably absent from the conference were any real-world businesses from outside the virtual worlds industry," but that "the breakout star of SLCC was the burgeoning virtual world educational community."
As the platform matures, Second Life is proving to be a ground-breaking and innovative way to not sell stuff but teach stuff. One of the most compelling examples of this is Foul Whisperings, Strange Matters (SLURL). As accurately described in the press release, it "brings Shakespeare's world renowned and extraordinarily influential play Macbeth into a virtual worlds environment." And is a "timely use of pop culture as an adaptive bridge between classic texts and new media technology."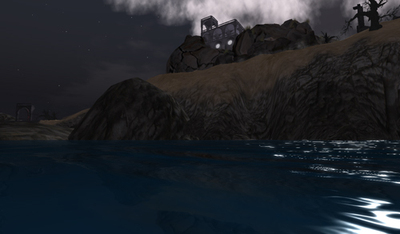 Foul Whisperings, Strange Matters
The brainchild of Dr. Angela Thomas (Anya Ixchel in SL), a senior lecturer in English and Arts Education at the University of Sydney, the project is a stunning the example of the combination of imaginative and evocative building and thoughtful (and though-provoking) multi-layered educational content disguised as a wickedly creepy interactive carnival ride. She says "it took me 3 or 4 hours to do the initial designs, and then 6 months to make it."
Thomas continues, "I didn't make it of course. I am good at ideas, but actually getting them into practice is really tough. [It was] totally a team effort." In fact, it was built pro bono over 8 weeks by the New Media Consortium, led by Larry Johnson (Larry Pixel), and builders Chris Holden (CJ Carnot) and Beth Satchjen (Stella Costello). She collaborated with Producer Kate RIchards (Nini Dubrovna) and Director Kereen Ely-Harper (Dorothy Porta). Funding was also provided by the Australia Council, the Australian government's arts funding and advisory body.
On the island you are wholly immersed in the look, feel, sound, and text of Macbeth. The clever layout of the props leads you sequentially to a series of interactive 'scenes', each designed to elucidate a facet of the play. Your path follows that of Macbeth's as he descends into murder and madness. Along the way there are notecards that give the visitor/student/teacher a range of discussion points, references, and activities relating to the current scene, and the whole project is accompanied by a very comprehensive wiki.
This rich educational component, linked with the carefully detailed design of each scene, allows for wide range of user experience; from quick survey to in-depth learning (and teaching) event. And so far, the sim is racking up some pretty impressive traffic numbers. Thomas reports 4000-5000 visits per day on weekends and 700-800 per day during the week.
A visit to Foul Whisperings, Strange Matters unlocks creaking gates though which to venture and excites the cauldron of imagination. It inspired me to re-read Macbeth, which I have not read since high school English class. Surely this, and other similar projects that will inevitably follow, is future for virtual spaces like Second Life. Education, inspiration, invention. Opening doors and showing the way forward.
Just like the Witches.

By the pricking of my thumbs,
Something wicked this way comes.
Open, locks,
Whoever knocks!
---
Fiend Ludwig also writes for First Person : Second Life