by Alphaville Herald on 14/12/08 at 4:34 pm
Parties, dancing, and "fun" activities at the Bimbo Ranch House – the story of the Bimbo Cheerleaders

by the Bimbo Cheerleaders


Las Vegas Nevada can be a pretty exciting place to visit but even it could be improved – if it followed the model of the Vegas Sim in Second Life and had a real Bimbo Cheerleaders Sorority House. Sim owner Stroker Serpentine has done the real Vegas one better by inviting the Bimbo Cheerleaders of Second Life to locate their main headquarters on his sim. With over 1000 active members now wearing the the Pink and White , The Bimbo Cheerleaders are by far the largest Cheer Squad in Second Life. Their ranks are filled with beautiful girls who love to have fun and participate in the many levels of activities the group has to offer. These range from social activities such as parties and dancing sponsored by the club, to other even more "fun" activities involving the use of the facilities their house has to offer.
With SexGen owner Stroker Serpentine as a sponsor you know The Bimbo Ranch House is well equipped with all the latest and greatest he has to offer. As you can probably guess also, the Bimbo Cheerleaders know how to make the most of it too.
Incidentally, the Ranch House is not a bordello and just like RL, what happens in Vegas stays in Vegas! The Ranch house provides a place for the girls to relax after a hard day of cheerleading to open a sim, or maybe raise money for a worthy charity. The Squad always welcomes a chance to wind down with a little nude sunbathing at the pool, or dancing on a pole, or otherwise "relaxing" visitors in one of the many private rooms. Head cheerleader Cheergirl Allen has truly created Bimbo Cheerleader heaven in SL. She makes sure the girls always have something to do and the guests are always happy to visit. Starting from humble beginnings, The Bimbo cheerleaders are today one of the largest and most active groups in SL.
Cheergirl Allen pioneers cheer leading in SL
In Aug. of 2007 head Cheeleader and creator of The Bimbo Cheerleaders Cheergirl Allen, an accomplished real life digital graphics artist, entered Second Life and the virtual world has never been the same. As is obvious by her chosen name, C.G. had an interest in Cheer leading and began to search for anything to do with it. To her surprise, aside from one or two places, there was really nothing for cheerleaders to do or wear in the game. Cheergirl recognized a niche when she saw it and almost immediately single-handedly created the Cheerleader Community in Second Life. The Bimbo cheerleaders were born!
Since inception, the group as served as a formal Squad within the game for anyone and everyone to join and cheer and have fun, attracting a wide variety of cheerleading enthusiasts with various opportunities available for all levels of participation. The group attracts and serves a surprisingly diverse community ranging from former high school or college Cheerleaders and want-to-bes to some just being, well… sick, depraved individuals who wanted nothing more then to act out their sick ,twisted fantasy of F***ing the head-cheerleader every which way from Sunday. In the end, The Bimbo Cheerleaders Group somehow manages to keep them all satisfied and having fun. This helps explain the astronomical growth The Bimbo Cheerleaders Group continues to enjoy under the competent leadership of SL's greatest Head Cheerleader, Cheergirl Allen.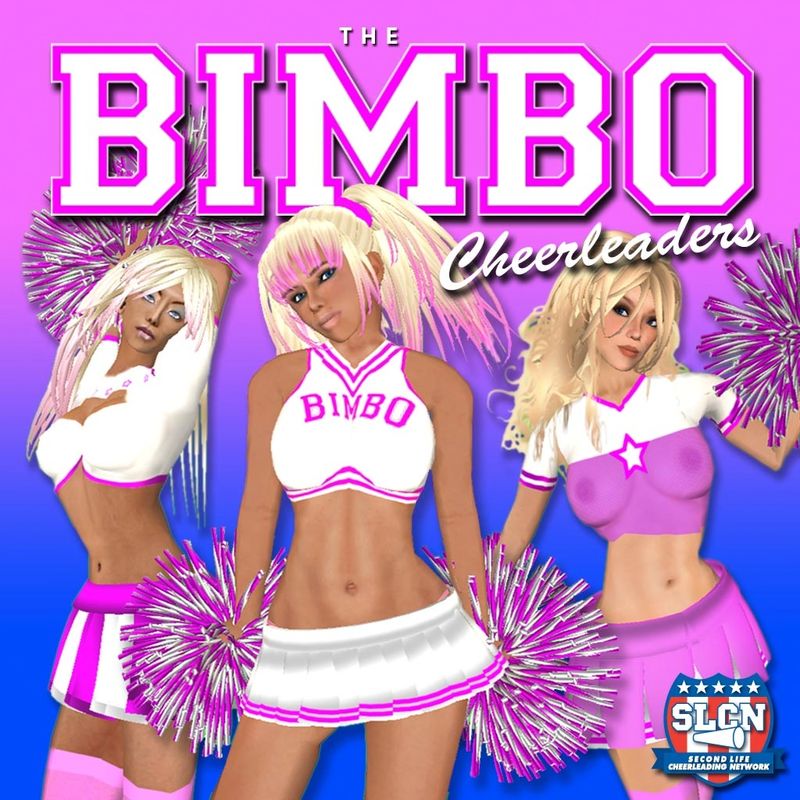 This is evident from the comments of Bimbo Cheerleader Vicky who said:

"I joined The Bimbo Cheerleaders in the summer of 2007. I still have a picture of CheerGirl and I in the first cheer uniform she designed dated in June of that year. I had been in Second Life for about a year before then, and bought the uniform from her because I thought it was cute and well done. Little did I know that, that person to person sale – before she became the master of vendor sales and super business woman – would lead to the best Second Life group I have been in. In-world time flies as we all know and The Bimbo Cheerleaders group has only gotten better over time. The group is full of fun people – not a drama magnet at all. The group gathering spot has changed a few times, but each move always brings us something better. And the current sorority house in the Vegas sim, is the ultimate place for group members and visitors to have a great time any hour of the day. I have stayed active in this group because of the people and the fun attitudes they keep. Plus the ringleader and head Bimbo, CheerGirl, is a sweetheart that really seems to have a sense of what people in Second Life want and how to keep it new and exciting. The Lindens should look at this group as model of what a Second Life group can be and do everything they can to encourage more like it to help keep Second Life alive."
The importance of cheerleader uniforms
Everyone knows sex sells and there is nothing sexier than a cute Bimbo Cheerleader in her pink and white uniform (as if any other colors would make sense.) From the beginning, the Bimbo cheerleaders uniforms as created designed and produced by Cheergirl Allen have been a huge hit. Cheergirl obviously knew what she was doing and hit upon the perfect formula: skirts just long enough to barely cover an Avatar's ass but still short enough to show some digital panties. Cheer enthusiasts throughout SL were almost immediately beating down her door to join the squad. Nearly overnight group membership was 150 and the growth continues to this day. There are now over a thousand of members in the squad and it is the largest Cheerleading group in SL. Cheergirl continues to produce new Bimbo products including sex toys, and promotes activities that keep everyone excited and enthused. However, there can be no doubt that perhaps the greatest initial magnet that attracts new members is that sexy line of Bimbo Cheerleader uniforms which she continues to develop and expand.
New Bimbo Cheerleader Saphire Sweetwater's comments demonstrate the powerful lure that these uniforms continue to be: "Being a part of the Bimbo Cheerleaders has been a great experience. I'm not even a month into the group and i've already met some of my now best friends that I probably wouldn't have if i hadn't joined. Why I joined in the first place was because of the cheerleader outfit, I wanted it for my strip club's theme night, and just fell into the group, and now I see there's more to it than a uniform. Some of the things I like best are that the bimbo's often help real life charities raise money, which is awesome for any SL group to do, and im glad to be a part of this extrodinary group. Another thing would be how much fun we have at the weekly wet t-shirt contest. My very first time attending i won, and the prize was one of the top of the line SexGen beds, which i'm going to leave your imagination to get creative on what I do with that. ;] "
It takes more than a great uniform to build a successful Cheerleader group however and the road to success has not been without bumps. Along the way Cheergirl has had to contend with any number of copy cats and thieves who seemed determined to undermine her efforts and steal her creations. All were mercenary pirate pretenders however and lacked the true Cheerleader spirit needed to make any cheerleading group thrive. As she battled, people recognized that Cheergirl Allen uniquely possessed these special qualities and allied with her to beat the profiteering rip off artists who's only concern for the girls revolved around taking their money. The Bimbos have always been about more than just a sexy uniform.
Bimbo Princess
One person who definitely knew this was Bimbo Princess! She is one of the greatest friends the Bimbo Cheerleaders and all cheer leaders in SL have ever had. The Bimbo Cheerleaders were reborn under her coaching: The Locker Room was rebuilt, and a new store to get Uniforms in-game, called the SL Cheerleading Network, was created. This store was not just for the Bimbo Cheerleaders but for all Designers, Cheerleaders, and Animators who, as a whole, wanted to expand the face of True Cheerleading across the digital world of Second Life! S.L.C.N. brought together the BEST and brightest of all Digital Designers with one goal in mind: Show everyone in-world that Cheerleaders are more then something you just had to F**K, but instead are a force to be reckoned with!
 Through the S.L.C.N. the Bimbo Cheerleaders began once again to host parties and events; and soon, with the backing of a few Real Life Charities, began raising Lindens for such things like Breast Cancer Research and giving children of lower income household's warm coats for the winter. The true spirit of SL cheerleading was reborn and has been gaining strength ever since. This has served as a magnet for some who are interested in being able to do good in the real world even while in SL.
Varsity Squad Bimbo cheerleader member Colleen Brennan comments: "I have been a member of The Bimbo Cheerleaders in Sl for over a year and I have watched it grow from just a few members to one of the largest groups in world seemingly overnight. To understand the rapid growth all you have to do is meet Cheergirl Allen. She is the very creative founder and never loses energy in her desire to make a high quality free fun place for people to socialize. It is a pleasure to know her and so many of the other great Bimbo cheerleaders. The Bimbos are a great community. One of the things that impressed me the most of all is how the Bimbos have risen to the occasion when it comes to raising money for Charity. They have been very successful and active in this area. More so than any other group I know. It makes me proud to be affiliated with The Bimbo Cheerleaders. Also, once you get to know the girls it is almost impossible to visit the Bimbo Ranch in the Vegas Sim and not leave with a smile on your face from all the laughs. Don't let the group name fool you. Some of these girls are very intelligent and funny as can be. The Bimbo Cheerleaders are a caring group of good people who also know how to have fun. They are a very positive influence in SL and thank you to Cheergirl Allen for making them all that they are."
Bimbos file copyrights and trademarks to battle content theft
As Cheergirl continued to battle to keep others from stealing her creations so that the group could thrive she received almost no help at all from Linden Labs other than some general advice that The Bimbo Cheerleaders file for their own copyrights and trademarks so they could possibly protect their group in the United Sates Court system. That is exactly what they did. It was also the beginning of establishing their relationship with Stroker Serpentine who was fighting a similar battle to protect his own very popular SexGen creations.
Bimbo Princess made the introductions between Cheergirl and Stroker Serpentine and the Bimbo Cheerleaders had a new friend for whom they will always be thankful. Not only did Stroker point The Bimbo Cheerleaders in the right direction to get all the Paperwork filed and submitted to the United States Copyright and Trademark Office but he went one step further. His Company Strokerz Toyz and his Product SexGen became the Official Sponsors of The Bimbo Cheerleaders in the World of Second Life. Stroker outfitted the bimbo Locker room with only his Best Products and even took one of the Bimbo Cheerleaders' Lockers and added his own animations; he also gave a Seal of Approval to sell the Lockers in his very own Strokerz Toyz store.
The Strokerz-Bimbo connection
Stroker recognized the value of Cheerleaders in SL. He commissioned the SL Cheerleading Network to Design a Totally New Cheerleader Uniform used exclusively for his Promotional Staff "Strokerz Girls" at events, clubs, and parties. The squad was created with only promotion of SexGen in mind; not for sex. The Girls were hand-picked and oriented only to do what cheerleaders do best: Make some noise and excite the crowd. Pimping or exploiting was not part of their job. This turned out to be a perfect arrangement: The Bimbo Cheerleaders finally had a somewhat Pro Squad with the sexual undertones that was needed to make it a success in a Digital world fueled by sex, yet never having to have sex or even get undressed.
Armed with what you could call a Pro squad in Second life Sponsored by a Real World Business EROS LLC – Parent company of SexGen…Strokerz Toyz, Things were looking up again for The Bimbo Cheerleaders. Then the always Beloved Bimbo Princess sold her digital lands including the one she gave the Group to build the bimbo locker room on. With absolutely no bad feelings towards the Princess, the group set out in search of a new plot of Second life land to call home. The isre offered by His Honor, Mayor Sammy Ormsby of NeXuS proved perfect..
Once again the Bimbos were saved by a very valuable and dear friend. His Honor, Mayor Sammy Ormsby owned 3 Sims on the Second Life mainland making up the Community of Nexus. One sim was Club Nexus, a full sex club that 100% free to join and be used by anyone. Mayor Ormsby provided the Bimbos with a new home top of a Hill over looking the urban streets and building that made up the Nexus. With the help of his honor, the Mayor and sponsor Stroker Serpentine, The Bimbo Cheerleaders built their new home, a beautiful Victorian style mansion that affectionately became know as the Tau Beta Chi Sorority house. The house was fully stocked with all the Best SexGen Toys, once again for everyone to use free of charge.
Charity work and the T.B.X Sorority House
With the advent of the NeXuS era and the opening of the T.B.X, Sorority House the Bimbos flourished. Traffic attracted to NeXuS found a welcome added attraction in the sorority house and as a result many new members joined the group. The continued growth cycle necessitated the creation of a leadership group, the Spirit Leaders, to help manage the group and its activities. With their help the group organized and successfully participated in fund raising charitable events for Breast Cancer and Coats for Kids as well as other organized social events such as twice monthly photo contests and dances at clubs around SL.
 Spirit Leader Leslie Leville demonstrates the excitement typical of the Bimbo cheerleaders when it comes to keeping the group active and inviting: "…I have been with the Bimbo Cheerleaders for as long as i remember. It is always a fun group to be with so many events being held. From Nexus to Vegas i have been officially the Hostess for most of the events that being held as part as the Bimbo cheerleaders activities. Since we moved our House to Vegas, I have been hosting a weekly event that is called Wet T Shirt Wednesdays that is held from 8-10 am slt. Well, I surely enjoy being a hostess since I like to talk to people and make everything fun. I want everyone who comes to the party I am hosting to be comfortable and yet at the same time have loads of fun. I love being a hostess because for me it is one of the way to contribute to the group. I hope I am still going to be an active hostess in future. YAY.. RAH RAH RAH, SIS BOOM BAH!
Bimbo community reaches out to the everyone – even Furries

The Bimbo Cheerleaders have always welcomed anyone who wanted to party with them. In early 2008 official membership was expanded to allow males, (Jocks) and Furries…Neko avatars (Mascots) and the Transgender Community (T.B.C. Shemale Cheer) with the belief that anyone can be a Bimbo or at least love one. This move proved to be very popular. Cheerleader Janellum Capalini commented as follows " I originally joined as a Strokerz Girlz back then the role was under The Bimbo Cheerleader group but it has grown into so much more then that. The group has actively participated in my studio, Furbidden Studios, a primarily furry studio, helping bridge the gap between humans and furries. I love that the girls are always willing to help for photo shoots."
Requests for Bimbos at sim openings and clubs caused the Pep Squad to be created. The purpose of the Pep Squad is to bring the TBC spirit and message to every corner of SL. Pep Squad members make appearances and assist venues in promotion. These activities resulted in the creation of new uniforms, and increased involvement of group members in running the group. This seems to be one area the girls particularly enjoy actively participating in as noted by Spirit leader Olague Nurmi:"When I first started out I was member of the sister squad at the Isle of Lesbos. Lets face it, alot of men in SL got on my bad side plus I adored the blue uniform. After awhile I decided to check out the other squads and joined the Bimbos as they seemed to be all about having fun. I've been a Bimbo for a year or more, I've actually lost track but Ive had fun attending events and being a tease. The best thing about being in the squad is all the lovely ladies you get to hang out with and all the fun things you get to do. It seems to make people have more fun at clubs when a group of cheerleaders come in and start having hot wired fun like no tomorrow. I have worked up the ranks and become a Spiritleader so my job is to keep the girls in line and make sure that everyone is doing their part and most of all that everyone has fun. It's been a wonderful part of my secondlife and I don't see myself trading it in any time soon. 
Bimbos Sexy Might In Pink and White!
It seems that no matter how hard they try, copy cats simply can not copy the energy, fun ,and excitement that membership in The Bimbo Cheerleaders brings. There is a rues Cheerleader spirit and this group is infused with it from top to bottom. While T.B.C. membership was a Spartan 300 at the beginning of 2008, membership is now expanding at rate of over 50 a month and is currently 1000+ Members Strong. Making The Bimbo Cheerleaders the largest Cheer Squad in all of Second Life. Head Cheerleader Cheergirl Allen has a lot to be proud of. Unlike many groups in SL, hers is an active and welcoming group that members love to be a part of. It is expected that the growth will continue.
Many of the the members also seek active roles in The Bimbo Cheerleaders Group as well as other Groups and Places that The SL Cheerleading Network Supports. As a result these affiliated groups often join with TBC in events and activities. Anyone who has an interest in Cheerleading, cheerleaders, or just plain fun is invited to stop by The Bimbo cheerleader Ranch in Vegas and see what it is all about. If you are more business minded and see the added value that a group of sexy cheerleaders can bring to an event you are sponsoring or hosting, contact Cheergirl Allen or one of the Spirit leaders to arrange for a pep squad to be dispatched to your location!