by Alphaville Herald on 31/12/08 at 6:07 pm
e-Business demands bots!
by Idoru Wellman, e-business consultant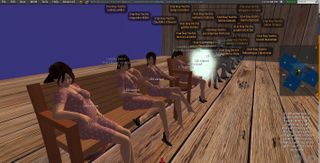 bots done right – a stylish addition to any business
A flair for witty and artistic placement of population boosting bots — pop bots — can enhance not only your in-world shop's traffic, but is also crucial in projecting a professional image. The Herald visited several shops to illustrate pop bot does and dont's – a vital part of your e-business success formula.
Why Pop Bot?
The traffic enhancement game of Second Life has leveled up to dizzying heights over the last year, and with bots now making up about half the online players, can you really afford NOT to use bots? With search results ranked by traffic, and casual players attracted to hue piles of green dots on the map, this is a game you have to play as a serious e-business owner.
The economics are favorable, because bots are a one-time investment. The alternative – paying human-controlled avatars to camp in place – brings with it the headache of customer service for players that are just to cheap to actually go buy L$s with real money. Do you really want to argue with someone who was shorted L$10 (about $0.04 USD) because a sim crashed? I didn't think so.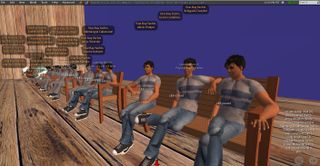 identical boy bots at Star Ray Yachts – serious business personified
Then there are the aesthetic considerations – a tidy flock of bots parked in a bot box at an altitude of 800 m2 gives you all the benefits of campers with none of the muss and fuss. Even better, you can arrange your bots as if they were camp chair sitters and claim you are supporting the in-world economy. If you take this approach is best to mix up the avatar looks a bit.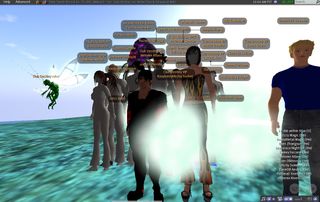 Oops! It's raining bots! – Palm Sands Resort has no  guard rails — bots can be pushed from their platform
The Latest Trends
One of the newest approaches to botting your business involved mobile bots that act like real shoppers browsing your virtual storefront – while these bots can be pricey, they can give the illusion of activity at your business 24 x 7. You'll be amazed at how much your real customers enjoy visiting your business once it is filled with faux customers that follow the same path over and over – while saying the same thing.
Pico Money Exchange – tacky plywwod bot box looks totally unprofessional 
Bots FTW!
You may hear that some people who are think that Linden Lab will ban bots – but this seems unlikely. As long as LL touts either a total population figure or an online concurrent users number, bots will remain a staple of the in-world business promotion toolkit. Remember, bots help the Lab keep their numbers up, too.
The importance of keeping the apparent resident numbers high also means that the traffic system is unlikely to be discontinued anytime soon – because without traffic there would be less need for bots and the online population would almost certainly fall.
So join the crowd! A resident without a bot flock is living a second-class Second Life. Bots rule, OK?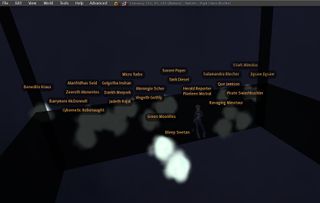 Harlots High Class Brothel oozes style and grace with smoke bots discretely encased in a closed cube