by Alphaville Herald on 28/12/08 at 8:06 pm
by Bunny Brickworks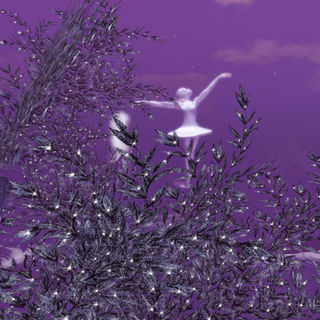 It'sthe time of the year that you open your closet and wonder what to wear to getinto the right mood for the holidays. Of course, it should be something sexy,glamorous and extraordinary. The only time of the year when even the grittiestNeko girls take off their tattoo layers and dive into the world of fluffy gownsand shiny accessories.
TheBlack Swan sim by Rezzable is grid-wide known for its excellent sculptures andhas slowly gained a reputation as the perfect venue for fashion shows with atwist. It was only natural that Rezzable and Nocturne Modelling Agency wouldchoose it as a location for the Winter Magic fashion show featuring some ofSL's most creative and inspiring designers such as Paper Couture, SilentSparrow, Casa Del Shai and DP Yum Yum.
Welcomedby a winter wonderland with beautiful sculpted animals provided by Vooner Voom,the who is who of the SL fashion scene – designers, models, bloggers andself-confessing fashion addicts – soon flocked for the first show. All seatswere quickly taken and the sim crashed twice; a sure sign for the popularity ofthe show.
Allskins gracing the beautiful NMA models were provided by [the oBscene]. Inspired bywinter fairy tales, these skins come in various make-ups with and withoutfacial and body glitters. Little sparkles on eyelids and cheeks as well as softlipstick colors add a naïve and pure feeling.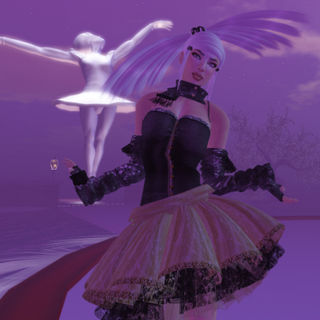 The hair wasprovided by two of SL's most creative hair stores – Philotic Energy and TheStringer Mausoleum. While Helena Stringer provided male and female hairstyleswith tiny snowflake accents, Philotic Energy revived the spirit of the 18thcentury with the Odette hairstyle for women and Derek for men.
Shoes made byKookie and Lazy Places' JAX boots kept the models' feet warm. While Kookieprovided some classical sculpted high heels, the JAX boots are surely made onlyfor the daring fashionistas who like to leave snowy trails and crunching snowsounds wherever they go. And yes, you can switch those features on and off!
Most designerssticked to the wintery theme and so SySy presented the Snowflake dresses, whichcome in a long and short version. Both dresses have tiny embroidered snowflakesand delicately ruffled skirts. Little feather accents on the left shoulderperfectly take up the Black Swan theme and add a touch of playfulness to thesebeautiful gowns.
Zaara's Hansika gown isbreathtakingly beautiful. Graceful and elegant, the inspiration for the gownwas the silhouette of a swan and the sparkle of snowfall. This empire lengthgown with its sweeping trail is entirely hand-drawn, works with most AO's andcomes in various layer options.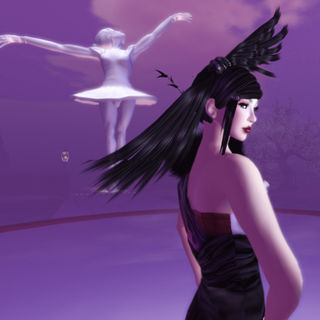 Silent Sparrow presentedthe Snow Glass Suite, a tale in eleven pieces with a pale cape that floats overa stark silhouette illustrated skirt and bodice. Ribbon bow wrist accents,fading brocade detailed stockings and bloomers. Prim white gloves complete thewinter fairy tale.
The last piece presented inthe Winter Magic show was designed by the probably most creative mastermindsamong SL designers – the Lu sisters of Paper Couture. It is not just a dress –which in itself is a piece of art – but a complete look, including hair, skin,and accessories. As usual the Lu sisters have created a piece of Haute Couturethat is surely not made for the girl next door but for the diva who loves toleave a big impression.
All hair, skins, shoes andfashion presented can be bought at Black Swan, which is currently open for thepublic without the necessity of having to buy one of the L 199 watches. If youdon't care about fashion, just visit the sim and have a look at the beautifulsculptures.
And in case you missed THEfashion event of 2008, don't worry. There are three or four more shows planned!