by Alphaville Herald on 02/01/09 at 4:40 pm
Group creation and uploads drop 20% in December
LL panics, "temporarily" disables land statistics?
by Pixeleen Mistral, National Affairs desk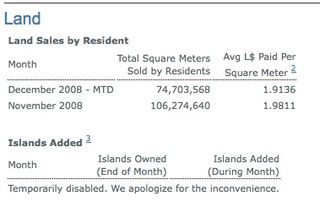 The Linden Lab spinmeisters webmasters have chosen to "temporarily disable" convenient display of Islands owned and added on the  Economic Statistics page – perhaps hoping to draw attention away from the virtual economy that is well into a deep recession?
Despite the "disabled" statistics, observers note that the grim numbers are available at the Economic Statistics (Raw Data Files) page could explain the Lab's sudden reticence – an 8% drop in total islands in November was followed by a further 8% drop in December for a net loss of 3825 islands in 60 days, bringing the island region total as of December 31st to 22,714.
The drop in virtual island ownership is attributed to a 66% price increase Linden Lab slapped on the most popular of the islands – a move many observer's believe will raise more net revenue for the Lab, despite the number of resident fleeing the price increase. However, resident alienation from the game world's economy may threaten its viability and further depress demand for Linden Lab's main product – virtual land.
Resident flight from SL could explain why a number of economic indicators including classified advertising, texture upload charges, and in-world group creation fees shrunk by up to 22% in December. This sort of powerdive in non-bot based activity strongly suggests self-reinforcing economic trends that could lead to the sort of deflationary spiral that threaten a number of real world economies in SL's major markets.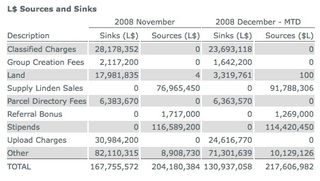 The virtual leading economic indicators were uniformly grim in December – sales of classified ad charges dropped 16%, in-world group creation fees fell 22%, and texture upload charges dropped 20%. This suggests the virtual economy is suffering the same sort of deep recession as the real world economy, raising concerns that the Second Life entertainment platform may not be real world recession proof – leading to further declines in demand.
Meanwhile, the Lab's L$ spacebux printing press is in fine working order as LL sold 19% more spacebux to players than in November. December L$ sales by the Lab were L$91,788,306 or about $USD 346,370. The increase in Supply Linden sales is likely due to less competition from resident-run in-world business for L$ sales on the Lindex currency exchange.
As real world economies look for ways to inject liquidity and create more consumer demand, the Lab may want to consider similar measures to cushion the in-world economic fall — if the Lab has any interest in the player's economy. It is also possible the real end game for the Lab has nothing to do with the L$ spacebux economy. It has become abundantly clear that SL in its current form is at best a niche market product and will never overtake pure entertainment platforms such as WoW – so look for a change in focus from the Lab as new CIO M Linden tries to keep the company afloat by any means necessary.
Now that the current residents have paid for the Lab's server farm, is the Lab moving to a world dominated by enterprise-ready business meeting ImmersiveWorkSpaces? If this is the future of SL, current residents may be left with a sour taste after bankrolling the server infrastructure investments by purchasing OpenSpace sims — only to be driven off their land by tier price increases, without the benefit of an equity stake in the Lab. Meanwhile, playing virtual store in a bot-dominated down economy seems to be losing its charm for some residents.