by Alphaville Herald on 24/01/09 at 10:00 pm
Is Robin Linden powerless to pay up -or- kill off the account referral program?
No L$2000 referral bonuses for accounts created after July 23rd 2008
by PIxeleen Mistral, National Affairs desk
At least one player grows restless over at http://www.profileslive.com/ and points out the Lab has run a broken premium account referral program for over 6 months. SHOCK!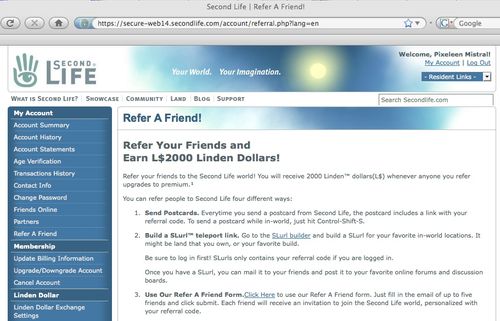 Still, there is good news – the web page touting the wonders of premium account referrals has some washed-out-gray teeny-tiny-type saying the drag-yo-buddies-into-the-SL-lag-pit referral program could end at any time and without notice – but… guys? Maybe take the web page down now? You've had six months and it is getting a little embarrassing.
Our source points out the L$ spacebux financial implications of the issue saying, "Although still officially announced by Linden Lab, this program has been broken for about 6 months. It seems that the program hasn't made any payouts for new accounts signed up after July 21. A Jira was opened up by Adz Childs several months ago and the problem was acknowledged to me by Robin Harper on December 22 of 2008. Several times I've requested to either fix the issue, announce the end of the refer-a-friend program, or acknowledge the problem. As I mentioned to Linden Lab, this is false advertising and you can't just act as if nothing is wrong!"

According to our source, "this isn't the first time that the refer-a-friend program has been broken. A few years ago the refer-a-friend program was also broken for about 1/2 year."
This sounds like a problem then. But if everyone will just try to plan for a collective summer, hold steady, and stay positive things will work out – eventually.