by Alphaville Herald on 17/02/09 at 7:33 am
by Pappy Enoch, Hellbilly Filosofur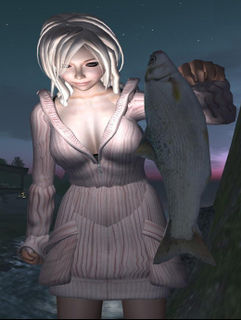 Miz Pixeleen dun sed that lots o' y'all bin cornfused by the fotygraph of a gal an' a fish what them Lindens put on Secund Life.
Ain't no puzzlement about it, peeps. Let me tell yu sum'fin asplain as the nose on the side o' my head: Them Lindens am short onmunny, losin' kustumers tu Wirld o' Warcrack n' cheaper, old-timey funlike drinkin' rotgut, getting' nekkid, an' shootin' stuff in reel life.
So ol' King Mark Linden dun gotten ovur bein' so snooty, and amlookin' outside Silly Cone Valley for plane-old boys frum down South tuemmygrate tu his fake wirld, wif cold cash in hand.
Becuz I duz pro-bony wurk fo' a college, I'm a-gonna put on my thinkin' hat tu anal-ize the picture rite now n' prove my pint.
That gal dun catched herself a big ol' bass, an her leetle-bittysweater am zipped down as far as it kin go wifout showin' her boo… (letmee be perlite, cuz gals reeds  this)…her cha-cha-bingos.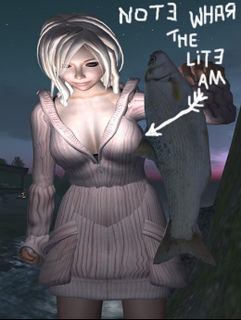 Nowthe foty-graf don't 'zackly holler "sine up wif SL so's yu kin gitnekkid n' git lucky," but it do IMPLY a thang or two. In Enoch Holler,we'd call that gal n' fish a "three-lunker speshul." While ol' lunkernumbur wun am bein' scorched for a fish-fry,  yu gits tu play sum"motorboat" on lunkers number 2 & 3.
Hoo whee! I dun wurked up a sweat.
Now I ain't aimin' tu saythem Lindens gots durty minds. They fotygraf am rite coy. They amaimin' fo' a high-tone class o' fellers n' not the trash.  But mark mywurds: Secund Life cood bee a-headin' intu the guttur faster'n aKappy-Alphy pledge gone tu New Orleens fo' Mardi Bras. If'n this galan' fish don't bring in bizness, I reckon we'll be a-seein' buck-nekkid gals wif chain-saws, munster trucks, n' whipped creem tupull in the REAL low-ball demmy-graphic.
That am why I bin hired tu sweat out this-here collum. I are so lowyu cain't git under mee.  Now du I git that Pullet Surprise yu dunpromised mee, Miz Pixeleen?