by Alphaville Herald on 26/02/09 at 7:52 am
Mardi Gras and virtual pregnancy
by Pappy Enoch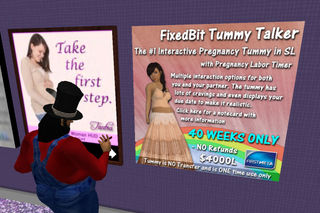 I dun give up on Mardi's Bras…becuz 1) I ain't got no munny and 2) I were alreddy drunk. Besides, the first dang search I did tu find "New Orleans" got me:
Prim babies!
The sort yu gits frum one o' them talkin' tummies. So I dun went thar, eggspectin' tu make sum fun. But them expectin' gals flirted an' teased me so bad that I blushed like a prize waturmelon.
Ended up wantin' a baby mahself tu git sum love in a mean ol' fake wirld (o' leastways git purty gals tu come up, bend over the perambulatur, n' say "hootchie cootchie goo" while I took a gander at sum SL fake D-cups).
When I tellyported, I got out my orange crayola n' a racin' form so's Icould git down what we said.  I dun run the names intu a mix-master sothese here folks kin claim they don't know me.
PS: Aftur my furst story, the cornsensus were sum 'whar betwixt "Lynch that fat retard" an' "Make him C.E.O.  o' the Linden Lab that runs the fake wirld."  
PPS: Votes were runnin' heavy on the lynchin' side, tu be honest.  
Last P &S: So I ain't got nuffin tu lose by hittin' ya'll over the head wif anudder collum. Here it am.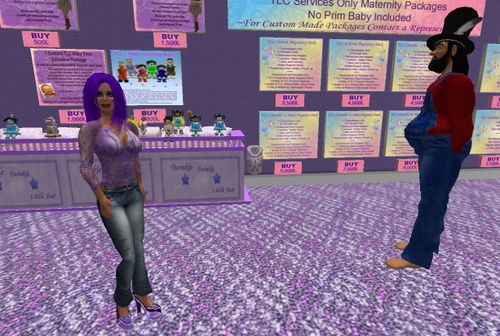 XYZ Welcome Mat  whispers: Welcome To XYZ Babies Maternity Center Pappy Enoch

Pappy Enoch puts on hillbilly-to-cityfolk translator
Patient One's Baby Sean Antony String is kicking. Patient One, rub your tummy.
Baby Samantha loves to be rocked.
Pappy Enoch: howdy y'all
Sexy Baby Doctor: hello
Sexy Baby Doctor: toss the cig. can't have the cig here
Pappy Enoch: it's a seegar, but okie-doke
Sexy Baby Doctor: cigar same thing hehe
Sexy Baby Doctor: omg lol
(I reckon I dun rezzed at that point, so she dun seen what she were dealin' with)
Pappy Enoch: they am pregnant gals?
Sexy Baby Doctor: yes
Pappy Enoch: fake smoke am bad for 'em?
Sexy Baby Doctor: yes it is
Newborn Baby Selena whispers: Diaper starts to get warm and heavy as urine fills
the diaper wow its sagging alot better get it changed.
Baby Samantha needs some attention
Pappy Enoch: Hoo whee! Don't let them lil' taters git no diaper-rash! 
Pappy Enoch:  I works for the Herald. I'm coverin' Mardi Gras.
Sexy Baby Doctor: and we have a high risk patient upstairs. My SL daughter
Pappy Enoch: do tell?
Pappy Enoch: I hopes she will be okay
Sexy Baby Doctor: she will be but she must take it easy
Baby Saphala love to be held
Pappy Enoch: am she about to deliver?
Sexy Baby Doctor: nope not yet
Yulie is tired and needs a nap.
Pappy Enoch: I gots a little boy in SL. That lil' shaver loves to cause his Pappy trouble

(I didn't speak nary wurd about how lil' ol Marcus BooBoo Aurelius Enoch dun run off with his evil aunt Jezzybell. No sense rilin' up these gals so they had messcarriages).
Sexy Baby Doctor: aww they are cute. I have girls
Pappy Enoch (inchin' for the door): I hopes your grandbaby turns out as cute as you


Sexy Baby Doctor: thank you Pappy
Patient One: what a shopaholic and a loud mouth lol 
Pappy Enoch (ignoring Patient One, who were staring our way): so do you git any folks here lookin' for Mardi Gras? That am how I found you


Sexy Baby Doctor: I have. And I have a LM for for a party tomorrow
Patient One feels a little itch from her expanding belly.
Baby Saphala is her Daddy's Little Angel
Yulie looks around the room for Mommy.
Pappy Enoch (beating-feet for the door): Bin nice, chattin' with ya'll. I'll put you in the Herald if'n my editor takes this story


Patient One: lol
Baby Samantha is her Daddy's Little Angel
Yulie loves playing with her bear rattle.
Teleport completed. Pappy Enoch removes hillbilly-to-cityfolk translator
Pappy Enoch: dag nabbit. I cain't make fun o' folks hoo am so nice!  Oh boo-hoo-hoo, Miz Pixeleen am gonna give me the sack! I aint' got it in mee tu bee the Don Ricketts o' SL. I ain't cut out fo' satire!