by Alphaville Herald on 07/02/09 at 9:59 am
Land statistics "temporarily unpublished" by Linden Lab
Two other statistics page still missing – presumed dead
by Pixeleen Mistral – National Affairs desk
Authorities at the IETF Missing Web Pages bureau were relieved to see the orphaned "Economic Statistics (Raw Data Files)" page had been reunited with the rest of the Second Life web site – a scene that brought tears of joy to all involved.
Unfortunately, the wayward page did suffer some damage from it's week-long ordeal and no longer contains references to the declining island landmass. A note at the bottom of the page explains, "Private Region data has been temporarily unpublished while we correct our reporting mechanisms to account for the recent addition of Openspaces and Homesteads. We apologize for the inconvenience". The number of private islands in Second Life have been falling since a price increase was announced last October, but residents have continued to document the decline in detail on the Second Life forums, where shock greeted the news of the web page disappearances.
Why were the land statistics removed?
As land growth turned negative last fall, Linden Lab claimed there were inaccuracies in the statistics. However, continued delays in correcting the land reporting mechanisms raise troubling questions. Justice League Unlimited member Kalel Venkman notes in the forums that 4846 islands have disappeared since the October price increases calling this, "a loss of 18.1% of the total land mass. If these were a person, we'd be talking about a severed limb here at this point."
While this story has a happy ending, earlier this week the raw data files page was believed to be in grave danger after all links to the page were removed from the Second Life web site, and many feared the worst.
Despite being de-linked and orphaned, some residents were still able to access the page by using saved bookmarks, and sent messages of reassurance and hope as rescuers worked feverishly to save the orphaned page.
---
A grim fate for two other pages
---
While the raw statistic page survived, two sister pages – Economic Statistics and Economy Graphs – appear to have suffered from possibly fatal neglect and abuse and were last seen on monday in Google's page cache.
Sadly, both pages now seem to be lost to the world as the Google cache has been overwritten.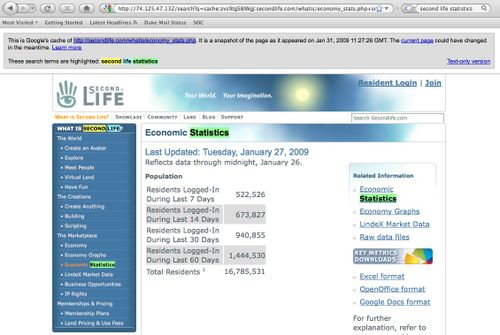 Web page anti-abuse advocates point out the Google cache pictures of the Economic Statistics page show possible signs of neglect or abuse – the numbers were radically different from the raw statistics and were significantly out of date. This sort of cruelty to innocent web pages is hard to understand — it would have been a simple matter to reformat the raw statistics to produce the page.
Was the shocking page neglect intentional? We may never know the whole truth.
Meanwhile, as a memorial to the deleted pages, the Herald offers these exclusive photos to the final days of the Economic Statistics page courtesy of Google.