by Alphaville Herald on 23/02/09 at 7:57 am
No more bots or campers -  please!
by Alessandra Narayan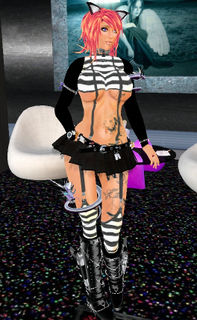 How has SL sex evolved and what is the future of the in-world sex industry – and the future of SL? To answer these important questions, nothing could be better than consulting with an expert – Brieanne Bomazi – proud owner of the escort club XXX Fantasy Escorts, also known as XFE.
The XFE club is one of the oldest in SL, and according to Ms Bomazi owes it's longevity to grasping firmly the principles of quality – quality that seem to have been vanishing in the world's greed for easy profits. Banishing bots and campers on traffic measurement is one of the XFE's madam's suggestions as she states sex will always get better and better in SL.
Alessandra Narayan (AN) – Being in SL for 4 years in the sex branch… we can consider you a sex expertise, correct?
Brieanne Bomazi (BB) – (laughs) Well, I wouldn't say expert… but…well experienced (smiles). 
AN – What has changed about SL sex since 2005 until now?
BB – Well,a lot. Back in 05, your options as far as animations, and howrealistic, have expanded by leaps and bounds. Back then, it was oneanimation per pose set, so you had a lot of pose sets. Then came theanimated, multi-options, lots of options. Also then, it was all mostlytext-based cyber. Very few of us offered voice, even less offered cam.Now seems like everyone is all about Voice&Cam.
AN – You run a well known prestigious escort club – XFE – since how many years? How has it been? Less or more clients since 2007?
BB – XFE opened in March, 06. Suzette Fackler and a few others co-owned, and I came in as an escort, then became manager August 06, General Manager Dec 06, Co-Owner April 07 and bought it out as sole owner July 07. We celebrate 3 years in continuous business in March 09. SL has always had its ups and downs. At one point we had a lot of traffic, but a glitch in LL's land options bumped us from search, been a long fight to get back in and back up. We still have plenty of clients, but not so much 'noob' traffic.
AN – Do you think people don't interest so much about SL sex as in 2005 for example?
BB – I think the interest in sex is still just as high. The problem these days is there are literally hundreds of places instead of the small number then. Folks are so busy trying to catch the 'wave' of owning a business they resort to all sorts of shady practices such as campers or traffic bots to just name a few. That makes it hard to sort the good places from the bad.
AN – How is it possible to invert the situation?
BB – I see an average of 3-10 new places a week open and probably just as many close. There are only a small handful of places that pass 6 months, even smaller that pass a year, and only very very few that pass 2 years, much less 3 like XFE. Folks open clubs, pack them with bots and campers to inflate their traffic numbers, yet you TP to them and seems you have 2-3 workers and no clients.
AN – The most recent generations in SL, born in 2008 and 2009 for example, don't have a clue of how it used to be some years ago…
BB – No, they really don't. They think making 10K a week is great money and they really honestly have no idea. They expect to come in a complete 'newbies', no idea how to work SL, improve their appearance and expect to get rich and it's simply not that easy.
AN – Have you been to free sex places lately? They used to be famous…
BB – Yes I've been to free sex places. I've looked around, pointed and laughed all these horrible new avatars, all with free bits, and voice changers, and lots of lag…  Still there are a few quality places but they are hard to find. The majority is again, people there camping and seems it's all about markets and products.
AN – What do you think about the future of sex industry in SL?
BB – I think sex will always sell and will always improve. I also think that as more people fall victim to the 'no get rich quick' idea, they will move on and only the best places will stand to serve.
AN – So, you're optimistic about it?
BB – Actually I am. I see a lot of clients not stopping the first place they come to. They demand better than average, they expect better than average, they come informed about what to expect, and they want quality. They spend money but are very choosy where.
AN – Do you think LL should limit the opening of new places or impose rules?
BB – I think LL shouldn't restrict folk's freedom to do as they will, within the rules of SL, however, I think that traffic bots and camping should be made against the rules. I think them enforcing the number of AV's per region to cut down on lag and server stress would be a big start. 70 AV's in a region, when 50-60 are camper bots is ridiculous. If they stuck to a reasonable number of AV's per region as it was before, folks would cut down on fake avatars, such as bots, and leave room for actual consumers.