by Alphaville Herald on 25/02/09 at 7:55 am
by Alessandra Narayan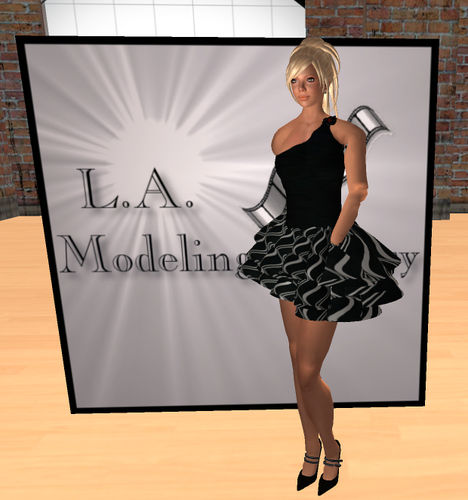 Lilley Albanese talks SL fashion
It's a new form of SOS: just change 'O' for 'B' and you'll find the new message: Stop Being Skinny, stop believing everything the TV tells you – men like curves, not the 'plain' models you seen in the runways; do you feel good having to eat like a bird? Why doing the same in SL?! 
I spoke with L.A. Modeling Agency's boss Lilley Albanese to find out a bit more about the expansive industry of fashion in Second Life while also trying to understand what direction it's taking. Is it the Real Life path, with dangerously skinny models that don't seem to be attractive to anyone besides the 'haute couture' designers? Or does it have its own course in Second Life, a free world where maybe people could more easily make a stand and say 'no' to fashion's dictatorship?
For a variety of reasons – since the messages sent by the media to TV runway shows passing by clothing sizes and even the simple mannequins in the stores (have you noticed there ain't curvy ones?) – the truth is everyone seems to be 'brain washed', a tendency Lilley Albanese herself watches everyday in her agency, trying to fight back betting high on curvy models that remember the former glamour stars such as Cindy Crawford, Helen Christensen, Elle McPherson or Claudia Schiffer…     
Alessandra Narayan (AN) – What are the physical parameters to be hired by your agency?
Lilley Albanese – We don't have any set parameters. We like to have a variety of models, an array to suit every clients needs.
AN – Ok, but that's not what we see in RL…
LA – Right. We seem to be seeing the dangerously thin models in RL these days.
AN – And is it different in SL?
LA – This is our virtual world to create how would we would like and that's what I wish to see in RL as well.
AN – So, you don't notice an in-world tendency for extreme thinness?
LA – Not necessarily. Our clients want us to send any models that we have. That doesn't seem to be the case since they want us to use our judgment and they have been completely satisfied. I was reading an article about what the perfect measurements should be for a model but to me there is no perfect model.
AN – Have you encountered excessively thin models in-world?
LA – We have our image consultant that our models have to meet with when signing with our agency and a lot are extremely thin and we have recommended they add a bit of curves to look more natural. But we also just want to enhance the looks they already have not completely change them.
AN – So, RL parameters do affect people even in-world?
LA – I do believe so. I don't see as many full figured beautiful women running around
SL so I would have to say it does have an effect.
AN – Why do you think most women in SL have small breasts?
LA – I think it may be the clothing. When you have a bigger breast with a print pattern it sometimes will distort the top and it's not that way in RL.
AN – Why do women in SL prefer to be skinny than having beautiful voluptuous curves?
LA – I am not sure. I wish I knew. They should be happy with curves, they are beautiful.
AN – Are all agencies as open-minded as yours or do they prefer skinnier models?
LA – I don't think they are as opened minded. Just judging by what I am seeing all the models seem to be thin. But I feel that not all clients are going to want the same thing.
AN – Remembering beautiful RL models like Cindy Crawford or Elle McPherson, which were not skinny and were references for modeling, how did those references got lost in the process?
LA – Yes, they certainly aren't like the models you see right now and I don't think that's healthy. Also it causes a lot of issues with the children today trying desperately to be perfect as the models they are seeing all over the covers of magazines and in the media. Also, if skinny is the reference why are they selling to all sizes just not to the extremely thin women? Besides, recently we've seen a study and men prefer women with curves, a lot more really.