by Alphaville Herald on 26/03/09 at 7:45 am
End Linden orgies for a better, more decent world
by Miss Petunia Amaryllis Courtney Taliaferro, Second Life League of Decency
LindenLab has decided to uproot the nefarious weeds sown by  Second Life'ssalacious Sybarites. My sisters and brothers in the League of Decencywill assist in the painful process of purging perversion from ourpresence.
Caveat Lector: Dear reader, if you don't have reading skills tofathom my brilliance, you should either get yourself a copy ofWebster's New Collegiate or go play some children's game with simplerwords. 
Now on to my story.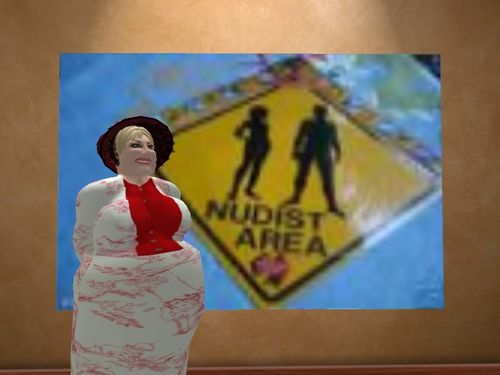 I risked health and maidenly honour at an free-sex "club," where Idid some first-hand research. Even that notorious deviant Oscar Wildewould blanche at the offenses to good taste and decency that I saw ondisplay. I have recovered enough from the vapors that nearly overcameme to call you to arms!
Here are the first targets for SLOD's righteous rage:
TalkingNether Regions: Well, I never. Why on earth would you want THAT totalk? Surely this is a sign of moral, if not mental, weakness. I amshocked and appalled that anyone would want (to use a coarse term) hismanly pointer to SAY things to a lady about the ever-changing state ofhis Xcitement. Worse still, why would anyone wish for a lady's (oh, Imust be bold) tunnel of love to answer?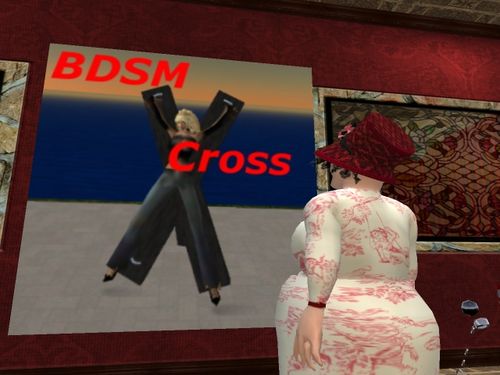 The So-Called BDSM "Community":  While some deluded girl danced inthe altogether, a hooded ruffian with the title "Master of Pain" lookedon with fiendish glee.  He was the one needing a good lashing, whichSLOD will administer as soon as stocks and triangles can be erected atWelcome Areas as a warning to newly arriving perverts.
Certain "Toys": The strange contortionist devices stagger theimagination and would surely leave a reveler spent, broken, and furtherlured into the pits of sin that defile, yet define, the Second Lifeexperience. I fled before my chaste looks and buxom figure could drawthe attention of some degenerate who might wish to defile me afterstrapping my body to one of those infernal contraptions.
Unmarried Women Having Prim Babies: They must be purged.  Thosebaby-stores are invitations to fall from grace. Show me your marriagelicense first, ladies, and only then may you push a perambulator!
JumpmanLane: He must be expunged. Utterly expunged. That's a word he does notunderstand so I'm certain we'll get him by surprise.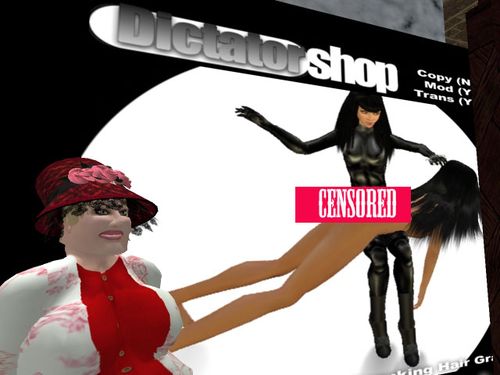 As soon as vice has been cleansed from the mainland areas of SecondLife, SLOD will work hand-in-hand with Linden Lab to improve yourSecond Lives. To whit:
Better Entertainments To Replace allPalaces of Vice: I envision formal teas, salons with poetry readings bywonderful artistes from the past, such as Colley Cibber, and modernwordsmiths of uplifting work, such as Septimus Severus Legume.
Crude Art Will Vanish: I find it hard to fathom how a man named"Filthy Fluno" could be the subject of a feature on the arts in no lessthan the New York Times.Mr. Fluno's work is incomprehensible to those with delicatesensibilities—and thus quite likely lewd. When he is cast away onPervert Island…I mean the new adult continent…great art, like theSLOD's collection of lace doilies and still lives, can be shown todiscerning avatars.
No More Linden Orgies: Burning Life, which is an invitation to riotlike the Maenads of Dionysus, will be transformed into Tepid Life, ashowcase of all that is uplifting. We'll have the thespians performtheatrical masterpieces such as "Oh, My Heart Yearns For Diddly Valley"and "Tut Tut, Quoth the Scissors-Grinder."
Join me in this better future. You have nothing to lose but your sin.