by Alphaville Herald on 07/03/09 at 1:57 pm
A personal account of a Second Life FemDom community

by Barbie Starr, SL and RL Dominatrix
[This story is a collaboration of those who worked hard at OWK in SL and kept at it through thick and thin. FemDom in Second Life is a growing part of the BDSM community. FemDom stands for Female Domination. Female Domination has many facets in the real world. OWK in SL is a depiction of a real life location in Czech Republic where Women rule men supremely. OWK(tm) is now owned by Shayna Theti-Sheri and is part of a real life project to be used as a venture for FemDom Related Resorts in the United States.]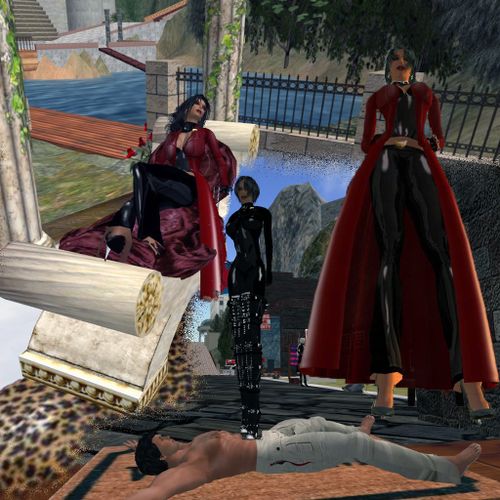 Once upon a time, Michaal Ulstch, the webmaster for http://www.owk.cz, The Other World Kingdom, LLC. discovered Second Life. This is the story of how OWK started its adventures in Second Life. Iin the early days, Michaal made friends with a few women and they started a parcel. Later on, due to real life issues, Michaal had to withdraw his efforts and wait to come back – and when he did came back, he came back with a big bang! OWK in SL was created and started on its way to be the best FemDom region in Second Life. Since his original crew, Storm Day and Nymphetamine Lake were nowhere to be found, Michaal put an advertisement out seeking new Domina to help with the OWK in SL venture.
In October of 2007, BeeQueen, a Sublime Lady of the Real Life OWK, had received the newsletter about OWK in SL. She wrote Michaal and asked him if she could help. In early November that same year, BeeQueen created her Second Life Identity, BeeQueen Smythe. She met up with Michaal to talk about what kind of help he needed in OWK in SL. At that time BeeQueen was new to Second Life, and she spent some time learning the system.
By December 2007, things seemed to start and fall into place. Shayna Paine (aka Shayna Theti-Sheri) contacted BeeQueen Smythe after hearing about OWK in SL from one of her FemDom Radio volunteers that frequently visited OWK in Real Life. Shayna Paine who offered OWK radio services from FemDom Radio. A meeting for the future was discussed about doing promotion for OWK in SL – and both knew each other prior to Second Life from a BDSM IRC server they both frequented. Around the 10th of December, Shine Rolls, searching in Second Life for things related to OWK, came upon a notice asking for help with a future region. Shine contacted Michaal and he invited her to join the group and brought her to see the new region, which as totally empty when she first set foot on it.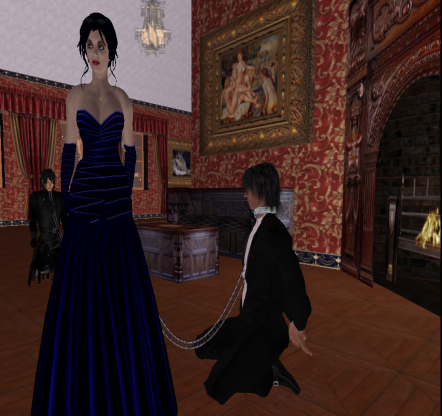 Queen innaguration ball
Meanwhile, Catz Alexander was contacted by one of the members of the Real Life OWK, a Lady Citizen who told her about the OWK in SL project. The next thing Catz Alexander knew, she was visiting the OWK region in Second Life. Nothing was in it but a man with a dream of a virtual depiction of Absolute FemDom. So Michaal met Catz Alexander and she soon got involved with the OWK in SL. Catz Alexander is from America and she dreamed of going to be a Lady Citizen of the OWK in Real Life one day. Until she had the opportunity to go to OWK in opportunity real life OWK in SL was a place she could enjoy her dream. Michaal and his building crew started to work on the region and shortly after, new people joined in and OWK in SL grew steadily. Catz Alexander and BeeQueen Smythe worked together on the rules and were both appointed to the Judge role in the early days. Catz Alexander was then asked by Michaal to take the position of slave Trainer, so she moved over to the OWK slave Trainer position, and began training the state slaves.
The region then opened to members and the building process began. Many people helped to get things organized. The documents, the buildings and the structure of the Senate all were defined in the very beginning with the help of Shine Rolls, BeeQueen Smythe, Catz Alexander, slut congrejo and gabrielaa Jinn. This group got together and worked out the rules, the documentation, as others built the region with Michaal.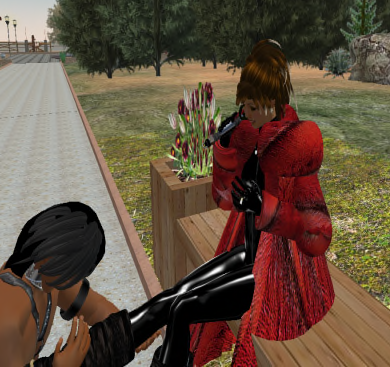 Along with work on the build and documentation in January 2008, roles were assigned. In the beginning, there was no Queen role. So for the first few months OWK in SL, had a Judge, Pony Trainer, a Chief Guardess, and a First Mistress. While slut Congrejo was working on a filing and security system for state slaves and prisoners, Shine Rolls worked on the pony area.  Michaal was there many hours working hard to make OWK in SL sim a place for many FemDom to enjoy. He helped Shine Rolls set up her stables and did a lot of work to build up OWK in SL.
By the end of January 2008, things started to pick up and members started to come to the region. The Staff group was formed and official titles were assignedt. Shine Rolls was asked to create the Lady Citizen's group. Shortly after, Shine Rolls, started the Pony Training group and also began the slave auctions as the OWK Auctioneer, the first auction was 28th of January and ran consecutive after that.
The Public Castle became a private place for the state slaves to be trained. At that time the group members could access the group areas such as Club Wanda, The Riding Hall and Villa DeVilla. These buildings started to get furnished in late January. Finally the region was open officially and all the building was completed. Nadia Ellison joined the crew for a short time as Judge then as Trainer.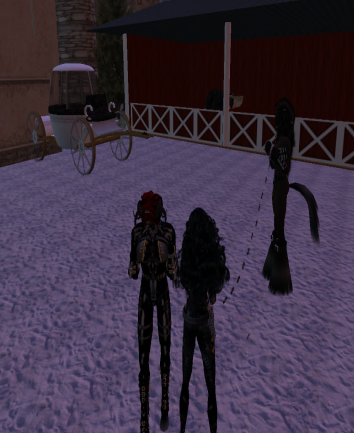 two ponyboys
The prison, private dungeon and pony stables began to have a lot of activity in January. Michaal announced the fees to the group. A member could rent a stable, be a prisoner or participate in the dungeon for a mere L$ 75 per week. These activities helped fun the OWK in SL and also the group fee of L$ 200 per member to join helped support the OWK and OWK Village regions. This fee was raised to L$ 500 eventually.
Guardesses, Mistresses and Lady Citizens of the OWK got to participate in the role-play and order the prisoners around. Shine Rolls ran the pony stables and trained ponies and the Mistresses got to use the state slaves that Catz Alexander trained. The economy of OWK in SL gave Lady Citizens dividends for staying on the region both Guardesses and other staff members were paid L for participating in the region. Payment was offered, some people choose not to be paid to help support the tier.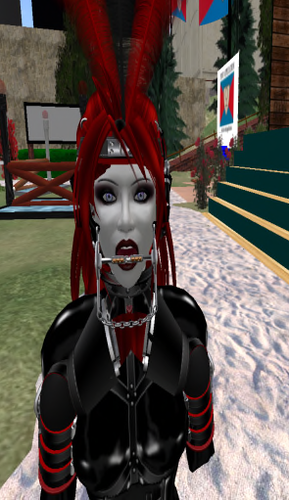 a ponygirl
As February rounded the corner, the OWK Village came into the picture. Michaal announced his land rental sales and made a FemDom Community residential sim. In the beginning, the FemDom Community Domina took greatly to this idea and came to rent land from Michaal. The first Residents of the OWK Village were slut congrejo, then BeeQueen Smythe, zickchen Whitfield, MistressJoanna Nightfire, Domina Aya followed. Soon more Second Life Citizens in the FemDom Community became residents. Ed Hallard also rented a plot in the early days of the Village, but later on it became a place where only Dominant Women could own the land. The property was quite expensive to live in, but of course you were living in a FemDom Only community! The cost for one plot was L$ 990 for a 1024sq meters per week. Larger lots were always negotiable at a discount.
In March, slut Congrejo resigned as Chief Guardess, though still remained a resident on the OWK Village region. Eliza DayAfter took on the roll of Chief Guardess and worked very hard at the position, Becky Lei also began her position shortly after as the Head Guardess. Around March Loes Shi became a member and she soon after became a Lady Citizen. At that time, Shayna Paine became involved with OWK in SL, bringing her Radio Station http://www.femdomradio.com to play music on the OWK region. 
Dancing to FemDom radio
Michaal and Shayna negotiated a deal at that time that unless there were people DJing that FemDom Radio would be the music played on the region.  FemDom Radio became the official station on both regions, shortly after the buildings were open. Shayna then got more involved as a Lady Citizen and helped in many capacities from the beginning of March 2008. There she became good friends with many of the Lady Citizens. During the earlier days of her membership she was very busy with her own ventures and little by little became more involved in OWK in Second Life on a larger scale. Loes Shi became a Guardess at that time after meeting with Lady BeeQueen Smythe about the positions available. Shayna didn't start to get more active till after the First Queen was elected in Late March 2008.
The Election of the first Queen was Mistressfully played out in the early months of OWK in Second Life. There were five candidates that ran for the first election. The election was tied between BeeQueen Smythe and Catz Alexander as Queen. So Shine Rolls as the supervisor of elections called for another round of votes for the tied candidates. The election finally ended with a very close race between Catz Alexander with 10 votes and BeeQueen Smythe with 11 votes. BeeQueen Smythe picked Seyrin Heartsdale for her First HolfMistress and the elections finally ended on April 9th, 2008.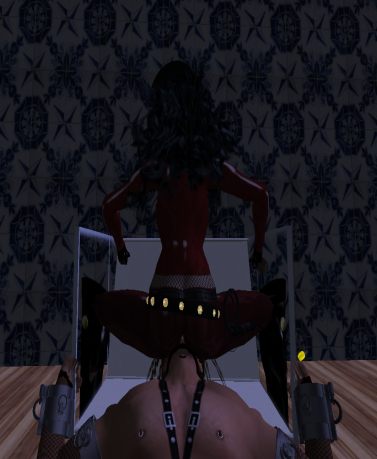 BeeQueen reigned as Queen from April till July of 2008 and the region memberships grew and progressed as time went by. The day after the Queen started her new reign in OWK in SL the prison had a grand opening party. Agony Abernathy was also a Chief Guardess for sometime after Eliza Dayafter had resigned.
Many events took place in the FemDom region on a regular basis. Slave Auctions, slave hunts, hospital visits were taken care of by Rosie Amiot the Medical Director along with staff. Helen Schmid and Sinnocent Bailey also participated in the workings of the OWK Hospital. MistressJoann was working on the OWK Magazine and starting to get that rolling. She enlisted Shayna Paine to be Editor of OWK Magazine. The OWK Magazine is still being developed and will be introduced in the new improved OWK in SL. Other events like scavenger hunts, dances and workshops all ran and created by the Lady's of the OWK in SL. Kept the region busy.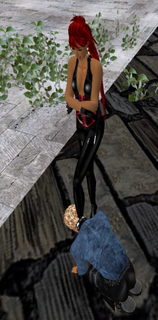 Politics in OWK in SL also had a part in the growth. The Queen in the beginning only was to reign for 3 months. A second election happened in July of 2008. In that Election MadamA Vita and BeeQueen Smythe were to the two Candidates.  The race was very close, just like the first.  MadamA won the position for Queen by 2 votes and started her reign in the middle of July. At that time, Michaal's real life took over and he could not be here much. For about three weeks he was not being able to participate as much in the events of OWK in SL as the slave secretary.
The Lady Citizen's group became a full force in making major decisions about changes on the region. Many members were attending meetings and voting on decisions. BeeQueen Smythe, Shine Rolls, Shayna Paine, Catz Alexander, MistressJoann Nightfire, Seyrin Heartsdale, LittleMiss Frog, Evangeline Eames, MadamA Vita, Amy Rope, Domina Aya, Carla Dominquez, Loes Shi, Maitresse Vidor, Raffila Millgrove, SandraLee Aeon, TaryLynne Mayo, Zavijava Voom, Christy Georgette, Sapphire Viking, Marmaria Marsala, SAVANA Blanco, Shiloh Fouroux, Sinnocent Bailey, Tapika Tomsen, Becky Lei, Madeleine Broome, Tamar Silverstar and other prominent women in the FemDom Community in SL. In the Lady Citizen's Senate group, Raffila Millgrove held the longest position as Secretary, after her Tapika Tomsen was secretary for a while, then she was succeeded by LittleMiss Frog who still till this day holds the Secretary position in the new OWK, which will unfold in parts II and III of this story.
At the end of July shortly after MadamA took the position of Queen.  Michaal finally came back into SL and after that his time was very sporadic due to real life events that took him from being online with us unfortunately. So he decided he needed to sell the OWK in SL to carry on with his life. At that time he put the Lady Citizens on Notice that OWK in SL was up for sale. Thus a whole new chapter in the OWK in SL History story started last in July of 2008.
…to be continued…
Part II: The Sale of OWK in SL
Part III: OWK in SL Moves, Better than Ever!