by Alphaville Herald on 23/03/09 at 7:58 am
3D on iPhone3G — Genkii asks "Where the angels investors at?"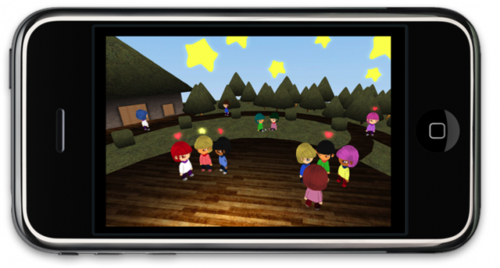 by Urizenus Sklar, from the 30,000 iPhone apps and counting desk.
So there I was, reading TechCrunch on the Herald yacht, when I saw that there is a new iPhone app named Sparkle that will let me chat with my Second Life friends without logging in.  I immediately downloaded it, and IM'ed Mimi Coral who was in world.  "Hey Mimi, I'm chatting with you from my iPhone!"  Mimi: "…ok…".  Clearly she was not impressed.
OK, so chatting with someone in world from outside the world is not so impressive, but the planned next iteration of Sparkle -Sparkle 3D — is interesting, since it seems the makers of Sparkle, Genki, are going to use the iPhone as a platform for a graphical virtual world (hence Sparkle 3D).  TechCrunch spins it this way:
Once finalized, Genkii says users will get a full-fledged virtual worldin 3D (the company has a track record in virtual worlds development).Sparkle 3D will have its own economy, customizable personal spaces andavatars, social networking functions, virtual goods, games, streamingaudio support, etc.
And of course what would a discussion of virtual worlds be without the mandatory gushing about the big bux to be had:
The viral potential for a mobile virtual world optimized for theApple ecosystem could be as big as the potential for continuousmonetization: sales of avatar accessories, virtual apartments(utilizing iPhone 3.0's new subscription option
), sales of in-game items, music downloads, branded spaces and conventional ads come to mind.
Rah.  And then there is this:
Currently, Genkii is completely self-funded and has beenbootstrapping for over a year. The company is now actively seekingangel investment to accelerate development of Sparkle 3D.
Opportunity knocks.