by Alphaville Herald on 29/03/09 at 9:31 am
FurCity under construction
by Pixeleen Mistral, National Affairs desk
A few intrepid scouts for the furry community are now investigating Raph Koster's still-in-closed-beta Metaplace platform – despite the very limited options for customization of the avatars.
While personally customized avatars are presumably to be available in the future, MP worlds currently can override a player's avatar on entry to a space, so it is possible to make all visitors to a fur world take the form of animals. This is demonstrated in Zoo Escape – a roadkill-orientated game of skill that challenges animals to cross busy highways.
A short-term avatar override approach may have some appeal to the fur community, by forcing any would-be trouble makers to become furs themselves when visiting a world. Would the prospect of exploring their inner fursona put would-be griefers off?
Responding to my questions about the fur future of MP, one fur pioneer pointed out that the hardware requirements to run Second Life force many into IMVU and Habbo as alternatives – and went on to highlight both the limits and potential of Metaplace from a fur perspective.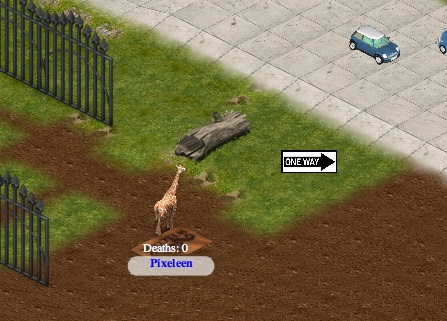 Visiting Zoo escape makes everyone an animal

---
Hello Pixeleen,
I do not have a fur avatar on here as yet, and as far as I have explored I don't know if custom avatars are even possible I kinda did what most would rush though the avatar setup faze in order to test out the environment. While there was only 19 people online last night I am not sure corsi mousehold has anything to worry about when it comes to meta place and a furry community, I invited some of my furry friends and ones first reaction was "I prefer second life". I tend to do alot of exploring checking out most services.
Meta place did pull me back I believe the achievements are an added bonus to the overall experience just like with "steam" there games have achievements which second life does not, maybe we will see achievement farming in here as I have seen within Team Fortress 2 if there worth anything, but graphics wise its hard to compete with second life though socially Second Life has become boring and drama filled almost like a corporate "gray suit" I can speak from four years usage of Second Life still plenty of colour within it but a mine field of main land junk.
Another added bonus is not having to download and install the client unlike with second life, which seems to always need updating at least it shows progress, but comparing meta place and second life is not really the best way to explain this virtual environment well there are many factors that would determine how a virtual world is taken up by a community.
If custom avatars are possible now or in the future I believe meta place will probably have a quarter of the number of furry's second life has, I believe many furry's are priced out of second life most likely due to not having the bandwidth or PC capable of running it which is why they have congregated within IMVU, keep your eye on "blue mars" this is the one that's supposed to give second life a run for its money and which is were I will be too as soon as the servers are online testing that out.
I do remember reading something either a comment or a reply to an article on the Alphaville Herald, about the PN having a Fort Longcat here if that is true and I have not researched deeper it will be a habbo hotel drama fest all over again, I last year created an article on the PN and laughed at them as most would. and continued to joke with other furs while there attack was going on my website from there Second Life scripts "ddos".
The most unexpected thing was an out of the blue attack by Corsi Mousehold
"[2008/11/11 14:16]  Corsi Mousehold: Okay …. One person telling me is one thing. But when I have many many furs telling me that you are attacking the PN's on their website or seeking them out to instigate them …. I get pissed the fuck off cause I have to clean up after their retaliation against the furry community. If I hear you have uttered so much as a BREATH to the PN's I'll make damn sure you are banned from every furry commuity in the fucking fandom is that PERFECTLY FUCKING CLEAR??
[2008/11/11 14:18]  Corsi Mousehold: I Am FurNation and I have been dealing with this shit for Three Goddam years. I am sick of it.!
I don't speak for the furry community like Corsi Mousehold does, but I have earned my burned fur.
I will be developing some furry worlds and furry orientated products and experience's here, and if you know a furry there welcome to come hang out or you may come visit when I and my partner complete something.
Regards
Steam
MetaPlace FurCity, closed untill completed
http://beta.metaplace.com/FurCity