by Alphaville Herald on 28/04/09 at 7:37 am
by Tenshi Vielle, fabulous fashionista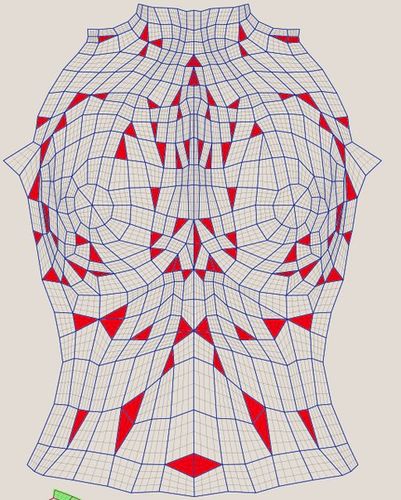 slmesh.jpg – Courtesy of Annyka Beckers, creator of Blowpop Skins
Inan amazing feat of web-stumbling, it has been revealed that 3D mesheswork best when they do NOT contain triangles. 
Triangles, due to theirodd nature when subjected to division createbumps and humps in the avatar's appearance. We, of course, see thisnearly every damned time we take a screenshot in Second Life.  You cansee it on my avatar in this shot, mostly on the inside of my right elbow and just below the avatar's breast.
Please allow me to quote Blender Newbies (lulz, Newbie facts) for their "a3D Modeling For Dummies" explanation: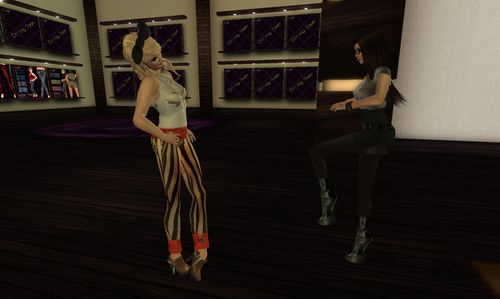 bumps and humps – due to triangled avatars meshes
"Friday, November 14, 2008 3D Mesh Topology Tip: Quads vs. Triangles
So,what's the big deal about whether you use quads or triangles in your 3Dmesh? It's really a very simple issue but, it does cause some confusionfor beginning modelers. Let's take a look at some of the issues.
First, let's make sure we understand the terms.
Atriangle, of course, is a polygon that consists of three sides. In 3Dmodeling, you also have to consider that those three sides (calledEdges) are connected by three vertices.
A quad is a polygon, but with four sides and vertices.
In3D modeling, the issue with using quads or triangles revolves aroundsubdividing, edgeloops, and smoothing. Generally, this would includeorganic-type modeling (faces, bodies, animals, etc.), things that havepotential for movement (bending and flexing) or are designed with anorganic aspect to their style (sport cars, overpriced uncomfortablefurniture, etc.). These are generally modeled with mostly quads.
Subdividing
This one's easy. You can see the issue in basic math.
Quads: Four divided by Two equals Two. Very nice. Balanced.
Triangles: Three divided by Two equals One-and-a-half. Yuck. Unbalanced. How do you resolve the half-part that's left over?
Thisbecomes an issue with 3D modeling because the purpose of subdividing amesh is to allow for more detail to be added to the model. This is mucheasier to do when you have quads because the results are predictable.With triangles, subdividing can become tricky because the balance ofthe flow of vertices gets interrupted."
For more information, you can also visit this link.