by Alphaville Herald on 28/05/09 at 7:25 am
by Tenshi Vielle – Fabuous Fashionista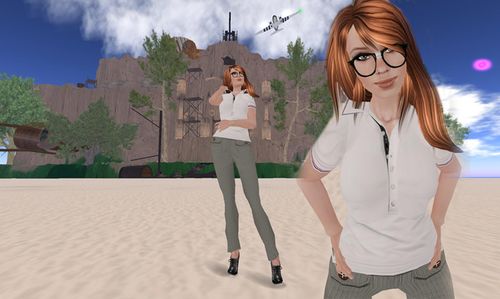 If you're a Herald reporter – or just wish you were – it is very important to carry a sense of theHerald's special style about you, in your attitude, your writing, and in the clothes you wear. As any of the Herald reporters can tell you, choosing clothing frommost fantastic Second Life designers is of an utmost importance. Just look at Pappy Enoch.
For my Fashionista article, I chose to start off at everyone'sfavorite fashion destination, Callie Cline. There, I found a pair ofwonderful striped khakis that would not only repel dirt and pool waterfrom being on the news scene, they also make my tush look fabulous.
My glasses, titled "The OJ's", can be found at the Starlust Mall.
Myshirt is from a japanese designer, whose shop name is Magi Take. Wealways strive to span the language barriers in Second Life and generally succeed – except with certain species of furries and Comsys 1st tier support technicians.
And what's a good Herald fashionista without her translator handpuppet? Weneed such phrases as "malicious immersionists" to get us through theday. It's better than coffee!