by Alphaville Herald on 06/06/09 at 5:32 pm
Dancing to DJ Cuppycake's tunes in an embedded Metaplace world
by Pixeleen Mistral, National Affairs desk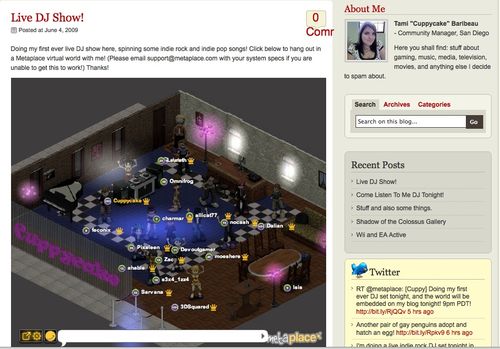 Thursday night, after a disappointing Bruce Schneier event in Second Life, I stopped by Metaplace community manager Cuppycake's blog to see how well embedding a Metaplace space into an independent web site would work – and what sort of beats Cuppycake would throw down.
Players in Metaplace have begged for the ability to embed worlds into third party web pages for some time, and Raph Koster and company finally provided a first public look at this feature late Thursday. The effect was something like going to a web page with an embedded YouTube video, but instead of passively watching videos, you click on the image, log into Metaplace, jump into the world, and join in the fun. Being an active participant rather than a passive viewer is much of the magic of virtual worlds – it is surprising that more events aren't better structured to take advantage of this.
Cuppycake took requests from the dancers, and there was plenty of interaction between DJ Cuppycake and the text chatting players — I'm still a bit concerned about Cuppycake and Luke's dog, but her dinner sounded great. Overall, the event felt like stopping by a friends apartment for a rent party, and this sort of community feel has been part of what made live music and DJs a mainstay of the Second Life social scenefor years. Let us hope for better support for these sorts ofevents now that Metaplace is in open beta.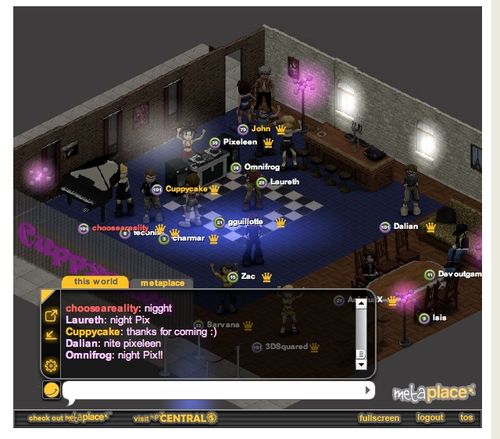 Looking back on the Bruce Schneier and Cuppycake DJ events, I realized that the emphasis on live interaction with players created a much greater sense of presence – despite the lower resolution graphics of Metaplace – than I got from looking at a very detailed Bruce Schneier avatar in Second Life while he phoned in an interview with no Q&A. Is the problem with events in Second Life an excessive concern with virtual avatar presentation over real interaction?

I also wondered if Cuppycake's cozy danceateria was intentionally keptsmall so that the world wouldn't scroll – or to keep players fromgetting lost. A drawback to embedding worlds in a web pages is therelatively small viewing area, so some sort of zoom-to-fullscreenbutton would be welcome.
It appears that Cuppycake is going to continue to moonlight as a DJ, and we can hope that regular players will also be able to get into this line of work soon. Perhaps someone will work out a way for DJs and musician to get tips. Are paypal tip jars and realtime shout outs from performers the path to monetizing metaverse performance art? Event hosts will need some sort of revenue if they are going to buy high concurrency day passes from Metaplace to handle large crowds.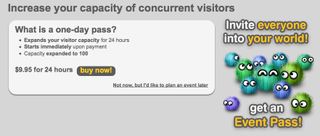 The Richard Bartle event showed that audience interaction works, so perhaps someone will invite Bruce Scheier to Metaplace where we can ask him some questions about virtual world security policy – and get him on the dancefloor.