by Alphaville Herald on 24/06/09 at 8:22 am
by Pixeleen Mistral, National Affairs desk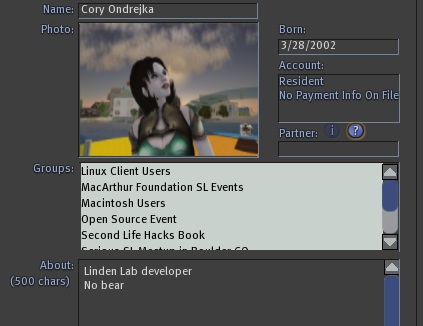 Cory's Second Life profile
After parting company with Linden Lab last year, Cory Linden Ondrejka joined EMI, where he seems to be doing well – and was recently promoted to senior vice president for digital strategy. Given Cory's credentials as a co-founder of Linden Lab and creator of many core technologies in Second Life and his work in the digital music industry at EMI, the Metaplace event should be fascinating.
Beyond an erudite discussion new media, look for a Metaplace in-world reunion between Cory and Sunchaser – ex-Linden game god Robin Linden Harper. The event is scheduled for 2:00 PM PDT June 30th at TheStage.
Of course, the most important question is whether Cory will opt for a male or female avatar in Metaplace.  Experts agree – girls are more relaxed than boys when seated in Metaplace. Given Cory's calm and confident Second Life profile, we have a good idea of what to expect.