by Alphaville Herald on 28/06/09 at 7:11 am
You mean I need permission to sell your Flickr photos in SL?
by Tenshi Vielle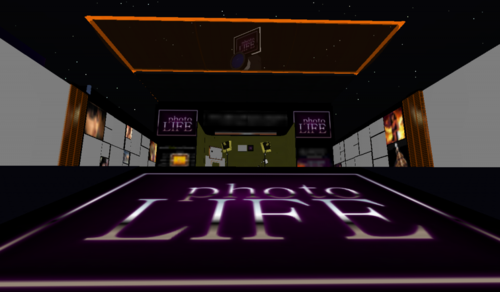 Besides nameless SLobrities showing up at SL6B friday evening, the talk of SL6B has been claims that PhotoLife's recently violated the Flickr standards – and Darkley Aeon's artistic rights.
The back story:  Darkley Aeon was using PhotoLife's stage system – I beg refusal to call it anything but – to use her photographs, performed occasional customer service for the PhotoLife group – without pay – and was in their in-world group and Flickr group.
Somehow, this meant that Gregg Paslong thought he could take Darkley's photographs off of Flickr, upload them into Second Life, and use them at the PhotoLife booth without permission. It is also alleged that these photographs were set for sale at the PhotoLife booth.
So let's recap the story here:
1) Used photographs without permission.
2) Set photographs for sale.
3) Burping into the voice mic while Darkley was attempting to privately resolve the problem with Gregg.
I covered this story at Shopping Cart Disco earlier this week, but apparently PhotoLife felt they were not being adequately covered so they went to Cherie Parker, who proceeded to give us an enlightening unbiased view from the PhotoLife team.
Annnnywho. Moral of the story, kids — just because someone uses your stuff it doesn't mean you have rights to what they make out of it. Hey Linden Lab?
Yes, the PhotoLife booth is still up at SL6B – I assume because no one went ahead and filed a DMCA.