by Alphaville Herald on 14/06/09 at 4:35 pm
NoH8 Proposition 8 silent protest picture campaign comes to Second Life

by Bunny Brickworks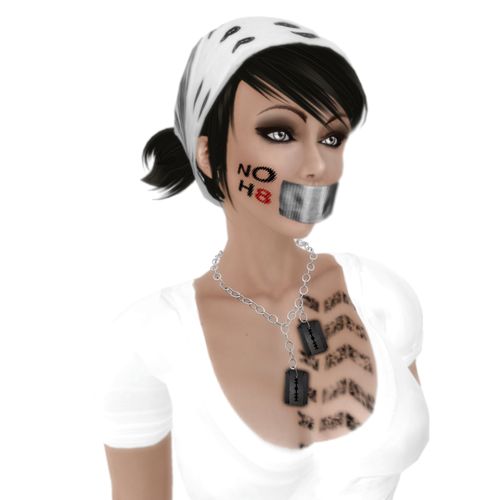 The ordinary Second Life resident is a lazy, unmotivated and unpolitical slobhiding in mom's basement without knowing or caring what is happening in thereal world. That might be true for some – but a growing number of residentsare voicing their opinions on California's Proposition 8 ban onsame-sex marriage. With real life grassroots campaigns taking on a new urgency – driven in part by a California Supreme Court ruling upholding Proposition 8 – protests are now spilling over into Second Life..
This online movement is powered by word of mouth, in-world groups, and notecards [text after the jump] as the virtual world social media are harnessed in-world and via flickr to explainProposition 8 — and call on residents to join  the NoH8 campaign- a photo project and silent protest started by RL celebrity photographer Adam Brouska. Trace Osterham and Kristen Pick are organizing Second Life in-world activity with some success. YesterdayTrace Osterham had already taken more than 180 pictures of individuals, allwearing the face paint and duct tape in support of the cause.

A flickr group has been established for all those who create their own picturesand post them on their streams http://www.flickr.com/groups/noh8onsl/pool/. Free face paint and duct tape attachments are available at http://slurl.com/secondlife/Zion/121/80/699.On days like these I am more than proud of my fellow residents, artists andflickrites!
'On November 4th, 2008 Proposition 8 passed, amending the stateConstitution to ban same-sex marriage.
In the wake of the defeat, there has been a groundswell of initiativefrom within the community at grassroots level. Seizing this opportunity, newpolitical and protest organizations are forming almost daily. The NOH8 Campaignis a photo project & silent protest created by celebrity photographer AdamBouska and partner Jeff Parshley in direct response to the passage of Proposition8.
The campaign started with portraits of everyday Californians who supportMarriage Equality and soon rose to celebrities, military personnel, brothers& sisters, law enforcement, lesbian mothers, directors, politicians,newlyweds, and more. Photos feature subjects with duct tape over their mouthssymbolizing their voices not being heard and NOH8 painted on one cheek inprotest.'
(from the NO H8 campaign website, http://www.noh8campaign.com)
(see also Adam Bouska's Flickr http://www.flickr.com/photos/bouska)
As residents of SL and as individual human beings, we have the right toa voice. The NO H8 campaign in SL is a way for us to say 'Hey, we want ourvoices to be heard'
Please pass the word on, and anyone who is interested should contactTrace Osterham for a photo session.
Thank you,
Trace Osterham / Kristen Pick