by Alphaville Herald on 23/06/09 at 7:30 am
I am a unique individual. And so am I.
by Pixeleen Mistral, National Affairs desk
My graphics card has nearly recovered from attending Vaneeesa Blaylock's "I Rez Therefore I Am" performance art event in early June. The artwork consisted of 25 silent female avatars wearing identical shoes and their own shapes – an invitation for viewers to ponder identity, the speed of rezing, and the whine of your computer's cooling fan as the GPU tries to save itself from death by meltdown and skins slowly materialize on the motionless avatars.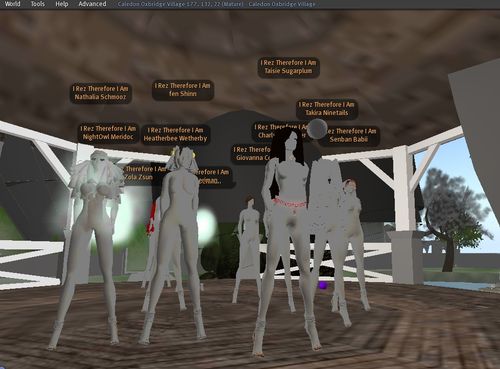 The artist's willingness to push the outer limits of what Second Life can handle was part of the performance's charm. While hoping for skins to snap into focus your expectations are reset – I cheered quietly each time a skin rendered and there was plenty of time to ponder how much of our time in SL is spent waiting — and how much effort is put into constructing an SL persona. 
Aspiring SL designers may want to consider participating in a new piece involving a scarf design contest which will feature 16 performers helping Ms. Blaylock illustrate her tag line: I am a unique individual. And so am I.