by Alphaville Herald on 12/07/09 at 6:22 pm
sionChicken Killer threatens virtual birds with death by starvation
by Pixeleen Mistral, National Affairs desk
Second Life's chicken farming community is facing a deadly new threat – a food decoy  that distracts virtual chickens from their food trays, starving them to death over the course of several days. The threat of biological warfare marks the latest stage in an ongoing conflict between chicken farmers and anti-chicken residents. While a growing chicken farming community enjoys raising the birds, other residents feel chickens create lag and are willing to take matters into their own hands, despite an improved version of the sion chickens with reduced lag.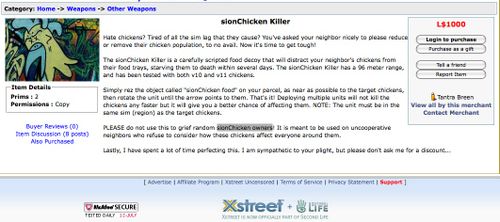 The sionChicken Killer is being sold for L$ 1000 on Linden Lab's XStreet market as a weapon "to be used on uncooperative neighbors who refuse to consider how these chickens affect everyone around them". Despite the weapon maker's disclaimer, it is hard to believe that the sionChicken Killer will not be used to grief sionChicken owners.
Will this create a market for a chicken killer detectors?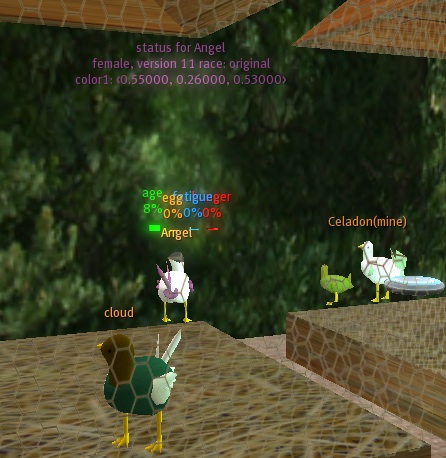 healthy birds in a cages
SionChickens are raised both as pets and as breeding stock. Mature chickens lay eggs which farmers trade and sell — rare colors fetch hefty sums at the egg market.
Chicken farming can be challenging because the birds need a continuing supply of chicken food sold by the scritped chicken creator. The thrill of seeing a chicken lay eggs from which chicks hatch and grow into mature adults is a reward enough for some farmers, but others treat farming as a business and are active in the egg markets.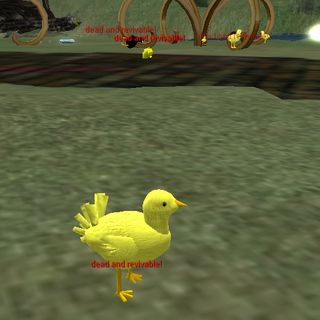 dead but revivable chickens after a griefer shooting spree decimates a free-range flock
Beyond scratching up the L$ spacebux to pay for food, farmers also have to fight off thugs who go on bird shooting sprees. After several brutal slaughters, farmers have begun systematically locking down their chicken coops to minimize the potential for violence. Unfortunately, this has made organic free range birds difficult to find.
While the farmers have adapted to the griefer shootings, it is unclear how they can respond to the biological warfare threat. The sionChicken Killer claims to have a range of 96 meters and affects both v10 and v11 chickens, so farmers without complete control of an entire sim are at risk. Meanwhile, chicken farmers have threatened to abuse report Tantra Breen's deadly chicken feed in an attempt to save their no-copy birds from destruction – but will Linden Lab take action to save the chicken flocks?
When will the cycle of violence end?