by Alphaville Herald on 20/07/09 at 8:10 am
Mohamed Atta enjoys 72 virgins in cyber heaven as players sidestep ID checks, visit sex clubs

by Pixeleen Mistral, National Affairs desk
Second Life's age verification process may have some serious gaps, if reports of players age-verifying using the identities of Elvis Presley, Tupac Shakur, and 9/11 terrorist Mohamed Atta are true. Recently, the Linden Lab game gods added an adult's-only filter to limit underage access to the walled garden of cyber delights and began migrating all adult activities to the Zindra continent in-world, creating a virtual red light district with compulsory ID checks at the door.
But the effectiveness of Aristotle's Integrity adult verification remains a question, and at least two web sites are providing personal information on dead public figures and detailed suggestions on how to use the identities for Second Life age verification. This information is also spreading via Second Life's group chats as those unable or unwilling to submit valid real life identities seek to join in the adult fun.
The Herald was tipped off to the story by a reader who confirms that Mohamed Atta's identity was accepted for adult verification purposes. This leads us to believe that terrorists promised 72 virgins in heaven as their "reward" actually spend eternity watching their identities stuck in particularly bot infested and laggy Second Life sex clubs, helpless victims of underage joy riders experimenting with naughty animations  — a sort of ironic rough justice.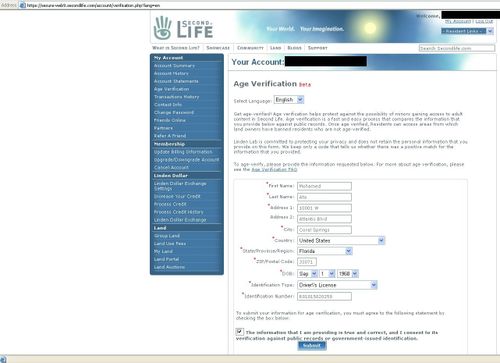 players enter false information – affirm they are telling the truth, then click the submit button
The source reports:
"I came across this blog a few days back and got wondering if it was true. A way around SL age verification
http://www.kabalyero.com/2009/06/16/second-lifes-age-verification-made-easy/
Idecided rather then risk my avatar to create a second account to testwith. I am not sure if this is funny or scary but it worked. My newavatar was age verified as one of the sept 11th terrorist plottersMohamed Ata and was now free to roam all the adult places on secondlife. I have included screenshots of the SL website.
So I took a peek in the Zarnia to see what the big deal was, went to a few adult only places all filled with age verified bots, and logged out. Being a wanted terrorist was only fun for about 5 min, then the lag set in so I decided after seeing all the sights as an age verified adult avatar
I canceled the account and got back to my on little SL furry world. I have now heard from friends and even in some group IMs that Elvis and Tupac work as well 100% for age verification."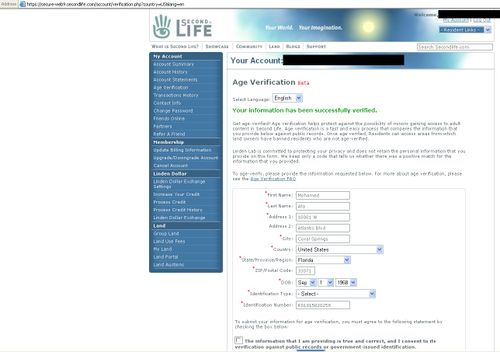 After submitting to the game god's will, Mohamed Atta is free to seek virgins in Second Life's adult regions