by Alphaville Herald on 17/07/09 at 7:22 am
Chapter One – The Crack Den
by Millennium Sands
[The dark alleys and derelict buildings of Second Life's urban sims form a gritty stage set  where residents risk their lives in roleplay that might shock even a jaded Gorean slavemaster. The Herald recently send Millennium Sands on a dangerous assignment - to shed light on the dark underbelly of the urban sims. Ignoring the danger, our valiant and sexy reporter explored three popular places, and shares her first hand experience as warning or encouragement for those who dare to follow her trail. -- the Editrix]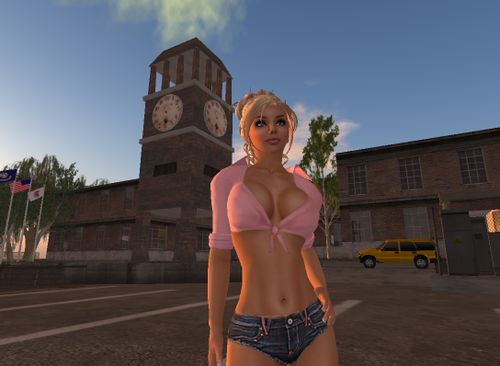 innocent college student faces enrollment and financial aid problems in The Crack Den
With no less than five connected sims, The Crack Den may be the largest playground in SL that invites role players to explore a world crafted with an amazing sense for atmosphere and eye for detail. Hidden features surprise the casual visitor, and those who decide to stay and join the game can send an application to one or several of the seven general groups, to define their role and the character they want to play in this huge world. Many of these groups even have sub-groups, offering special roles.
A web page with forum, a wiki, and a character blog provide background information, and latest events are monitored by the "Hathian Observer", a web based newspaper that can be picked up at several places in the main sim.
Picking up an observer tag along with notecards about rules and general hints, and taking the elevator down from the OOC and shop area, our reporter enters the main sim, Hathian, to start her journey and form a first impression of the environment before she decides which group and role might be the most rewarding one for a daring investigative reporter.
The city is impressive, to say the least. Every pixelated brick seems to ooze atmosphere, and one sim blends into the next, while all of them altogether paint the picture of a town that might have seen better days.
In a voice-disabled RPG sim with no less than 40 people around, you could expect an almost spamming chat, but after some minutes of exploring it occurs to our reporter that it's strangely quiet, even at crowded corners. Moreover, hardly anybody seems to move. From time to time someone marches along the streets – in most cases visitors who obviously give a damn about the rules at this place, at least they don't care about wearing an observer tag.
Finally, our reporter "hear" someone talking, and – great lord – in chat appears an explicit and very extensive emote, composed of no less than TEN lines, describing among other things how the guy who's talking lights and smokes a cigarette he actually never cares to attach in world. It's probably dispensable, because he types in past tense, so the cigarette might already be history.
It takes a good while before a woman responds to the emote, and her answer is not any less elaborate and typed in past tense as well. Our reporter begins to suspect that all these people who seem to be nailed at their spot might actually be moving, but in such a slow motion that her dull senses can't perceive it. Or are they all just ghosts, reflections of a long gone past? Puzzled, she wanders off to continue her exploration.
Our reporter realizes her place in this world upon reaching the Crack Den's college, Columtreal University. The idea of playing a college girl who relies more on her charms than on her wits looks simply irresistible, but launching an application turns out to be a real challenge. Touching the application sign takes her to a website with no less than five steps before the application is complete!
Well, is there anything that can stop a reporter from pursuing a hot story? Not really! Filling out the application form and thereby severing the first head from the hydra that dares to oppose her, the next head rises: The valiant journalist is added to the university group, but without any role. She still can't join the game and is doomed to stick with her observer tag, until she's either granted financial aid or payed L$500 for enlistment to the university.
Financial aid is the path to glory for a poor reporter on a low budget, but alas, the offices where she could ask for aid are not manned. Determined not to waste much time, our smart prospective college girl sends a letter to the guy who seems to be in charge, already written in RPG-style, promising to grant him every favour he can imagine if he only grants her financial aid, along with a role that finally allows her to actually join the game. She drops the letter into his in-world mailbox, and waits.
After more than a day of waiting and even spotting the guy online, she realizes that he probably gives a damn about his mailbox once a year, and decides to contact him in IM.
Miracles happen: The guy checks his mailbox, and even an annoying noob visitor who pesters him with silly questions can't distract him from granting the desired stipend to our lovely student.
As luck will have it, a class is starting just at the time our fresh baked college girl is enlisted and finally able to join the game. But due to a lack of other attending students, the class is cancelled. There's still another task at hand, since the poor college girl has to earn her stipend by working at one of the university's facilities. In her case, it's the cafeteria. A good place to work and meet other students, if they would only care to make use of the various facilities at all. But the Columtreal students are just like most other Crack Den rezidents: They avoid buildings and don't care about using the environment.
Concentrating on long winded emotes, while they stay glued to the spot where they sit or stand, it wouldn't make any difference if they would play in a plain box with blank white walls. Probably nobody in the Crack Den ever realized that SL provides a graphic surrounding, aside from the folks who created these sims and wasted their time, love and money on creating a playground no player ever cares to use.
It takes another full day until a visitor enters the cafeteria. Our college girl wasn't bored in the meantime, because rather than sticking to role playing, casual players, fellow students and even members of the university staff preferred to hit on her in IMs in an attempt to start their own game with her.
On day three, a doctor from the Crack Den's hospital explores the university, and when he spots our reporter through a window, he feels an irresistible urge to get close to the lovely vision he beholds. After a coffee and the common small talk, things become more interesting when the doctor offers a health check for a special rate to our poor student, and they agree to meet at the hospital in an hour for a close examination of a certain elysian body. However, when the body in question arrives at the hospital, the surgeon fails to meet his luck and make the most of it.
Life has been calm so far. Assuming that three days should be sufficient to get a rough idea about role playing customs at this place, our journalist decides to leave the Crack Den.  As she takes the bus that will take her to the next station of her safari, she feels slightly bored. In her blissful ignorance she can't even guess that she'll get more than her share of the action soon enough.
[...to be continued...]