by Alphaville Herald on 05/08/09 at 7:39 am
Satin Tigress transgender neo-burlesque club and Catzi Radio — a cyberpunk <3 match
by Timothy Morpork
The MMORPG Matrix Online closed on July 31, 2009.  Though primarily a combat game,players  developed into a community that socialized in cyberpunkthemed clubs within the game.  With their virtual world closed, theyneed a new virtual space in which to gather. Second Life, ofcourse, is a perfect place for the former Matrix Online players to makea new home.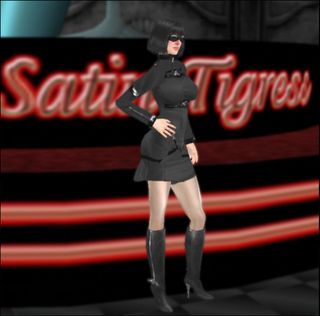 The Satin Tigress, a Second Life neo-burlesque clubfeaturing female and transgender performers, is welcoming Matrix Online players with aMatrix-themed party this Wednesday, August 5, 2009. 
The Satin Tigress will host a live radio show by Catzi Pearlof Catzi Radio, which was the most popular radio station of the MatrixOnline.  With the Matrix Online gone, Catzi hopes that Catzi Radio willbecome a mainstay of Second Life, and she is bringing her hugefollowing to the Satin Tigress.
CatziRadio and the Satin Tigress are a natural fit.  Catzi Radio is morethan a music stream; it is a community project featuring creative DJsputting on true shows to complement the virtual action.  The SatinTigress is more than just a strip club; it is a counter-culturecollective of free-spirits and creative dancers, bringing theneo-burlesque movement to Second Life.
Catzi Radio and the SatinTigress have already teamed for several events.  A Las Vegas Nightfeatured a mix of Sin City's best lounge music and comedy while dancersdebuted an tiger-taming event that went excitingly awry.  Cops 'N'Robbers night included hilarious arrest stories and the dancers'dramatic presentation of the Case of the Missing Jewel – you'llnever guess where it was found.
Of course, not all former Matrix Online playerswill find transgender neo-burlesque to their tastes.  But even if theyeventually find other diversions within Second Life, Wednesday's eventwill at least make them feel welcome to Second Life and give them agreat chance to meet new friends and get comfortable with Second Life.
The Satin Tigress's Matrix Event is Wednesday, August 5, 2009 from 8 – 10 pm SLT.  The slurl is: http://slurl.com/secondlife/Peddle/158/29/402.  Yes, it is a Mature event.  To find out more about Catzi Radio, contact Catzi Pearl in Second Life.