by Alphaville Herald on 23/08/09 at 12:56 pm
by Bunny Brickworks
Shhh… don't wake her up. She looks so serene and dreamy as she's lying there, bathing in sunlight, her head resting on her arm. There's hardly any public chat around her, avatars just stand and stare, you occasionally hear the sound of the clicking cameras.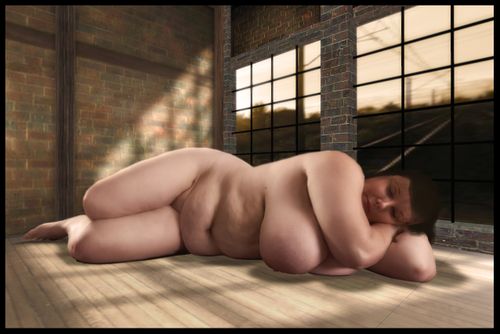 3D Soup has created a new sculpted masterpiece called The Grand Odalisque and it is presented on two locations – the Black Swan sim and Subversive Vavoom's Subversions sim. One sculpt, one texture – so realistic that it seems disturbing and out of place among all those pixels.
It is a voluptuous female, a classical Rubens type, curvy and smooth. The details of her face and body are incredible and so are the reactions this sculpt provokes. There she is, the woman who seems so real, surrounded by perfectly proportioned avatars, which have probably set their body-fat sliders to zero. She's a reminder that our real life bodies and our virtual existence are not really congruent.
Whether you just see her as a brilliant example of technically flawless sculpting and texturing work or a philosophical statement about fake beauty and illusions in a virtual environment is up to you but you shouldn't miss the opportunity to see her in world.
But remember, shh… don't wake her up!