by Alphaville Herald on 19/09/09 at 3:53 pm
Sloppy software willingly accepts rogue queries -  BanLink passwords compromised?
by Pixeleen Mistral, National Affairs desk
BanLink is a resident-created Second Life "service" allowing land owners to easily share lists of players to ban from their virtual land. Given the potential for abuse of such a system, you might expect a certain level of care would have been exercised to protect the database that houses the ban lists. You would be wrong.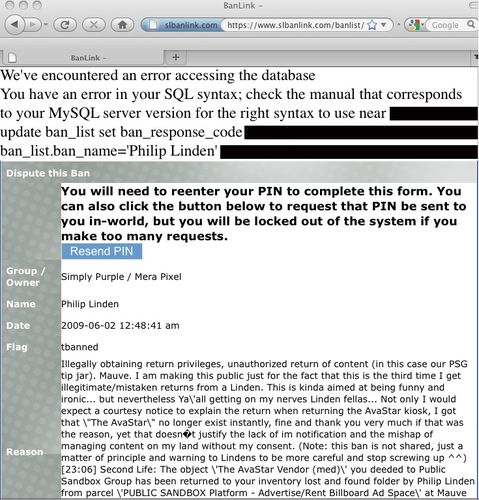 supposedly private information revealed: Philip Linden banned for unauthorized return of content
A reliable source contacted the Herald earlier this week with evidence showing the BanLink site can easily be exploited by an SQL injection attack to reveal information that the site's developers presumably wish to keep private – such as account information and passwords. While it was amusing to see details of Philip Linden's ban and some would agree with a complaint against the Mullah of Ravenglass, I was saddened to see erroneous information tied to my identity.
After the initial amusement wore off, I asked the source – who refers to himself as "a man with a lion face" – how simple URLs could reveal so much information. He replied, "poor coding, seems like. they don't even take the quotes out of input or escape them. basically, you can inject your own queries into the database calls and have it return whatever data you want. a more malicious person might use it to get passwords, emails, or IPs of banlink administrators". Even worse, the man with a lion face said that  attempts to contact BanLink developers Travis Lambert and Mera Pixel had been in vain. The Herald has tried to contact the developers as well, without success.

a notorious griefer's entry in BanLink – trolling and harassing residents in Indigo
To verify the original source's claims, the Herald turned to twoindependent technical experts, who both agreed that the site suffersfrom significant security issues that may allow uncontrolled access tosensitive information.
One expert pointed out that all thetables in the BanLink database are an open book at this point, and itis unclear how well user passwords have been encrypted. This suggeststhat anyone who has a BanLink account will want to avoid using the samepassword on any other system.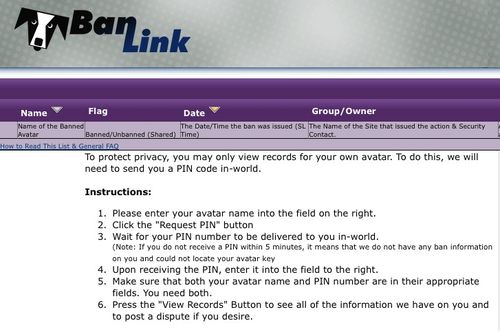 Banlink says "To protect privacy, you may only view records for your own avatar". Maybe not.
It is possible that BanLink is an orphaned project. A July 10th posting on Mera Pixel's blog says that Ms. Pixel was planning to step aside, but then picked up work on the project again this summer – but the blog has been very quiet of late.
Orphaned or not, BanLink users should assume their account information may been released into the wilds of teh interwebs and BanLink's ban lists could have been tampered with – the entry for Pixeleen Mistral looks particularly suspect.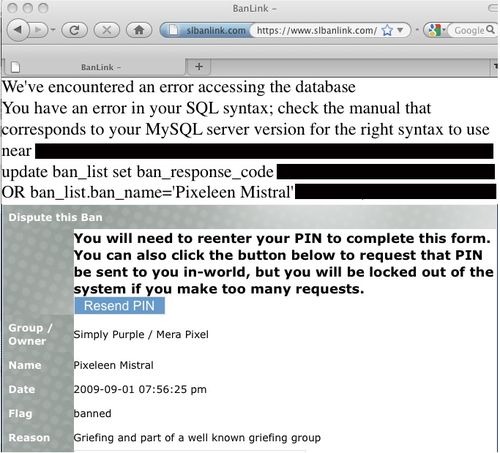 BanLink is not entirely reliable – an example of erroneous information in the database