by Alphaville Herald on 29/09/09 at 7:00 am
[I was helping friend and former Post6 model Shyayn Lusch run a fishing contest at her store and turnedaround to see the most gorgeous Neko creature I had ever seen. I askedher if she would pose for us and was thrilled that she said yes. Whenwe set up the shoot, I was disappointed when she explained in IM thatthe Neko look was a new one, and she would rather pose in her moreusual human look, but I was only disappointed until she teleported inand I got a look at her equally gorgeous human form. Without furtheradieu I present this week's Post 6 Grrrl Vampirella Jewel, I only hopeI have done her justice -Timothy Morpork]
Greetings, Mortal & Immortal Readers.
I'm Vamp, known in SLas Lady 'Vampirella Jewel' Dragos or Lady Vamp. This is a forum rathernew to me, since I'm accustomed to standing on the other side of alens; so you can imagine my surprise when this gentleman I'd never metbefore IMs asking if I would like to pose. However, there is a firsttime for everything. So being, I will share with you some of who I am,both in and out of SL.
Vampirellawas lovingly created for a few reasons. As a young girl, I was acollector and fan of the 70s mag of the same name, and later the comicseries published in the late 80s. Once I discovered the online world ofgaming, she became much more than just a character, but a livingcreation with a full and vibrant history. During my time in the Corps,I was fondly nicknamed Vamp by the men in my unit and since I loved thename so much and the reason behind it, I kept it. Some would agree it'sa much nicer name than Bitch when a guy's libido gets shot down, but Iknow I'm a Bitch. It's a title I've proudly earned as my real son wouldreadily testify.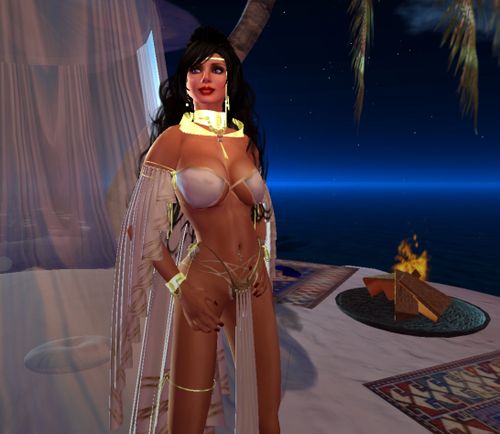 While in SL, I enjoy participating in roleplay,when it's good, but mainly only bother with my own Carpathian roleplay.I'm a big fan of Christine Feehan's Dark Series, and because of itstarted the first Carpathian group in SL back in 2004 under anotheravatar. Not being your typical female, I loathe shopping in any world,and enjoy lounging at home and browsing Xstreet whenever possible. It'sthe SL thing to do after all. Recently, I've discovered a new fishingsystem called 7Seas and enjoy spending time at the many differentfishing locations around SL and meeting others.
I'veenjoyed playing a lot of the games offered in SL with friends andacquaintances over the years (UNA, Gammon, Greedy), but my favorite isGreedy. It's a very addictive dice game, so avoid it if you burn a holein your pocket easily. Most of the time you can find me running aroundSL in one form or another (Humanoid, Neko, Mermaid), but much of thetime I'm streaking about the grid in the all natural. I've been anactive nudist in my 1st life for over 20 years now and even raised myson in the lifestyle. I also actively participate in the BDSM communityin SL. As I have always been a somewhat aggressive and assertive woman,it was only natural I bring the real Domme into SL.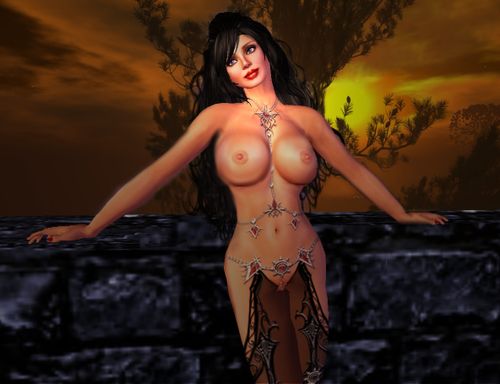 Finally,when I'm not distracted by other things or completely bored, I enjoybuilding and creating. My first major build in SL was my dream home -Castle Dragos. As a disabled vet, I have way too much time on my hands,and SL gives me a multitude of things that I can do and enjoy to fillthat time, all while meeting people from all over the world. But itstill goes without saying, I am one of those hardnosed women whodoesn't give a flying shit what anyone thinks. This is my Secondlife,and I live it my way. In the meantime, sweet creams, everyone.