by Alphaville Herald on 15/10/09 at 7:50 am
Autonomous chicken-collective lags Linden lackey Neva
by Pappy Enoch, Techno-Revolutionist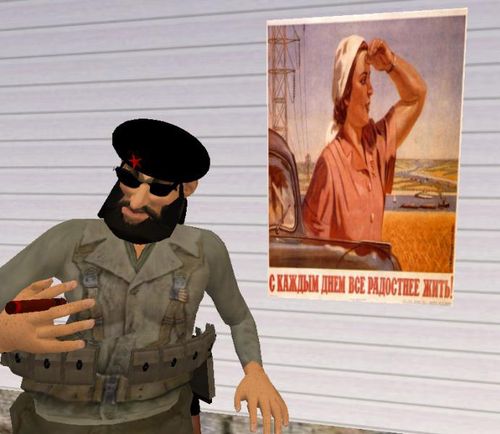 I salute all working avatars of the fake worlds!
A specter is haunting Second Life – the specter of Prokofy Neva. Yes, I mean the same avatar who claims to defy the cabal of Linden plutocrats by being an anti-collectivist "free-market capitalist."
I laugh in the face of such tartuffery. Neva is, in fact, the worst of an army of revanchist stooges in service of Linden hegemony.
In the fairness that characterizes all communist deliberations throughout history, we have given the Linden lapdog Prokofy Neva many opportunities to join in the inevitable struggle to overthrow those who would crush us under their iron heels.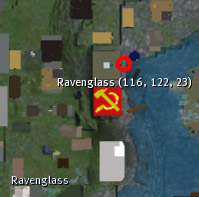 All for naught, comrades! So the hour to strike a blow for The People has come! In the service of all workers I journeyed, appropriately attired for deadly combat with the despot, to Neva's Ravenglass sim. It is but one of many places of avatarian oppression where "renters" pay out to the bourgeois overlord or face swift banishment and virtual homelessness.
Under the very nose of the running dog, a revolutionary cadre is laboring to free the local populace. Yet instead of an army marshalling, I found a most ingenious and subversive enterprise (all proceeds going back to fund The Revolution, of course): a large flock of Sion chickens.
The proletarian poultry of Ravenglass have a dual mission: first, to lag the simulator until Neva is brought to his/her pampered knees with clotted rage. Second, our feathered Vanguard of Fake-World Socialism imbibes a constant supply of cannabis, in order to test my comrades' theories about the ease of re-educating benighted proletarians under the influence.
Not all birds are surviving this noble experiment. Their capitalist upbringings are clearly too deeply engrained.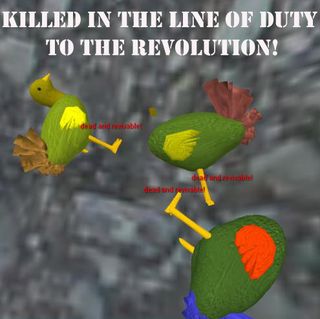 But some must perish in the cause of progress: No broken eggs? No omelet!
I soon had every stoned but living chicken marching with me as I sang (and they clucked) revolutionary songs against the bourgeoisie in general and Neva in particular.
Fear us, Neva and other oozing sores of Linden oppression! You must reach the ineluctable conclusion that your days of tyranny are numbered. Our chickens are fearless, and they will reproduce — while you? HAH! You cower before the cock-a-doodle-doo of Techno-Communist dialectical materialism!
We cackle at you as we appropriate the means of egg production and, led by our Pulletburo, strut like roosters into a shining future from beneath the yoke of wage slavery! Chickens of the fake world, unite!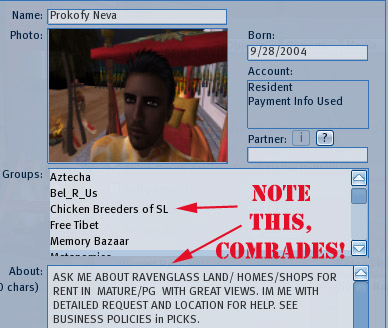 A postscript to the curious reader: It is time that I explain why my method of discourse have been elevated beyond that of the coarse peasantry of Enoch Holler, my legendary home that, as Marx put it so brilliantly, exemplifies "the idiocy of rural life."
I have in my possession the "Commie-in-a Box Kit", a miraculous device of progressive socialist engineering that transformed my brain and raised my consciousness instantly!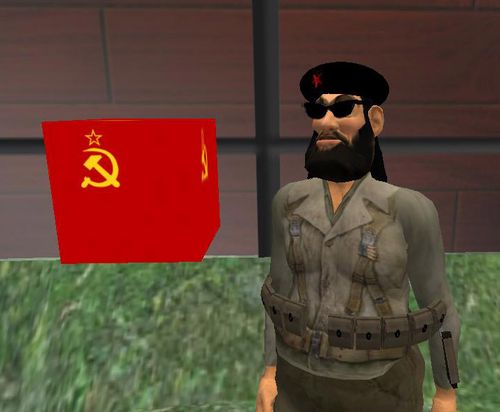 Contact me in-world and, for the mere donation of 1000 Linden Dollars to the revolutionary cause, I will supply you with the means of freeing yourself of all capitalist thought. Prices are reasonable…act now and I will provide a free AK-47! But wait, there's more! The first 500 workers to reply will receive a complimentary Techno-Communist banner!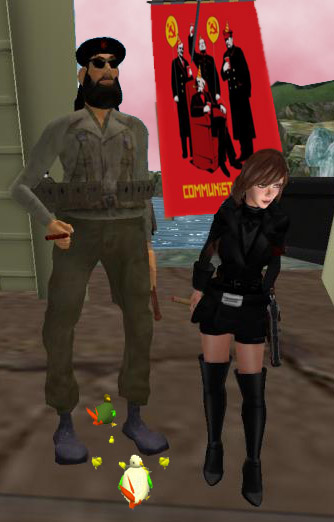 Sion chickens in Ravenglass join the fight for a glorious future