by Alphaville Herald on 29/10/09 at 7:49 am
This week the Alphaville Herald is proud to present a special parade ofpast Post 6 Grrrls as a Halloween Treat for its readers. The first isthe lovely Jaime Wheeler, who first posed for Post 6 in August of 2007for photographer Justine Babii.
[Itis a special honor to introduce Jaime Wheeler because in my book she isnot only a very accomplished person, she also gave me my first SL job,gave me photography lessons, and even gave me a little plot of land formy first studio. It is my extreme pleasure to introduce Jaime Wheeler,Post 6 Grrrl. -Timothy Morpork]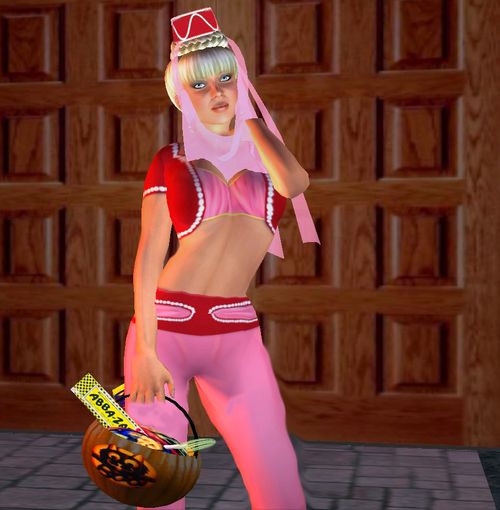 The Second Life Heraldwon't leave me alone, and I'm grateful. When I started in Second Lifein 2006, the first friend I made was another noob by the name of JimboQuality. Months later I introduced Jimbo to my oldbie friend MarilynMurphy. When Marilyn retired from the Herald, I was the first Post 6model featured by my friend Justine Babii. A year or more later, I meta sharp guy named Timothy Morpork who was looking for something to doso I put him to work on my blog. It's a small world after all.

WhenTimothy asked me to come back and pose I was thrilled because I lovehis work, love the Herald, and love Halloween. I live in New Englandand the crisp fall air, brightly colored leaves and brilliant blueskies are magnificent,  almost grand enough to forget that yet anothercold and snowy winter is right behind it. I also love the seasonbecause that's when I started in Second Life. I remember sitting inpumpkin shaped camping chairs at Odds&Ends newbie place with Jimbo,trying to earn spacebux while plotting and scheming and laughing.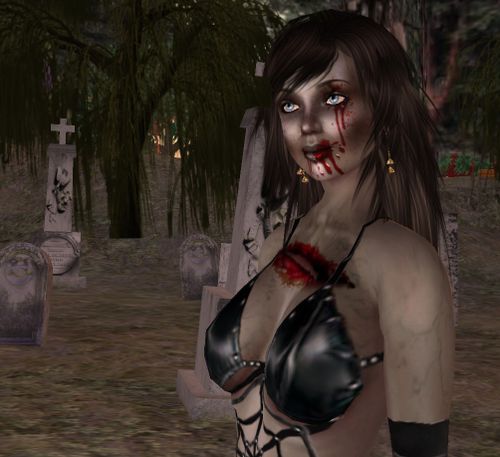 Thelast time I posed I believe I had just started SexySecond.com and hadyet to start Sexy Second magazine. Both of them were successful beyondmy wildest dreams, and I ended up selling the entire property toCelebrity Trollop. I made a lot of wonderful friends in that endeavor-talented writers and photographers, designers, entrepreneurs and ofcourse our great readers. It was a great project and I miss the peopleI worked with and met, but I sure don't miss the deadlines, which isfunny because I used to miss deadlines a lot.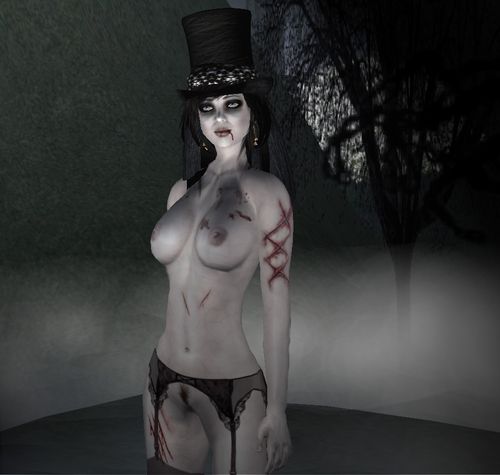 NowadaysI don't get on as much as I used to, Second Life has a lot of beenthere done that for me now, but I still check in and say hi to myfriends once in a while and I do try and keep up with the blogs.Timothy keeps trying to lure me back to blog for him, so you never knowwhen it will take again.
Thanks for having me back again, it'sa thrill and an honor to be here, even if I have to be dressed as azombie and undressed as a vampire to do it. Happy Halloween everyone.
Peace,
Jaime