by Alphaville Herald on 24/10/09 at 8:23 pm
Herald founder keynotes 2009 Compass Interdisciplinary Virtual Conference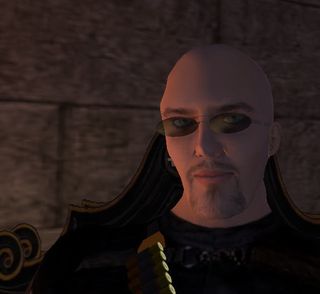 The Herald's own Urizenus Sklar – who is widely believed to be self-identical – will present a virtual keynote titled "Virtual Communities, Virtual Cultures, Virtual Governance" for the Compass Interdisciplinary Virtual Conference Monday October 26.
Virtually viewable here http://compassconference.wordpress.com/2009/10/26/ludlow/ after the virtual presentation Monday – the virtual keynote will be followed by virtual cocktails at 1 PM EDT at the virtual "meet the virtual speaker" session to be held in Second Life's Abacadabra sim: http://slurl.com/secondlife/Abracadabra/201/90/31.
It's going to be virtually impossible to miss this event, because Uri's real real life typist is believed to be Peter Ludlow – Professor of Philosophy at Northwestern University. Hehas worked on a number of topics at the intersection of philosophy,linguistics, and cognitive science, and has also published a number ofworks on the emergence of community and governance in virtual worlds,including High Noon on the Electronic Frontier (MIT Press 1995) and Crypto Anarchy, Cyberstates, and Pirate Utopias (MIT Press, 2001). 
His most recent work, co-authored with Mark Wallace, is The Second Life Herald: the Virtual Tabloid that Witnessed the Dawn of the Metaverse (MITPress 2007). Reflecting the boundary crashing content of that work, thebook received the American Association of Publishers,Professional/Scholarly Publishing award for "Best Book in Media andCultural Studies, 2007", was a Choice "Outstanding Academic Title, 2008", and a Library Journal "TopSci-Tech Book, 2007," (ranked one of top 39 science books of 2007 andtop book in category of Computer Science). In 2006, MTV.com namedLudlow one of the ten most influential video game players of all time.
Be there – or be virtual!