by Alphaville Herald on 26/10/09 at 10:58 pm
Who is the culprit – what will LL do in response?
by Pixeleen Mistral, National Affairs desk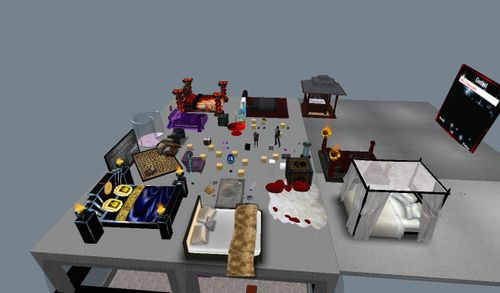 a wonderland of stolen content – courtesy of the Neillife viewer?
Tenshi Vielle at Shopping Cart Disco just broke a shocking story – a huge cache of pirated content has been passed around at the Burning Life. Yet despite frantic reports of ongoing theft by Stroker Serpentine and Tenshi, LL seems powerless – or unwilling – to do anything other than suggest filing of more abuse reports.
How is this possible? The SCD story says the stolen items retain the original creator name and information, but are transferable and many items include a blank box, suggesting the use of an exploit – and so the search for culprits begins.
The box holding the cache of stolen goods was created by Damen Hax – a long time SL resident and Open Source advocate. When the Herald contacted Mr. Hax for comment he denied involvement and suggested  he has made more than a few enemies who might be eager to frame him.

Pixeleen Mistral: there is a story that just ran about a big box of allegedly copied content at http://shoppingcartdisco.com/?p=5484
Damen Hax: So nothing new on the news front then? heh
Pixeleen Mistral: well – you are named in the story
Damen Hax: Oh my.. seems fans these days have no bounds
Pixeleen Mistral: what do you think is going on then?
Damen Hax: Fans on both sides of the fence.. I'm the creator of the Open Source ReSource & have been releasing free open source content for years now, I have a cold hard approach to truth etc.. it's created fans on both sides
Damen Hax: I'm actually a strong advocate against theft & closed down the resource last year to help work on better methods of preventing people selling my free content
Pixeleen Mistral: so do you think someone used a container with your name on it and modify permissions to hold the stolen good as payback?
Damen Hax: I own alot of land here & every knows I do nothing to give anyone any reason to take away what I've created.. only a fool would do such a thing
Pixeleen Mistral: these days releasing anything with mod permissions means it could end up as a container for something you wouldn't want associated with your name
Damen Hax: I always talk knowing LL can at any time review things i've said.. I enjoy schooling people looking for hacker type things due to my name & group(s).. They once put out a free T-Shirt trying to call me a thief etc.. what can you do.
Whomever is responsible for the big box of pirated content has been busy. According to Shopping Cart Disco, the affected content creators include:
3FX (jasmine Godenot)
Blaze Nielson
TOM Burt
FNKY! (Funk Schnook)
CobraTech (BlckCobra Shika)
*Kabuki (Naku Nishi)
AQUALOVE Zen and Serenity (Luigi Dickens)
Raziel Foggarty Sexbeds
LA JAZZ (Jennifer Brennon)
::Bloodlines:: (Mars Bracken)
Zyngo (Aarggle Zymurgy)
Bojan Allen Sexbed
CM Designs (Corrin Maitland)
Ecclectic Randomness (Whinter Ventura)
Bits and Bobs (Craig Altman)
Ocean Lane
Damania (Demanios Thetan)
Lovebirds Paradise Furniture (Bird Lilliehook)
Shiny Things (Fallingwater Cellardoor)
Stiletto Moody
Midnight Lotus (Hasuko Kuramot)
Quantum Products (Darling Brody)
5ifth Order (Johnny Dusk)
AKEYO (artoo Magneto)
Arcane (Eyllen Allen)
MystiTool (Mystical Cookie)
Overlord Combat
Ce Cubic (mirari Jun)
BARTLETT & NIELSON (Belle Bartlett)
Vamporium (Trijin Bade)
Kowalski Erin
.::MADesigns (Maddox DuPont)
Sixty Nine (Kumii Yosikawa)
:sey (risey Arai)
Redgrave ()
SiniStyle (Krius Misfit)
SineWave (Easy Babcock)
VISTA Anims (Vista Barnes)
Henmations (Hendrik Schroeder)
Abranimations (Abramelin Wolfe)
!-Ce Cubic
Aridi (London Armidi)
@HOME (nightlife Overlord)
SOREAL (Kwarney Pinion)
Animation Wharehouse (Jonny Dusk)
[ hoorenbeek ] (Limer Kosten)
*Gritty Kitty (Noam Sprocket)