by Alphaville Herald on 05/11/09 at 7:21 am
The Herald goes backstage at MP's Fall fashion show

by Suzie Skybeam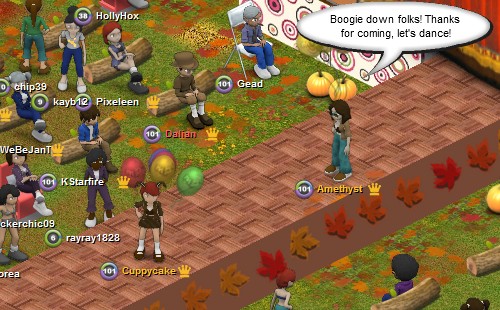 Amethyst announces the after-show party
Nervously waiting backstage, I watch two channels of chat scrolling up the screen: the public announcements to the audience, and the private instructions to the models. They've taken away spotlight we had at rehearsal (it made the clothes look too washed out); we're supposed to click the pumpkin when we walk off stage.
Click the pumpkin? What on Earth? Oh, ok, it's so Cuppycake can teleport us off the catwalk.
Cuppycake on the catwalk
They're playing a French remix station over the speakers; wall to wall ToToM. A Britney Spears impersonater complains they're not playing enough of "her" hits. A few of the European models are drinking black coffee to stay awake; this show is in the middle of the night, their time.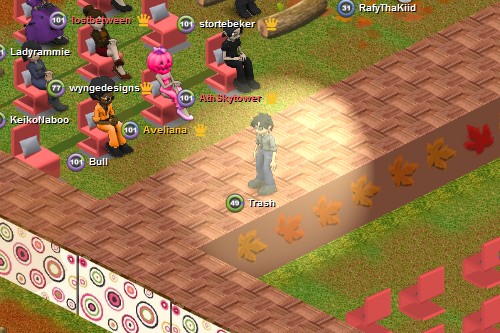 Trash under the spotlight in fashion show rehearsal
And then it's my turn to be on stage. With a whoosh, I'm teleported behind the curtain. I can't see a thing: the curtain keeps the audience from seeing us changing, but it also stops us seeing what we're doing. It's just as well we've practiced this. I change out of my street clothes and into a red evening dress, silently praying that I've not suffered some wardrobe malfunction in the dark.
With a deep breath, I step out into the light. Maybe it's just my nerves, but this is the first time all evening I've felt any lag. Not very much, but just enough to feel slow and heavy as I dance down the catwalk. I fervently hope it's not going to make me lose my balance and fall off. (Is that even possible? Now would not be a good time to find out).
I turn and wave to the fashion press in the audience (Hi Pixeleen!), then down to the end of the catwalk, and back behind the safety of the curtain. Blundering about in the dark, I hope I don't bump into some abandoned lighting control gear. Now, where is that stupid pumpkin? Another woosh, and I'm teleported back with the rest of the models.
Finally, it's all over and we can wind down at the after-show party, dancing to more ToToM.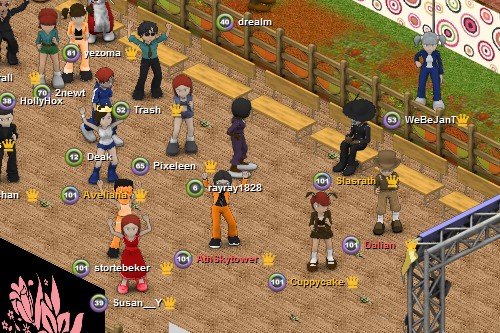 dancing at the after-show party
Susan wore: red mid length dress, available at The New You for 25,000 metacredits