by Alphaville Herald on 14/11/09 at 1:13 pm
Pink points out Apple takes 30% of iPhone App revenue – will LL follow suit?

by Pixeleen Mistral, National Affairs desk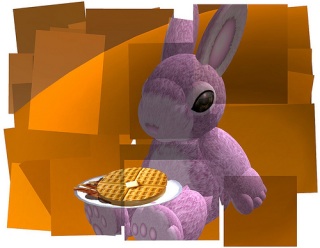 Pink Linden
It is hard to blame Second Life merchants for being concerned about the virtual goods' retail landscape – the Lab has a long history of changing the rules of the game on what seems to be a quarterly basis, and for some players the stakes are high. So as fragments of a by-invitation-only qualmetrics.com survey began circulating on the grid friday (text of the leaked survey questions after the jump), it was no surprise that speculation about the Lab's intentions was the order of the day.
Has the Lab built a Mall island? Is the survey real? Will the Lab provide official in-world vendors?
I contacted Pink Linden for comment:
Pixeleen Mistral: Hi Pink – I'm a writer for the Alphaville Herald and I understand that there is a survey that you guys sent out to some of the merchants. I'm interested in your comments on that survey – I understand some people say it is like a phishing attempt or something
Pixeleen Mistral: is the survey real?
Pink Linden: yes it's real
Pixeleen Mistral: ok, that is good to know
Pink Linden:


Pink Linden: that's why I gave my name
Pixeleen Mistral: but only XStreet merchants can take the survey?
Pink Linden: no that's not true
Pink Linden: we sent very broadly to merchants in both locations
Pixeleen Mistral: I have a source that is concerned that the survey suggests that LL might have official in-world vendors and a special mall at some point – and that could impact existing resident businesses
Pink Linden: this is a very early concept document
Pink Linden: not a plan or a roadmap
Pixeleen Mistral: so this is just testing out the ideas and not a firm plan
Pixeleen Mistral: I guess we have to expect people to be a bit concerned given the history
Pixeleen Mistral: you guys are in a tough spot – if you ask people what they think it raises concerns
Pixeleen Mistral: if you *don't* ask you are flying blind
Pink Linden: exactly
Pink Linden: and we tried to be clear this was not on our roadmap
Pixeleen Mistral: well – some of the people doing the survey are worried that it is your roadmap
Pink Linden and we fully understand the history.  To that I would say that I was not part of that regime.
Pink Linden: and the commerce team did not participate in that way of thinking.
Pink Linden: I can assure you that we are in no way ready to move on any of these concepts.
Pixeleen Mistrall: but some of them are what your competition is already doing
Pink Linden: for example Apple charges 30% of iPhone Apps
Pixeleen Mistral: true
Pink Linden: we want to work with the community to evolve the business
Pink Linden: and it has to start somewhere.
Pixeleen Mistral: I think the difference is that there is a lot more history in SL
Pink Linden: that's right Pixeleen.
Pink Linden: so we have to start early and work carefully.  no sudden moves.
Pixeleen Mistral: since I'm probably going to do a story about this – who should people contact if they think they should be part of the survey? you?
Pink Linden we based invitations on past behaviors in world
Pink Linden: which is normal survey protocol.
Pixeleen Mistral: ok – so you want a statistically significant sample and self-selection would mess that up
Pixeleen Mistral: isn't it time for you to go home now? its friday night
Pink Linden: we all work hard here.


Pink Linden: I'm passionate about Second Life.
Pixeleen Mistral: you must be having fun then
Pixeleen Mistral: that's about all you can ask for in a job
Pixeleen Mistral: something you care about passionately and is fun
Pink Linden: Honestly, it's the best job I've ever had.
Pink Linden: and I absolutely love it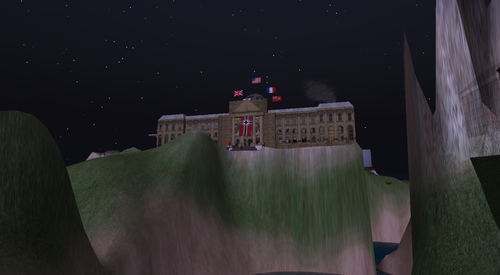 The Reichstag rises again in Jessie – what does history teach us?
After Pink headed home for the weekend, I looked over the leaked survey questions while dodging stinger missiles near the Herald offices in Jessie sim and admired the WWIIOLer's new Reichstag. After moving a safe distance from the missile launcher, I considered the fortunes of war in Second Life.
As long as the supply chains for the WWIIOLer's buildings and weapons are safe, the battles of Jessie sim are likely to continue indefinitely, but the fight for a piece of retail virtual goods market seems to be shifting – perhaps decisively.
Is the Lab testing the waters for some major changes? While this may not be a roadmap, that the Lab is even thinking about the sort of direct competition with residents that providing free land in a Linden sponsored Mall would entail is not going to sit well with the some.
Assuring itself of a bigger cut of retail transactions will contribute to the Lab's bottom line, but the fallout from the changes being considered are likely to alienate more of the creative class – and destabilize the virtual land business further.
If there are any lessons to be drawn from the SL paramilitary's battles, it is that once the game becomes too one-sided, some residents stop playing. Could something similar be in store for the Second Life commerce game? Will there be any alternatives to living in a company town and buying from the Linden company store – and will the Lab manage to resist harassing the owners of competing retail outlets that do manage to survive? Given the far from level playing field, the Lab will need to move with great care, and a broader community discussion might be a good place to start.
—
Unified store management, premium support and a delivery guarantee
Usage of the vending machine will allow the merchant to receive premium support for merchant activities, enable automatic listing on XStreet SL, and ensure that all items are delivered…. guaranteed. Additionally, the vending machines provide rich data reporting and business metrics.
In exchange for the use of the vending machines, Linden Lab will assess a 10-15% surcharge on all purchases.


Listing and Promotional Program
 
Cross-promote your items on XStreetSL and get Premium Classified Listings
By joining this program, any item you list for sale in-world can also be auto-listed on XStreetSL. Cross-posted items will automatically be displayed, in rotation, in a premium position as a sponsored listing in on the Classifieds page.
 
To participate in this program, a small surcharge will be assessed a fee 5-10 $USD for each item cross posted.
Merchant Marketing Program
Tools to help you grow your business
The program would provide exclusive use of branding systems, customized store systems (such as a custom URL/SLURL and web storefront), and automatic consideration for large scale promotions. Also included is a data dashboard to enable you to track purchases in real-time. Customer service tools such as AvaLine mean that you are always able to talk with your customers.
Membership in the merchant marketing program would be available at a cost of $10-100 USD monthly, depending on sales volume. 
The Mall of Second Life
Free land for Second Life merchants
Linden Lab has developed an Island in Second Life that enables merchants to create their own stores as large or small as they desire. Display your creative works from shoes to houses.
In exchange for the free land and promotion of the Mall, Linden Lab will assess a 30% surcharge on all purchases.