by Alphaville Herald on 11/12/09 at 6:49 pm
…or not so much
by Sigmund Leominster

Your tax dollars have been at work once again in the expert hands of a committee commissioned by Congress and handled by the Federal Trade Commission. This is the same FTC that failed to catch Bernie Madoff's $65 billion Ponzi scheme, and the same Congress that handed out money to poor bankers who went bust yet ignored the requests of mortgage owners to give them time to avoid being kicked out of their homes and onto welfare – so you know your money is in good hands.
The FTC Commission has just released a report to Congress entitled Virtual Worlds and Kids: Mapping the Risk, which is available in its entirety (except for the videos) from the Federal Trade Commission's website: http://www.ftc.gov/opa/2009/12/virtualworlds.shtm. The aim of the study was to examine the ease, or difficulty, with which children and teens can access "explicit content" in places like Second Life, Gaia, Twinity, My Diva Doll, and Pixiehollow. Inexplicably, my personal favorite, BarbieGirls.com was absent from the report. We could imagine that the project was underwritten by Mattel Corps® but that would be pure speculation and potentially libelous. So we won't.
The press release announces, somewhat dramatically, "FTC Report Finds Sexually and Violently Explicit Content in Online Virtual Worlds Accessed by Minors," which conjures up images of poor, helpless little Jimmy finding his Second Life avatar strapped to a table in a dungeon while being molested by huge-breasted Post Six trannies and having bizarrely scripted chickens inserted into unfeasible large orifices.

Sadly, on taking time to read through the turgidly unsensational report, it turns out that a more accurate headline would have been "FTC Investigators Fail To Get Stiffies In Boring Virtual Worlds".
After spending an entire paragraph defining "sexually explicit" using phrases like "overly detailed genitalia," "bestiality," and "depictions of uncovered female breasts," and defining" the researchers turn out to have a hard time – or is that a soft one? – trying to find them. And bear in mind that these researchers were told explicitly to look for such behavior, which suggests there wasn't any around or they just didn't have the connections.
Similarly, the researchers tease us with "violently explicit" as including "excess/gratuitous blood or the mutilation of body parts" and "violence toward animals," but alas, no chickens were harmed in the making of this report. Or avatars in general. Someone didn't find the Dolcett role-play folks.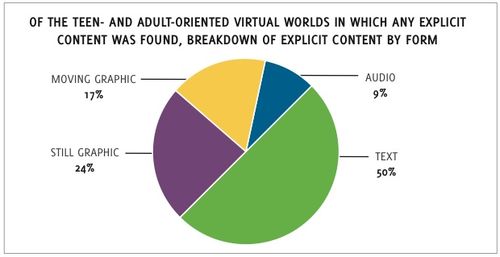 When they actually did find some "explicit content," half was restricted to text-based representations ("Yeah Barbie, suck my cock, you trash-talking whore") and only 17% of any such content turned out to involve moving avatars. Oh, and that was also restricted to a paltry five of the 27 worlds visited. The chances are that little Jimmy is actually getting more action at a rainbow party in real life than a BDSM club in cyberspace.
Still, undeterred by the facts, the Commission did make a number of recommendations, which is good because folks get a little touchy when government money gets spent without anything coming out at the end. One was to suggest that virtual world operators improve their language filters to make sure minors don't get to use words like "feck," "shut," "cork," "and "dickhead." Damn, one slipped through!
Lucky for Second Life residents that Linden Lab doesn't have a language filter; firstly because it would infringe on the right to free speech and secondly because without profanities, many SL residents would find it hard to actually produce any sort of coherent sentence. Check the fucking comments to this fucking post and you'll see that its the fucking truth.
Another recommendation is that providers should employ "a staff of specially trained moderators whose presence is well known in-world and who are equipped to take swift action against conduct violations." In real life we call this a Police Force but the FTC seems to think that "trained moderators" sounds much more politically neutral. Whether or not Linden Lab should crack the whip and begin employing a small army of "boys in blue" to keep an eye who's having sex with a donkey is open for discussion.
However, let's be fair and mention that the report doesn't just blame the service providers for failing to keep 10-year-old Jimmy from engaging in a fap-fest while touting for gay tricks with furries in Zindra. The Commission does recommend that "…parents and children alike become better educated about the benefits and risks of youth participation in online virtual worlds. The Commission is committed to ensuring that parents have the information they need to decide which online virtual worlds may be appropriate for their children."
However, if the paucity of profanity and promiscuity that the report seems to suggest turns out to be the true, then the real danger to kids in virtual worlds is that they could die of terminal boredom.