by Alphaville Herald on 27/12/09 at 7:05 pm
User generated content world coming to end – doomed avatars plan killer party for 1/1/2010

by Pixeleen Mistral, National Affairs desk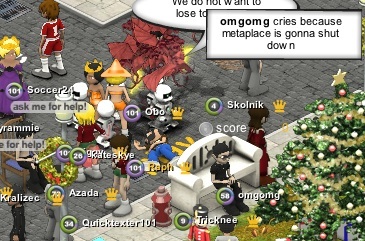 Raph Koster, overwhelmed by baby dragon gifts lays on the street in Metaplace Central
The winter solstice was a dark day for those who invested time in Metaplace – on December 21 players were sent an e-mail stating "over the last few months it has become apparent that Metaplace as aconsumer UGC service is not gaining enough traction to be a viableproduct, requiring a strategic shift for our company. We're sorry to announce today that Metaplace.com will be closing to the public at 11:59pm on January 1st, 2010."
The mood in Metaplace Central 45 minutes after the e-mail went out was chaotic – both Raph Koster and Community manager Cuppycake were present to answer questions as players wondered if there was any way to save the world – and their creations. However, little new information was available beyond what was already in the e-mail and FAQ. Raph's blog was similarly taciturn. An end of the world party is scheduled for noon PST January 1, 2010, and players were advised to save what they could and document their creations between before the party starts.
At one point Raph was almost entirely covered by baby dragon gifts from players who looked at their large hoards of experience-point-based coins and tried to burn through them while they still existed. The normally effusive Cuppycake stood facing away from the fixed perspective camera and could not be coaxed into facing forward by a player who wanted a picture. I gave Cuppycake gift fairies and Raph baby dragons for a while and watched the chat scroll by. At least I made it to level 101 before the world ended – which is a story for another day.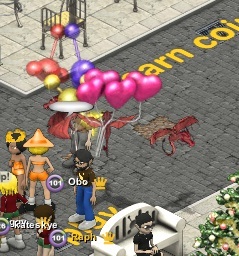 Raph receives <3 balloons after announcing apocalypse and end of world party
pyrocow: we need to capture the meeps. and hold them hostage.
Jamario: i think he needs to give it some more time
Feisty: well raph, if ur continuing on with the same technology, will it be possible for people to still make their own worlds under the new restructuring?
LunarRaid: I'm wondering if this even IS his decision.
Jamario: about this
freecoconuts: yh i dont think so
[Staff] Raph:  Heh….
kateskye: wat
Ladyrammie: Wynge!
DougQB: I imagine many folks discussed this decision at some length.
LunarRaid: Venture capitalism…
[Staff] Raph:  Even if you here all subscribed… it wouldn't make a difference
j9scarborough: hey all
[Staff] Raph:  No, the blame does not lie with investors
omgomg: I heard that metaplace is shutting down , Raph
kateskye: ur an azz hole raph
freecoconuts: its the moooney
Quicktexter101: why wouldn't it?
Tiggy: why is every1 harassing raph/ he hasnt got a magic wand
[Staff] Raph: The fact is that we just do not have enough traction
LunarRaid: I wasn't saying it was their FAULT
djtit: government
Azada: whats traction?
Pixeleen: not growing fast enough?
omgomg: hmm..
LunarRaid: I'm just saying venture capitalism in general
Soccer24 thinks, "Bailout?"
Jamario: who doesjust keep sending ur website out to more people
ladydorr: RAPH Y CANT WE GO IN THE NEW YOU?
LunarRaid: lady, I swear….
Ladyrammie: Ladydorr, stop it ok?
freecoconuts: forget about the newyou
sapphire: ladtdorr shut up
Quicktexter101: thats not wat we are discussing!
LunarRaid: I am on a short rope today.
ladydorr: STOP WAT?
Jordstar: traction = growth not quick enough to keep things paid and expanding
freecoconuts: talking
Legend: there is no other place like this. this was the best ive seen. your staff is very talented and i wish u all the best. thank u for the memories here
Jamario: lol
omgomg: Lunarraid, I thought u couldnt swear
Feisty: the platform never had a killer app
Azada: oh
Soccer24: I'll miss everyone
Quicktexter101: tear
Obo: Was there a lot of churn?
ladydorr: OH
[Staff] Raph: You don't have to lose touch… we set up a site with forums just so that everyone can stay in touch
omgomg cries because metaplace is gonna shut down
[Staff] Raph: We do not want to lose touch either
Azada: good
j9scarborough: yes raph, i assume almost everybody here wishes the company all the best
DougQB: http://www.metaplaceveterans.com
[Moderator] ferall: reply no-one does
Quicktexter101: thank god
Azada: but what about our worlds and building
LunarRaid: Can you at least tell us that your future plans MAY brighten our day when we can actually hear them?
Azada: all other websites are sucky sept this 1
[Moderator] ferall: wrong tell -
Quicktexter101: I know, we put a lot of time into some worlds
djtit: yya
DougQB: Probably to soon for future plans, but it would be nice to hear! :p
Jamario: i know i did
Azada: can we stil; go 2 our worlds?
[Moderator] wyngedesigns: We all believe in your vision Raph, I hope that stays with you


omgomg: Raph are we gonna use our usernames and passwords in metaplace veterans.com like we do in this site?
Azada: still
joe5: omg holy beep
j9scarborough: azada, it passes, internet is a performoing and transforming world
Jamario: took at least to daysor the hole day
Tiggy: There is nothing to discuss.. the site owners have made a descion, learn to respect it, get over it. make the most of the time your have left
[Staff] Raph: I hope so, Ray.
[Staff] Raph: it will be different
Quicktexter101: this is jank
[Staff] Raph: omgomg, no, you register separately, it's just a forum site
Ladyrammie: Aw thanks coco
joe5: holy #@&%
[Moderator] ferall: hi jan
Azada: thanks freecoconuts
omgomg: Meta place.com has been the best site ive ever gone 2
sapphire: ty
Jamario: hi
Ladyrammie: brooke!
Quicktexter101: tot this is the best place ever
Truffle is still just shocked
Azada: but will our worlds b lost?
Jamario: well i never seen this many people at metaplace
chooseareality wow haven't been this sad in a while
[Moderator] chooseareality: Raph… wow!
joe5: holy #@#!
j9scarborough: thank you wynge
LunarRaid: Hi Brooke…
omgomg shares a teleporter to "omgomgs_World"
HoneybeeRose: Hey, Brooke
[Moderator] ferall: ty
[Moderator] ferall: hi brooke
omgomg: I invite everyone to this place
Jamario: bye omgomg lol
Jamario: no we r good lol
DougQB: heya Brooke!
omgomg: k
j9scarborough: i hope people will recall them and i will make fotos when i come back from paris
Quicktexter101: tear
DougQB: hiya HoneybeeRose! :p
LunarRaid: Don't even know if there is a point in saving stuff, frankly.
Jamario: raph r u there
Truffle: never gonna hit 1000 eggs


[Moderator] chooseareality: well I suppose this answers the unity question
(BALLOON GIFT) freecoconuts just gave you a bundle of Metaplace balloons!
j9scarborough: huggs ferall
Azada says THIS IS NOT FAIR!!!!!!!!!!!!!!
LunarRaid: My scripts are worthless outside of MP
Quicktexter101: tot
[Moderator] ferall: hugz back
Truffle hugs Wyngedesigns
Azada: WE LOOOOOOVE THIS PLACE ):
omgomg: j9 I never got to meet u
LunarRaid: Brooke, we gotta hook up about this Unity thing
joe5: this place is !@!&in full
sapphire: it gonna crash in here
DougQB: I suppose that depends on where Metaplace goes from here.
ladydorr: wow alot of people on one side
[Moderator] Logikal: Might be worth saving stuff in case some future iteration of Metaplace happens someday
Bray: azada
HoneybeeRose: Hey, Doug
Jamario: we should vote about this lol
joe5: bye ppl
Azada: YES
djtit: never seen so many people
[Moderator] wyngedesigns: lol – yes – I vote it stays up!
Ladyrammie: Doh everyone does..
Azada: HOW DO WE SAVE OUR WORLDS RAPH?
Pixeleen: Raph can you say anything about what is next for you and Metaplace – anything about the new direction?
Jamario: lol me too
omgomg cries
Bray: this is a lot of people
Bray: y
[Moderator] chooseareality: wish the team was here.. I want to say good bye… Raph will they still be dropping in this next week?
Azada: METAPLACE IS CLOSING
Azada: FOREVER!
Bray: why
omgomg: NOOOOOOO!!!!!!!!!!!!!!!!!!!!!!!!!!!!!!!!!!!!!
[Staff] Raph: I hope lots f folks show up for the party
Azada: NOT ENOUGH PPL
j9scarborough: hugs omg


Pixeleen: I will
Jamario: well raph u shold make another website lyk this
omgomg: what can we do to save this place????!!
[Staff] Raph: we don't want everyone to be sad the whole time
Jamario: and send it out
djtit: whens the party
Azada: WE WILL
(COMPANION GIFT) You gave Raph a baby dragon.
[Staff] Raph: I would much rather people celebrate the awesome than just be sad
Quicktexter101: hmmf