by Alphaville Herald on 06/01/10 at 12:16 am
by Pixeleen Mistral, National Affairs desk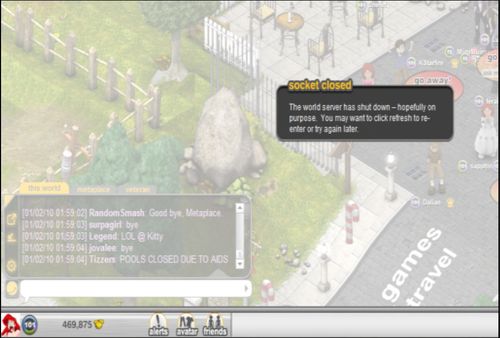 Tizzers Foxchase got in the last word in Metaplace Central -  "POOLS CLOSED DUE TO AIDS" – and seconds later Raph Koster's user generated virtual world creation service closed permanently last weekend. What went wrong – and how did the end of the virtual world affect the community?
Informed analysis has been in short supply since Koster announced the end of the virtual world. Eager to file stories and get on with the holidays, Metaplace tourists role-playing new media pundits shook their heads sadly and offered superficial analysis – Metaplace is teh fail because the avatars weren't realistic enough! 2.5 D fixed perspective is not immersive enough!!  Flash based games are everywhere – and Metaplace was too late!!! Blue Mars!!!! Farmville and YoVille on Facebook!!!!!!
Perhaps this is the best that can be expected with the less than exquisite timing of the December 21st Metaplace announcement and New Years day apocalypse. Players seriously engaged in Metaplace scrambled to establish alternate connections to preserve the community and salvage what content they could from the platform. Meanwhile, those with minimal connections to the world indulged in a bit of smug Schadenfreud.


SL fanboi and drive-by pundit Hamlet Au's Metaplace world had exactly one visitor in 7 months – Hamlet

I  joined the Metaplace closed beta in February 2009,  intent on watching an incomplete world grow, and spent a quarter of my virtual world gameplay time in Metaplace as the world morphed from a promising game-creator-centric environment dominated by creative adults, to a community struggling to assimilate a wave of 11 year olds pretending to be 14 year olds mostly interested in going on e-dates with teh hawt nu bf / gf they <3'ed based on avatar style and SMS-text speak convo.
Had Raph Koster's company underestimated the impact of the e-party and e-dating scene?
I didn't see much of an immersion problem for the teen crowd – and given the visual style of the world, a wave of young teens was to be expected. Once in open beta, Metaplace was apparently trying several promotion strategies and ad placements to attract players, and some were surprisingly successful at attracting girls desperately seeking e-boyfriendz. MP Central suddenly became a very social space – but not necessarily in a good way.
It is hard to believe that Metaplace was not positioning itself as an alternative to the 15 million player strong Habbo. But to get there, the company would need both content consumers and creators. The tensions between these two groups played out in Metaplace Central, the meeting space where new players entered the world and where old players compared notes and hung out with Metaplace staff.
Once Metaplace went into open beta, the e-libidos of the kids washing through Metaplace Central grew to became a powerful force – at times it seemed that the game gods had lost control of the user experience in their showcase town square. Where was the Metaverse ModSquad when you needed them? How could Metaplace afford to police MP Central 24 x 7 and continue to develop the platform?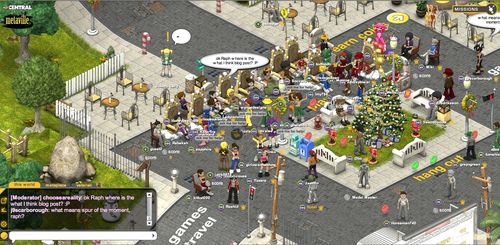 level 101 players holds a throne sit-in at the beginning of the MP farewell celebration
By summer it was clear the Metaplace staff would need the help of volunteer moderators to keep things from getting entirely out of hand in MP Central after the game gods went home – but there was a problem. The volunteer moderators came from the ranks of the content creators who really should have been creating more compelling games and worlds to draw in a larger community to their own worlds and promoting Metaplace on their own – the sort of viral growth VC's dream about.
With volunteer player moderators in place the swearing and chat spam was brought under control, but cries of "I'm bored – I need a boyfriend" from avatars with names like HotBabe11 or CuteGirl1998 were still all too common. The MP game gods tried appeasement with a dating game called PerfectMatch which gave the kids a way to see how compatible they were – and move them out of the center of the town square. The balance of power in MP Central was restored.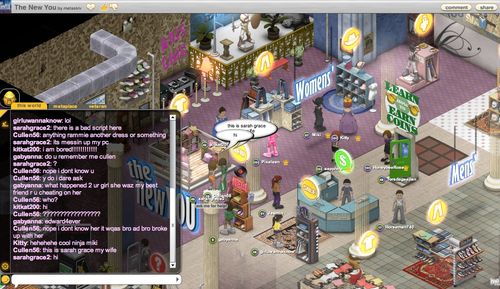 New You store drama: "what happened 2 ur girl she waz my best friend r u cheating on her?"

PerfectMatch was a fun game – by answering a fast paced series of questions your compatibility with other players was ranked. But players who wanted to earn money from their gameplay wondered why the MP game gods were creating more games for Metaplace Central instead of improving the avatar system for user-generated pixel clothes and avatar adornments to drive the virtual world economy.
Volunteers entrusted with kick and ban powers grew restless – when would they be able to monetize their work and get away from policing tweens? Where was the in-game RMT? While experience point-based "coins" could be used to purchase goods from a web page based store, Metaplace staff had promised a second in-game currency that could be converted to real money, but this was delayed by security concerns.
The original in-game XP "coins" were – for a short while – directly transferable between players, but an upgrade removed this capability with the promise that it would return later. It never did – although a player named KStarfire refused to update his Metaplace world, which then became the only place that person-to-person coin barter was possible.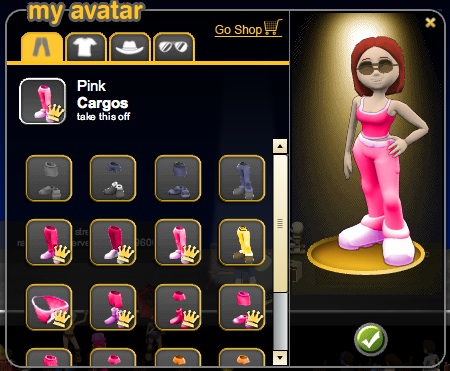 I finally buy my pink spaghetti strap tank top on the day Metaplace closes
On the day Metaplace was to close, I went on a totally self-indulgent shopping spree at the New You store where game god designed clothes were sold for XP-based coins – my clothes shopping lust set free after KStarfire gave me 1 million coins. I finally bought the pink top I'd had my eye on and could be buried in style – but why weren't there any UGC clothes for sale? From this girl's perspective, pixel clothes should the first priority in an avatar-based world and more fashion choices are always a good thing.

Hearts, minds, and wallets of content creators
Developing for a new platform takes a leap of faith, and for those motivated by something other than platonic love of creating virtual art, money plays a role – as does hedging your bets.
Metaplace sold high concurrent access user worlds  for special events or popular games. For the company this made sense – free worlds give players a taste, but the more advanced would pay for premium service. However, without an in-game micro-payment system or real money trade there was no easy way to set out tip jars to or charge admission – so the "make real money in the virtual world" dream that Philip Linden flogged in Second Life was not an option in MP. Without tip jars to help pay for streaming audio feeds, it was difficult for most musicians and DJs to justify playing Metaplace. I enjoyed some great concerts by J9 and Raph Koster, but the economics were an issue for most of the music community.
Without a clear picture of when they might see some income, DJs, musicians, and content creators who were not true believers sat on their hands, true believers were pressed into service as game moderators, and the viral growth remained out of reach. Had the venture capitalists funding MP set too short a timeline? Was the weak real world economy to to blame – or the lack of an in-world economy with RMT?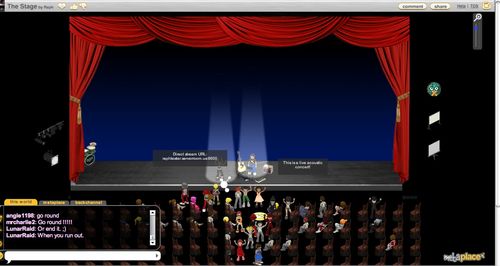 J9 sings money makes the world go 'round – LunarRaid says money ends the world when you run out
For those who bought into the Metaplace dream, tools allowing anyone to create worlds were a compelling goal. If virtual worlds and online social spaces are the new media, democratizing the tools to create and understand the rhetoric of these spaces is a worthwhile pusuit – and necessary to allow the diversity of viewpoint that is unlikely to emerge from mega-media conglomerate dominated environments. Sadly, we will never know if the Metaplace I lived in for almost a year could have been viable, because despite the best efforts of the MP game gods, the incomplete world did not tip into viral growth fast enough.
Will the next iteration of Metaplace fare better? Freed from running their virtual world service, the Metaplace crew now head back to the drawing board, stranding players' creations in the doomed environment. The lesson for virtual world content creators is to keep your assets mobile and beware of monopolies and centralized control – the plug could be pulled with very short notice.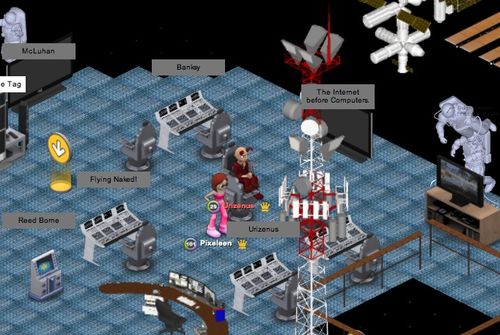 I console Urizenus as he contemplates the demise of his multi-media egghead mashup world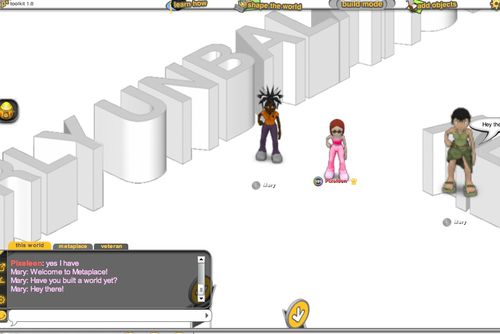 saying goodbye to the Mary and Mary bots and shuttering the Metaplace Herald offices