by Alphaville Herald on 23/09/10 at 11:13 am
Fat Men, Fapping, and Graft Offer Hope For Linden Lab
by Journey Yellowlist
This reporter, after breaking and entering an undercover assignment at Linden Lab, discovered a veritable trove of statistics that the company had chosen to suppress when they recently revealed a complete stagnation steady-state model of player activity in Second Life.
Given that Hamlet Au has been bribed taken a new assignment to cover laggy and empty new and compelling content at Blue Mars, the truth must now be told that Hammie missed: Second Life and Linden Lab actually have a sound financial plan to mop up and run provide value to customers.
As long as the junk food holds out in the basement. Here's why.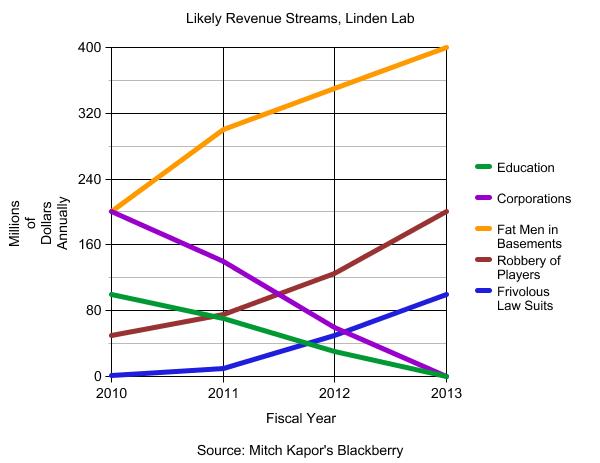 Projected Revenue Streams: 2010-2013
The first set of figures, found during an unguarded moment after a board meeting, while Mitch Kapor was busy in the men's room, reveal that education and corporate customers are expected to bail out of SL over the course of the next few years. Luckily for the Lab, large male customers, as well as robbery and law suits, will more than compensate for the lost income.
Kapor apparently arrived at these projections based upon a set of numbers that Linden Lab employees cobbled together after work over shots of Sambuca at Vesuvio derived by a number of cutting-edge statistical models.
The model of economic expansion depends upon another sort of growth, of the circumferential sort.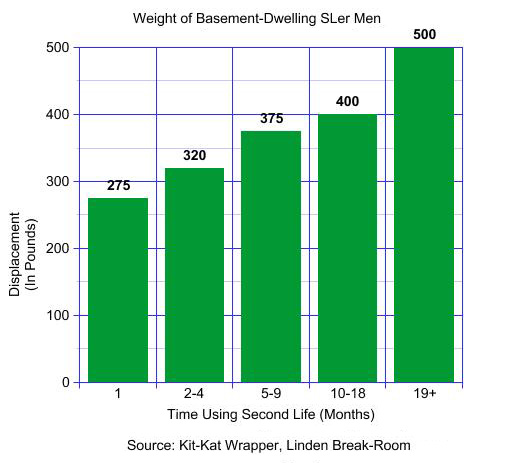 At one-quarter ton, it would be difficult if not impossible to actually leave a basement, so Linden Lab can probably count on continued revenue from its customer base.
Player Profiles
Now that the data establish the demographic most likely to support SL's survival, the Lab decided to sample how to keep them playing. The supply of bored and lazy and antisocial males who resemble storage containers or water-heaters being limitless in the United States, the only question remained what would most likely retain them in Linden Lab's fake world rather than another one.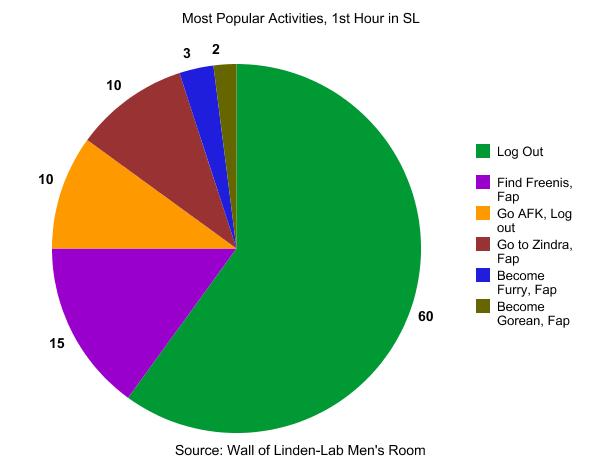 In other words, it's all about fapping. This meticulous first-hour profile emerged after a few rounds of Martinis at Vesuvio a focus-group studied and discussed player experiences.
A Troubling Factoid and a Plan for Action
As Second Life enters a dramatic period of revenue growth premised upon the above assumptions, a few difficulties presented themselves. This occurred when Philip Rosedale arrived at Vesuvio and the Vodka flowed like a river the focus group began to look at other data from the user database.
There emerged a 75% possibility that every non-Linden player might actually be controlled by a single individual.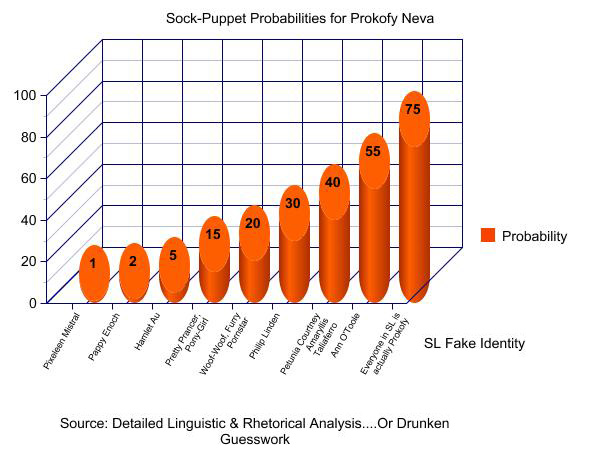 The obvious options derived from this part of the data set were either to shutter the game or to assume that the individual known to Herald readers as "The Crazy Cat Lady" may only have a dozen or so sock-puppets. Given her estimated 23 hours daily writing on various blogs, the Linden Lab team fell off their bar stools laughing decided to move boldly forward.
Recommendations provided by the guy doing card tricks at Vesuvio The Interim CEO:
Provide all newcomers with freenises in their avatar libraries and, ahem "erect" large and titillating signs at every rezz point to answer the eternal question for new SLers, "where is teh sex?"
Change banner ads to themes aimed at potential users based on the revenue-stream projections. Possible themes include "Can't stand up but like to fap? Try Second Life!" and "Help us sue others! Try Second Life!" and "Pants are for losers! Try Second Life."
Given that outright robbery of players is likely to provide a additional and substantial source of revenue, increase fees while reducing stability of SL Marketplace transactions and in-world purchases. Allow no refund of fees after failures. Ka-ching!
Add "STD prevention fee" to price of non-freenis genitalia. This will likely raise 10 million dollars annually by 2013.
Hire lawyers to enforce copyright of letters "S" and "L," persecute makers of third-party viewers, and be seen in public in superhero outfits bearing the Second Life logo.
Replace 300L weekly stipend to premium account holders with direct-mail stipend of Ho-Hos, Mountain Dew, an Cheetos. Even after calculating likely deaths from blocked intestine, diabetes, and auto-erotic heart failure among a 500-pound player base, the return on investment for the new stipend will likely be considerable.

See you at Vesuvio! Gimlets on me.