by Alphaville Herald on 23/03/11 at 2:13 am
Breedable-Monkey Army in the Works
by Pappy Enoch, Hillbilly Go-rilla
Ol' Hamlet Au, over there at New Fake World Notes, am all a-flutter about sum'fin called Zooby Breedable Monkeys.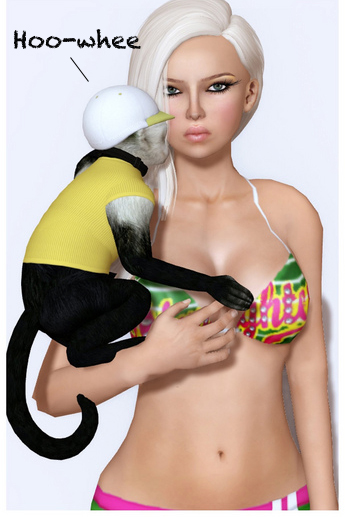 From the photygraph I done run, you can see, plain as the nose on the side o' my head, that them monkeys am born as naughty as ol' Hammie hisself. Look where that monkey-paw am: Nigh unto a rite promisin' cha-cha bingo.
Y'all ever noticed how Hammie lights up when some pretty gal am in his fake newspaper? Well, that am all fine an' good because I loves me pretty gals, too. But monkeys am sum'fin else. They skeers me bad. This fake animal thing done gone far enuff. What am worse'n a damn monkey am a "breedable" one. Them monkeys in the zoo don't do nothing but breed, eat food, and throw poop. Kinda like me, 'cept I also drinks and shoots stuff. Maybe it are why I fears and hates them ape-rascals so bad.
So this-here monkey business ain't nothing new, 'cept it gets ol' Au a date, I reckons, with wimmin like that Juicy Bomb gal. That am the rite name for her, hoo whee, in her skimpy lil' ol' bathin' costume. I don't know if'n she comes with that monkey if'n I buys me one, but in my book all that gal needs to do is come with me, if'n you gits my drift and I reckon you does. I kin court an' spark better'n Au, for dang sure, and if not, I'll hold that monkey ransom till the gal gives me some sugar.
Now where were I? So my point am: why in the hell do Second Life need more breedin' than it got? We gots chikkins, rabbits, even horsies that the dang bunnies took to court. On the human-person side, we got ol' Protology Never breedin' words like they was killer rabbits, me breedin' dumb-ass idears, and folks in Zindra humpin' like it were the Pockylips from the Book o' Revolutions in the Bible, and they needed to beget some prim babies fast.
But bein' the filosphur I is, I kin see me a use for them damn monkeys. I needs to face my fears like the real fake man that I are. Now real-life monkeys likes to play all kinds o' tricks, so I reckon I kin train me some up to do tricks in a fake world, too. I plans to get me one o' them Oregon-Grinder machines and a monkey too.

First thing you knows, I'll git me a monkey-army like ol' Charleston Heston got beat up by in them The Planet of Them Apes movie-pictures. My monkeys will commence to rippin' bras off o' fake gals, coppin' them a good feel, tossin' poop at the blingtards at them Welkum Areas and God knows doin' what with them tails. If'n they kin swing from trees they kin swing other ways too. I plans to charge admission to the monkey-shines and git rich quick before Second Life goes town the toilet.
Well, it already am in the toilet, but I plans to be like a monkey an' toss me some poop with the best of 'em. To begin my plan, got me over to the Zooby Store to see them monkeys.
The first thing I saw won't no monkey but a pretty gal wearin' a belt for a skirt, as usual:
Pappy Enoch: howdy ma'am
Silkita Silverfall: hello Pappy
Pappy: these new monkeys am a rite nice toy, ain't they?

Silkita: yes they are
Pappy: you aims to buy you one?
Silkita: not sure what I want to get just looking at them all
Pappy: I are a famous reporter for the Alphaville Herald and am covering the monkey business. How did you find out about these little rascals?
Silkita Silverfall: well I own a chimp that I bought here so came back to find me another pet
Pappy: yes'm. That chimp needs him a friend, I reckon
Silkita: he is cute
Pappy: well, you kin see I needs sum new attraction to git me luck with the gals. I figured I might try a pet monkey
Silkita: that would be nice
No dice with her after that-there heavy hint, but I figured ol' slow-boat Enoch mite try his luck again once I tells her that her name were in the fake paper and maybe she'd like to git nekkid for Post 6 later on. Ol' Tim an' me kin run us a good racket for gittin' fake gals to show us them naughty bits.
Well, I were out o' money an gittin' desperate. Then I had me a plan. Time to git over bein' so skeered o' apes an' give in to my inner monkey.

To be corn-tinued.