by Alphaville Herald on 06/07/06 at 1:11 pm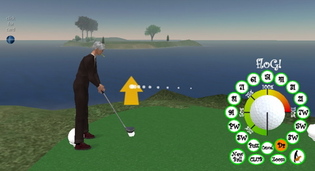 Golf has come to Second Life, thanks to the ministrations of talented scripter Kanker Greenacre, and the nice new golf club opened by a pair of residents in the Hollywood sim. Designed and scripted by Kanker, who also built the groundbreaking sailboats raced by the Second Life Sailing Federation, floG!, as the game is known, works in very similar fashion to PC golf games, and takes good advantage of SL's heads-up display functionality, as well as making unexpected use of the new one-click-to-sit function that was implemented in a recent patch. Get over to Hollywood now and starting practicing, since besides being fun, a series of tournaments are also planned for later this year.
The game is one of the easiest ones I've come across in Second Life — though definitely hard to master (my putting could use a bit of work). After dropping your ball and choosing your club from the HUD, you line up your shot by clicking once on the orange arrow, rather then having to right-click to sit, as in former releases. Be sure to take into account the wind direction that's represented by the white dots streaming off the aiming arrow. Clicking the middle of the HUD starts your swing, then you click again when the gauge reaches the power you want to put into it, and again when the line reaches the bottom for accuracy and to start the swing. A nice swing animation plays, and the ball takes off, leaving a white trail in the air so you can follow it to the green (hopefully). There's also a collapsible HUD scorecard to record your bogeys on.
There seems to be a greens fee, but I was able to play for a mere L$1 for 24 hours, as far as I could tell. Grab your clubs — and some nice golf wear — at Hollywood (183, 170, 29) [<-- SL link].
The Holly Kai Golf Club, which runs the course, is run by SL residents MarkTwain White and Nber Medici, and plans monthly tournaments, club championships, and a Second Life Open that any resident can enter, sometime this fall. The Holly Kai Ocean Nine — which is a fun course made mostly of islands — is the first of a number of courses planned for the area. Definitely a great addition to Second Life, one that I imagine will become quite popular.
–Walker Spaight